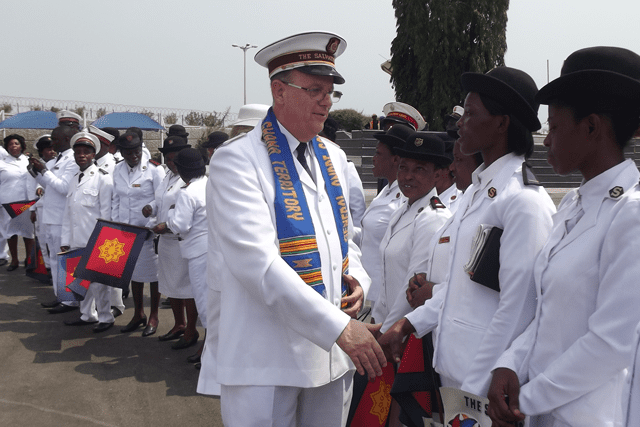 International leaders visit Ghana
The pair was received by newly elected President Nana Addo Danwa Akufo-Addo.  
Salvationists and friends from across Ghana joined The Salvation Army's international leaders in the capital, Accra, for a time of encouragement and spiritual renewal.
General André Cox and Commissioner Silvia Cox, World President of Women's Ministries, led times of worship while also taking the time to visit Salvation Army social services centers in the country. They were also received by newly elected President Nana Addo Danwa Akufo-Addo.  
The international leaders led a commissioning and dedication meeting for The Salvation Army's Centre of Excellence for Cerebral Palsy, a clinic in Agona Duakwa that provides a range of services for people with disabilities. This facility is the first of its kind in West Africa.  
Two young beneficiaries of the facility, clad in full traditional dress, greeted the leaders as they toured the facility. Staff demonstrated and explained the specialist equipment that supports the rehabilitation and therapy work which helps to integrate clients into the community.
Cadets of the Messengers of the Gospel session drew encouragement from the General's visit to their training college, and serving Ghanaian officers were reminded of their holy calling.
"God is more concerned about what is in our hearts and not the outward signs," Cox said. "We should be accountable, transparent and trustworthy, and above all try to hold up the banner of our Christian integrity to be able to mobilize the whole world for God."
A march of witness through the streets of Accra—involving more than 3,200 participants—marked just the most recent example of the Whole World Mobilizing initiative in action.
At a youth rally, featuring the Accra Divisional Gospel Band, Cox implored those in attendance to be "people of integrity [which] will help…to withstand the complexity and temptation of the world."
Sunday's Holiness meeting included the enrollment of 176 junior and 337 senior soldiers. The General encouraged all present to "think on kingdom values and not conform to the things of the world," highlighting Jesus' call to transformation. Invited guests included representatives from the office of the President, the Member of Parliament of the area, the traditional Chief of Nungua and the General Secretary of Christian Council of Ghana. Each guest had the opportunity to speak and thank The Salvation Army for its work in Ghanaian society, especially in rural areas.
The international leaders had also met with other politicians and community leaders during the official visit, including an engagement with the traditional Chief at the Palace of Nana Amoakwa Boadu V and a meeting with the British High Commissioner Jon Benjamin.
From a report by Major Benjamin Obrempong Yeboah