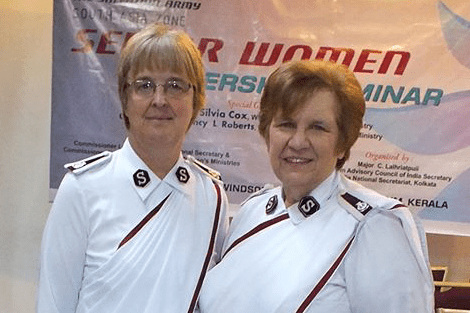 International visitors challenge, encourage South Asian women leaders
By Major Roy Joseph – 
The Salvation Army's India South Western Territory hosted the Senior Women's Leadership Seminar in Thiruvananthapuram, Kerala in India to recognize the important role of women in politics, academics, business and other areas.
The gathering, themed "Extra Miles," featured territorial women's ministries leaders from the territories that make up The Salvation Army's South Asia Zone, along with several corps officers.
They were joined by special guests: Commissioner Silvia Cox, world president of women's ministries; Commissioner Nancy Roberts, world secretary for women's ministries; and Commissioner Nemkhanching (Nu-i), Zonal Secretary for Women's Ministries.
India South Western territorial leaders, Commissioners Samuel and Bimla Charan, chaired the welcome session at which all delegates were garlanded. Female officers from territorial headquarters performed a cultural welcome song before Commissioners Cox and Roberts shared their experiences of being female leaders.
Delegates shared success stories of various activities such as self-help groups, demonstrating how women have the capacity to explore and solve the issues that surround them. Bible studies, group discussion, group prayer and meditation served as channels for delegates to seek to improve effectiveness in their respective areas of service. Commissioner Cox's presentation on the servant leadership of Christ sparked discussion on the intersection of serving others and serving God. Commissioner Roberts spoke about the importance of protecting children as well as leadership styles.
During the event, Commissioner Silvia Cox also released a book "Finding New Hope in Jesus – Part VI"––a collection of Bible studies from South Asia Zone writers.
The seminar ended with a message from Commissioner Cox and a call to the mercy seat.
Lt. Colonel Marieke Venter, command president of women's ministries at Bangladesh Command, reflected on the seminar afterwards. "I have learned new ways," she said, "leadership qualities based on the Bible and precious experiences of other delegates to go the extra mile."