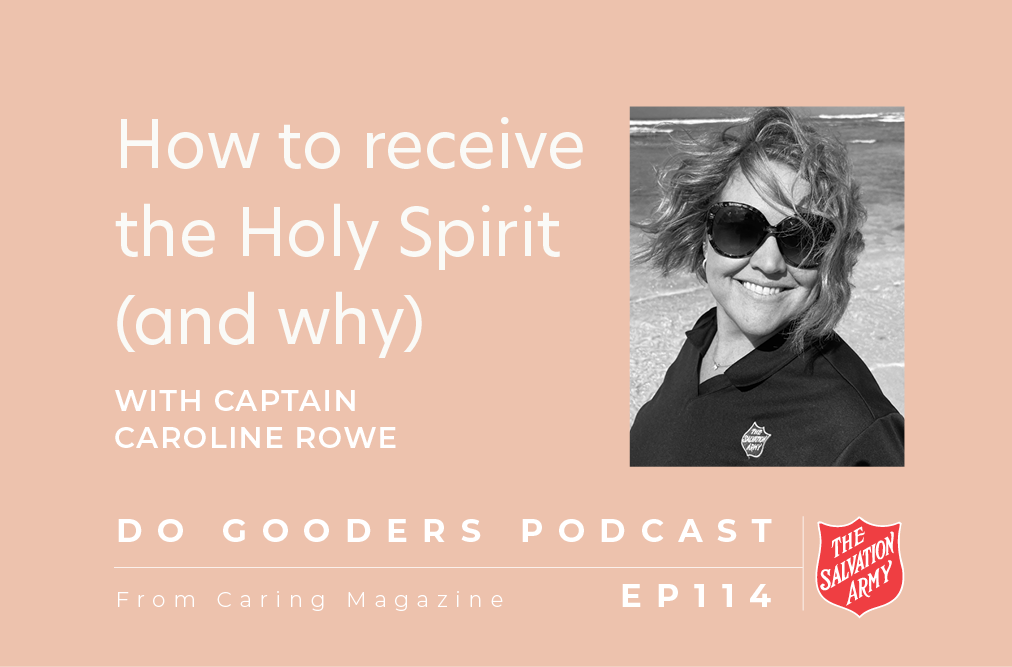 114: How to receive the Holy Spirit (and why) with Captain Caroline Rowe
Could you use a good word from the Good Word?
Today, Captain Caroline Rowe is bringing it to us.
She is a Salvation Army officer, or pastor, currently serving at the Ray and Joan Kroc Corps Community Center in Phoenix—one of the organization's 26 state-of-the-art facilities across the U.S. built thanks to a bequest from Joan Kroc. (And spoiler alert: you're going to hear more about these incredible centers in the coming episodes so stay tuned.)
Captain Caroline preached here at a gathering of Salvation Army youth leaders from all across the western U.S.
We know we are created in the image of God: flesh, soul, and spirit.
But what do we know about how to receive the Holy Spirit?
Here's a good word from the Good Word with Captain Caroline Rowe.
Listen and subscribe to the Do Gooders Podcast now. Below is a transcript of the episode, edited for readability. For more information on the people and ideas in the episode, see the links at the bottom of this post.
* * *
Caroline Rowe: All right. It's good to see you. Good morning. Do you guys sleep good?
I praise you. Jesus. Thank you, Lord. Thank you for that powerful prayer. Man, I'm, we are so grateful for volunteers and we're grateful for people called to youth ministry general and we could not do it without you. It's the truth. Man, I'd love to just, can we just pray together? Can we pray together? Let's bow our heads.
Praise you, Jesus. Thank you, Lord. Thank you, God. Father, I thank you so much for the Word that you've given for this morning. And I pray Lord that it is clear and concise. God. Personally, God, I pray that I do nothing that is distracting. Keep me calm, keep me centered so that I'm not a distraction, but that Lord, I am an agent and a vessel to bring forth your Word in Jesus' name. I thank you, God, for your Holy Spirit's power, for the anointing that comes as we deliver the Word. God, I pray that my mouth says the words that you have for your people. God, this is holy ground. The presence of the Holy Spirit is here. Lord. Thank you. Thank you for what you're doing in and through this place. Praise Jesus. In Jesus' name. Amen. Amen.
So we're going to talk about, a little bit about the Holy Spirit this morning and how the Holy Spirit empowers you. We're at base camp in this figurative sense. And when someone's at base camp and they're about to summit to go up to Mount Everest, do you know that only 6% of human beings can actually go up and summit to Mount Everest without the assistance of oxygen? And a lot of those, the people, that 6% really are, are Sherpa. They're called Sherpa. And there was a study that was done on the people of Sherpa. These are Tibet. I actually, I had, sorry, I want to make sure I read it right. The Himalayan people that live on the borders of Nepal and Tibet are known for their skill of mountaineering. And so a lot of times a Sherpa will go along and help and provide assistance, but they do not need to bring extra oxygen up there.
And there was a scientific study that was done to look into why that is. And you know that the mitochondria in the cell, in their bodies are able to use oxygen more efficiently in their body? Another really unique quality is when they looked underneath their tongues at the blood vessels, those little tiny blood vessels that are in their body, typically you and I, if we're trying to sum up it to Mount Everest, the oxygen isn't getting into those small little vessels, but for the people, the Sherpas, they found that it does, it goes straight to all these areas, which is like miraculous. It's almost like they have a superhuman ability. It's almost like they got like a secret sauce that's allowing them to actually get to the top of Mount Everest.
This morning we have a secret too. We have something powerful within us that allows us to do the youth work, that allows us to do the ministry and maybe we've forgotten, but that actually comes supernaturally through the power of the Holy Spirit. God has gifted us the Holy Spirit who comes in power to give us the ability to do it. That gives us the ability to do it.
If you have your Bibles, turn with me to Acts chapter two. Acts chapter two. As you're turning there, I want to just tell you, we know this story about Peter. Peter denied Christ. In this place of terror and fear, everything is coming down. It's about time when push comes to shove, the man that he has walked with, the man that has just like breathed Jesus Christ. He has just walked with him and experienced the power of the Messiah. When push came to shove and everything was coming down, he said, I don't know him.
In the flesh, in the human form Peter was afraid. He shirked away from that danger. And that was him and his human form. And that's found in John chapter 18. Then the next time we see Peter with Christ is in John chapter 21 and this is when Jesus comes and restores him. And I love that. He makes him breakfast. That's just the most beautiful thing and brings restoration to him. Now we're in Acts chapter two.
And at the very beginning of the chapter, you see, this is Pentecost. This is when the Holy Spirit comes in and tongues of fire are on everybody around the table. And they're speaking in other tongues. And the power comes in. This power that Jesus had talked about, I'm going to go so that the comforter could come and empower you. This is what happens. Now, let's see, next scene. Peter addresses the crowd. Peter addresses the crowd. It's kind of like this big convention where all these people came from all over the place for this, for this one event. And they're all there and they speak different languages. Because they come from different places. And when Peter gets up there in the boldness of the Holy Spirit, he just starts to preach and bring the Word. And it is like this powerful experience where the Christian Church is born, where the Christian Church is born.
And what happens is he even quotes Scripture throughout this whole thing. They think at the beginning when they can understand it, because he's speaking in a tongue. They think he's drunk, which is crazy to me. And then he just starts to preach and bring the Word. And what happens in Acts chapter two, starting verse 36: "Therefore let all Israel be assured of this: God has made this Jesus, whom you crucified, both Lord and Messiah." When the people heard this, they were cut to the heart and said to Peter and the other apostles, "Brothers, what shall we do?" Peter replied, "Repent and be baptized, every one of you, in the name of Jesus Christ for the forgiveness of your sins. And you will receive the gift of the Holy Spirit. The promise is for you and your children and for all who are far off—for all whom the Lord our God will call." With many other words he warned them; and he pleaded with them, "Save yourselves from this corrupt generation." Those who accepted his message were baptized, and about three thousand were added to their number that day (Acts 2:36-41).
Here's the point. In Peter's human form, in who he was created to be, in his natural ability, in his natural personality, he could never have done this. This only comes after Pentecost, after the Holy Spirit comes down and then when this is not popular, he gets up and preaches the Gospel of Jesus Christ and 3,000 people are saved. Yo, this is the power that's in us. This is the power that's in us. We are walking around with this heavy burden because we're not getting into the power that comes from the Holy Spirit. I'm going to walk through some foundational stuff about the Holy Spirit. If you know it, okay, we're just going to be reminded. But for some of us, this might be fresh news. We're just going to kind of walk. I feel like we need to have some foundational stuff here.
In the beginning, God created us. He took the clay. He molded it together and he breathed his breath into it. Body, spirit are now joined together and then a soul is born and we are people in three parts. Our flesh, our soul, our mind, will and emotion. That's our soul. Our mind, will and emotion. And then our spirit is where the Holy Spirit comes in and resides. This is this piece. So he breathed his spirit into us. And we now are created in his image, here we are. Then the worst thing happened. Sin entered the world. Devastating. The effect was devastating. What happened then was man's spirit died that day. Man's spirit died that day. Y'all get this. So then when you are born, you are born with a dead spirit and your body and your flesh now is corruptible. It can get sick. It can decay. We can die. This is our flesh. Our mind, our soul now is born with a leaning and a bend toward rebellion.
Our soul has now been born with a bend toward rebellion. You doubt it? Ask the parents of toddlers. Do some time in the nursery. Who's teaching these kids to lie to us? Who's teaching these children to be selfish? We have a bend toward rebellion, but praise God, he made a way. He made a way. He restored us. He provided a solution, a remedy for this condition and it's to become reborn through faith in our Lord Jesus Christ who died and was risen again. When we believe that happens, our spirit becomes alive. We are alive. What about our soul and our flesh? That's what we take along in this sanctification journey.
Our soul still needs to be reset. Our flesh still has this bend where we want carnal things. I want to eat too much. I want to do something. I want your flesh is your earth-conscious? Your soul is your self conscious where the enemy has access to put fiery darts up here of doubt, of temptation of deceit, deceitful thoughts. All of this comes into our mind, but our spirit is our God conscience. This now is where the spirit of God resides. So can we always trust what we think? No. Do we always give into the flesh? No, we should not. With this knowledge, friends, this should give us a heck of a lot of grace for new believers, for baby Christians. God is just taking them on this sanctification journey. And us? We should be walking this with them. So, that's just a sidebar.
So let's look at this with like, if I had a hurricane oil lamp up here. In 1 Corinthians 6:17: But whoever is united with the Lord is one with him in Spirit. 1 Corinthians:6:17. So this oil lamp is sitting in our bellies and is lit as soon as we get saved. As soon as we get saved, that's lit.
Man's spirit is reunited with God. That rekindled spirit becomes a lamp filled with the holy spirit. And it illuminates the inward nature of man that was once dark. So if we cut all the lights off in here and it was dark outside, I could have a lamp here and I could light it and you would see this effect that now the inside of you, that was once dark, it's now re-lit.
And if it was a hurricane lamp, the oil that's going in there is the Holy Spirit, the oil. If you're looking through in the Bible where it's talking about the oil, read that thing in Matthew 25, that talks about the virgins. They have oil in lamp and five didn't. That oil is the Holy Spirit. So this lamp is being filled with the Holy Spirit within us. And it's re-lit, right. Proverbs: 20:27, it says: The spirit of man is the lamp of the Lord searching all the inward parts of the being. Where the Holy Spirit resides and the Spirit comes up, fills up that lamp and illuminates the inside a man. And now that reborn spirit is the channel for the Holy Spirit to flow out into the world. How do we know? Scripture tells it John 7:38-39: Whoever believes in me, as Scripture has said, rivers of living water will flow from within them." By this he meant the Spirit, whom those who believed in him were later to receive. Up to that time the Spirit had not been given, since Jesus had not yet been glorified. This is in Scripture to make it clear.
You wonder what the rivers of living water are? The Spirit, capital S, whom he believed in him were later to receive up to that time. The Spirit had not yet been given. So when you are born again, that lamp is lit and the springs of living water just overflow, they just come out and they overflow on your young people, on your teens, on your junior soldiers, on your corps people. It comes from within. Amen? Thank you.
So, ministry workers, we aren't the saviors. The corps is not about us. Your teen group isn't about you. Your junior soldiers aren't about you. Your camp staff aren't about you. They are his, and when we serve and when we minister, we do it through the power of the Holy Spirit. The power of the Holy Spirit.
God said his yolk was easy and his burden was light. Is that confusing for you? Is that puzzling? Is this the point where you say, man, that verse his yolk is easy, his burden is light. Dang. I don't feel that. Because it comes from the Spirit of the living God. It doesn't come through our own strength and our own ability. It can't, this is how you get burnout. It comes from here. We're doing the heavy lifting. We're tired. We're exhausted because we forgot. Same, we forgot that through his power, I can minister. Through his power, I can preach. Talk to me before I come up and preach and have me bumble through what I'm going to say. And you're like, oh, this is the speaker I got, what's going on. Because when I come up, it's through the power of the Holy Spirit.
And when you teach and when you preach and when you love and when you serve, it comes from the power of the Holy Spirit, because he gets the glory. It's not about how good you are. Do you remember what Reverend Tate said? He says, you get good at it. That's what he meant. We get real good at it. And it's like muscle memory. It's like muscle memory. We keep this, doing it and man, the object lessons and the activities and the things that they're doing, man, that's solid. Where's the power? Where's the power?
The power, the presence of the living God is what changes people. It isn't how articulate you are. It isn't how gifted you are. It isn't how creative you are. It's the power of the living God that brings about the change. It is. He wants to do it in and through you he wants to light a fire; just like Commissioner said, revival is now. And it will not come if we are doing it in our own strength, because we don't have the strength to do the heavy lifting that's required. We don't.
Acts 1:5-8: For John baptized with water, but in a few days you will be baptized with the Holy Spirit." Then they gathered around him and asked him, "Lord, are you at this time going to restore the kingdom to Israel?" He said to them: "It is not for you to know the times or dates the Father has set by his own authority. But you will receive power when the Holy Spirit comes on you; and you will be my witnesses in Jerusalem, and in all Judea and Samaria, and to the ends of the earth."
Man, you think it's hard? It is. It's terrifying. It is terrifying, but do it scared. That's what courage is. You do it scared. You're asked to preach, you preach. You're asked to teach, you teach. If God is stretching you, youth workers and your corps officer sees something in you and says, you know what? You're going to get up and give the devotional. You do it. You do it scared. You do it terrified because in that faith place is where the Holy Spirit actually takes over. In that faith place.
You're in an appointment that seems terrifying? Faith place. Holy Spirit.
I think for a whole year, every day we drove to work and it's like white-knuckling. Oh my God, in your strength, give us your wisdom. The responsibility we are not strong enough, it's you in us. It is you in us.
Let's get down to brass tacks. What does this mean literally? How does the Holy Spirit help us in ministry?
Number one, pray if you believe that the Holy Spirit's power does the work. If it's all about him, we do everything we can to make this place, your place is filled with the Spirit. That means before church on Sunday, you're praying. That means youth workers before teen night you're praying. This is holy ground, devil. You have no place here, out. There will be no distractions. There will be no emergencies. There will be no crisis. This is your time. Your place, Holy Spirit, have your way.
Corps officers, pray. Pray before you get up and preach. If it's truly through and in him, you're just going to get up cold. I cannot. Most of the time, I don't even, I don't eat breakfast. I try not to. I try to because I've referenced food a lot. That's my thing. And so I try to like really push down the flesh because I want the Spirit. I want to be able to preach and teach in the Spirit. So when my flesh is down and subdued, that's a good place. Whatever that is for you, live in it, lean into it, lean into the Spirit.
DYSs [Divisional Youth Secretaries], pray for every outreach event, outreach retreat. This better be in the lineup before anybody gets on campus. You are praying, seats going up and down, praying. Because you know what it says in the Bible, that the God of this age, the enemy is blinding people from seeing the absolute truth of the gospel.
If we do not do the spiritual warfare before people come, it's doing us a disservice. Corps officers are trusting you to do it. We are sending kids who have never had an experience with Jesus to come in and usher in, you better anoint that space. You can't afford not to. Do it.
Camp directors, you're in camp ministry. ARC [Adult Rehabilitation Center] and camp ministry is like this huge net that goes out and just brings in people. And they just get gloriously saved. You better be praying over that camp season at the end of every camp for the next one, for the next kids, this doesn't get old. Every kid is important. Every spirit, every spirit in darkness will come alive.
2 Corinthians 4:4 is that one, The god of this age has blinded the minds of unbelievers, so that they cannot see the light of the gospel that displays the glory of Christ, who is the image of God. Did y'all know that was in there? The god of this age is blinding them. We need to be mad about that. He is like aggressively pursuing people. He is agitated. He is like, wants. He wants to just, he doesn't want them to experience the truth and they can have fun all day. I don't care how fun we're making free time. I don't care how fun our activity is at teen night. If we aren't getting that soil ready for the Holy Spirit to move, then it's just a program. The Holy Spirit needs a place.
Now, remember I compared this to the burning, I'm moving on. Sorry. I'm very passionate about that point. The burning lamp, this hurricane lamp. What causes it? We have these experiences, right? Where the lamp is burning and we're in a season where this lamp is dim. Do you know what I mean?
It's like this desert experience where the light needs to be turned up. You know how there's a knob on the side where it just like turns up. And what happens is more oil is left is allowed to go into the wick and the wick is up and it can burn more oil, burns more bright, that dimness. What's causing that dimness in us. And I believe it's two things.
One of the things that separates us from the source is unconfessed sin. That's that one thing that kind of separates us and we all live this way because we understand the concept of grace. We get what grace is. We walk in grace every day. But when we lean too far into this concept of grace, we lose the discipline of repentance. So, when we're leaning so much into this place of like, oh, I love and appreciate the grace of God. And I'm like this more than most. In fact, the Lord had to really convict me of it.
Repentance is a spiritual discipline that keeps your spirit supple. It keeps it from getting callous. It keeps that fire burning, that fire that's alive in you. What happens is when there's sin between me and the Lord, it's almost like there's this distance. It's almost like this pane of glass. We see it now when we go to check out and I'm like, huh? When they're like, do you want to receipt? I'm like, what is it? Say it again. I can't, I'm missing it. It's like, I can't hear. And more and more sin. If this is unconfessed, it's just like more and more pane of glass. And then when you're trying to tap in and hear the Holy Spirit and actually have this equip you and have him guide you because it actually says that he will, that he wants to whisper to you his will. You can't hear him because there's sin here that hasn't been addressed.
If you're married, you get what I mean. This is like a marriage where Dusty and I are not good. If I have wronged him or he has wronged to me, we're not in fellowship. I'm just like not talking to him. I'm going to go back here. He's going to go over there. We're not communicating. The Lord doesn't do this with us. We do it. We're walking back. And the intimacy isn't there.
It says in James 5:16a: Therefore confess your sins to each other and pray for each other so that you may be healed.
The prayer of the righteous person has great power as it's working. This is a tough one. We're not good sometimes with vulnerability in the Church. We're very afraid because if someone knows that I struggle with this, this is going to get out. Friends. Let's be really sensitive to the handling of this. Let's be people that can go into the garden, that can go to the war room with people. And when they open up and they say, I am struggling with this, let's pray for it. Let's bring it to the cross. He will redeem it. He will restore it. Let's get you in full function of ministry. Let's protect these things that people want to share.
I'm telling you when I was coming this weekend, someone gave me that verse twice, two different people gave me that verse for you. I'm going to read it again. If I get it twice, you're getting it twice.
James 5:16a: Therefore confess your sins to each other and pray for each other so that you may be healed.
It's hard, it's vulnerable. But if you don't have someone that is that person for you, find them. It could be a spouse. It's typically it should be like someone who's like a best friend, that sacred person that you can trust.
1 John 1:9 says, If we confess our sins, he is faithful and just and will forgive us our sins and purify us from all unrighteousness. God took our sin to the cross. We know this. He took my sin to the cross before I was even born. He forgave me. He knew he would. He took Caroline Rowe's sin to the cross. I practiced this discipline of repentance, because the intimacy with the Father, I cannot do what we do without it. We shouldn't be able to do what we do without it. Going daily to be filled, that's another thing. Daily, daily our lamp needs to be filled. If your lamp is empty, this is why your light is dim.
If you're not daily going to the source for the Holy Spirit to fill that lamp, this is why it's hard. I want to say this: I think we're doing ourselves a disservice when our youth workers and our volunteer youth workers and people who work on our corps, never have the opportunity to receive from the ministry. If we are serving as corps officers and we have people who are working at the corps and never have the opportunity to come in and worship and receive from the sermon, we are doing ourselves a disservice. And your response a lot of times—our response is, well, I don't have the people. I don't know what else to do. I don't have anybody else to do it. They need to do it every time.
We take that to the Lord and we say, God, "I don't have anybody else. And this person needs to be filled. You can provide somebody." And I'm telling you, the faithfulness of God does not disappoint. If our heart is right. If your heart truly is for your people to receive and grow, be inspired, be sharpened by the Word, God will bring them. It's okay if one parent who receives from the ministry does one shift a month. It's okay. All the other times it should be their great privilege to gift that to a worker at the corps.
So that's one thing I want to say also, like there should be something like, not even just on Sunday, there should be like Bible studies or something where they can engage in. If you have people in your ministry that are pouring out all the time, it should almost be like, we make it a requirement. Go get filled. You have to, you have to do this, but that's not enough. That weekly feeling is not enough. Right? And guys, it shouldn't be that they have to go to another church, on another day to get filled. I'm sorry. I got to say it. It cannot be this way. We should show up and be present for our people. If they are serving, they're not just the muscle and the elbow grease.
Now, this daily infilling, where it's coming in. It comes from the Word. It comes from the Word.
We don't read the Word for quantity. We read the Word for quality. So this means if you're muscling through three or four chapters every day to say that I checked my thing, my box, I have read the Word and all the time you're reading and in the back of your mind, you're going through everything that you have to do for the day. You might as well, close it up. Put it back on the shelf. You're not doing anybody any good. In this moment, sometimes I'm just like two verses in and I'm meditating on that Scripture. And I'm like, God, show me, show me your Word in a fresh and new way. Even if it's a story you already knew, it could be one word that just bounces off the page. And it's for you. This is the living Word of God. We are eating it. It is filling the lamp. We need it. I wish I could make it more sexy for you or just tell a funny story, but I'm just like, this is it. This is the Word. This is, you need it. It's just, it's the discipline.
It's the habit you just got to get in there. And you got to pipe into the Holy Spirit's power and he does it through his Word. Because you know that the Holy Spirit actually brings you revelation. Did you know that?
John 14: 26: But the Advocate, the Holy Spirit, whom the Father will send in my name, will teach you all things and will remind you of everything I have said to you.
So when we go into a posture of getting into the Word, right? When we go into this posture, we say, Holy Spirit, bring your revelation to me. My spirit is open. I want to receive from you, make this fresh and new. Draw me into the deep. Fill me, fill my cup to the overflow so that when you minister it's the channel, the living water that just flows out of you through the power of the Holy Spirit.
John 16: 12-15: "I have much more to say to you, more than you can now bear. But when he, the Spirit of truth, comes, he will guide you into all the truth. He will not speak on his own; he will speak only what he hears, and he will tell you what is yet to come. He will glorify me because it is from me that he will receive what he will make known to you. All that belongs to the Father is mine. That is why I said the Spirit will receive from me what he will make known to you."
I know it gets confusing. Basically, it's saying that he brings revelation. He brings truth to you. He reveals to you the mysteries of God, isn't that what we want? We don't want to stale walk with God anymore. We want a fresh anointing, a fresh blessing that comes from the Holy Spirit. And as we sit in his presence, I say, man, I've read this story a hundred times, but make it new, make your mysteries new, make it relevant today, right now, fill me Holy Spirit. Fill me Holy Spirit. Thank you, Lord.
There are gifts that he gives you from the Holy Spirit. The Holy Spirit comes in and brings gifts, abilities that come from him. We don't talk about these lot in The Salvation Army. I'm going to just touch on them. Someone I think is doing a class on the gifts of the Spirit…I want to give you some Scriptures because I think that if you're sitting and you've been in ministry for a bit and you don't know what your gift is, I believe that God wants to reveal that to you so that you can lean into what's easy, because remember it's not about us. The ministry isn't about us. When we leave, this shouldn't die. The Holy Spirit remains.
So as soon as you're born again and as soon as your people become born again in your corps, you get a gift and ability that's to serve the body so that the body can get strong and we can expand our territory. That's why. It's like a symphony where everybody's doing their thing. You shouldn't have to do everything. Romans: 12: 6-8 talks about those and I'm going to list them out. Prophecy, serving, teaching, exhortation, giving, administration, and mercy. Isn't that great? It's like, just like, it's like the swag when you come to an event. You get born again, you get a gift to serve the body. And you know what? When people get saved and you allow them to use their gift, youth included to use their gift, what does that do? It encourages them and they have to work in faith and it actually like seals this thing where they get to experience the power of God.
It actually does something. It roots their faith. And so when people get saved, let them grow a little bit, but don't be afraid to ask them to do something, to greet somebody. We're going to have you help serve, be merciful, come with me for CCM, whatever it is, have people start to live and work in their gifts, observe them, watch them, listen to the Spirit who's directing you. Who's that still small voice that wants to bring revelation into your ministry because it's not in our strength. It's in his strength, right? So that's the first one. The ministry gifts. This is when you're called to full-time ministry. You're called to be a Salvation Army officer or full-time youth worker.
Ephesians 4: 11-12 names, "Apostles, prophets, evangelists, pastors, teachers." Let's cut some people a break. If they're really incredible pastors, and maybe they're not the best preachers, their ministry gift is to be a pastor. Praise the Lord for the pastors. They're like sitting with people, the ministry of presence. You're a pastor in here. Praise God for you. The love, tangible love of Jesus is experienced through you.
And finally the gifts of the indwelling of the Spirit. We don't see this a lot in the Army, but that's found in 1 Corinthians 12:14. When you're filled with the Spirit faith, the gift of faith. That's that gift that Smith Wigglesworth has where he is just like someone just was raised from the dead. That's like superhuman strength, like faith, right? Miracles. The gift of healing. My mother had that gift. Whenever she was around somebody where God wanted to heal them, her hand would tingle and get warm. And she was in a store one time and someone came up and her hands tingling, she goes, the Lord wants to heal you. She had throat cancer. Soon as she put her hand on the throat, my mother could see the cancer and it popped and she could breathe. That's the gift of healing. Discernment of spirits, word of wisdom, word of knowledge, those are revelation gifts. Prophecy, tongues, and interpretation of tongues, these are gifts that the spirit gives us. We will receive power to do what we do.
God wants to do a new thing. I was going to preach on spiritual disciplines today. And God said, tell them about the power that is from the Holy Spirit. Amen. The power that comes from the Holy Spirit. This should be a sweet relief to you. Drink some water, get some rest. Know it's not on you. Know it's not on you. Know that you're working in the power of the Holy Spirit. Even if you're sitting at a table at CFC and you got to make a decision, Holy Spirit's power, Holy Spirit's wisdom. You got to make a decision about staffing. Holy Spirit's power. His wisdom. It's not your place. It's not your building. Not your people. It's his. We pray. We till the ground, we leave it to him. The Holy Spirit is the one equipping you. So whatever it is for you, something between you and the Lord, you have an experience. The presence of the Holy Spirit.
I want the team to come up. I want to play some music. I just want to, I want to make sure that we give some space for him. Not everything needs to be put in a box. We're going to just make some space here for you to spend time with the Holy Spirit. We're going to just worship. It's not going to take a long time, but sometimes we need to just sit in this space to receive, to sit in this space to experience the power of the Holy Spirit. I believe he wants to reveal some things to you. I trust and believe that he wants to whisper some truths to you. He wants to bring revelation. He wants to bring power. He wants to bring healing. He wants to bring conviction. We want to bring obedience. We need to bring obedience. Here's the thing. If you act out in something that you felt was from the Holy Spirit and you're wrong, you just told God, you're willing to show up.
We don't have to back a perfect score. Sometimes I'm real weird and do some wackadoodle things because I'm like, I felt like that was from the Lord. I don't know. I'm going to say it anyway. We're not hitting it at a hundred percent, but at least you're going to show up. You're going to be obedient. And you're going to step into the anointing and power that comes from the Holy Spirit. Praise Jesus.
Let's worship. Let's worship. Praise Jesus. You know that's also a byproduct of the Holy Spirit in us. It's like our spirit. This is where worship comes from because remember we are joined with the Holy Spirit. Praise comes from here. Worship is here. Let's come into the spirit of a living God. Praise you, Jesus. Fall upon this place. Let's worship. Let's incline our ear this morning. Praise Jesus.
Additional resources:
Listen and subscribe to the Do Gooders Podcast now.