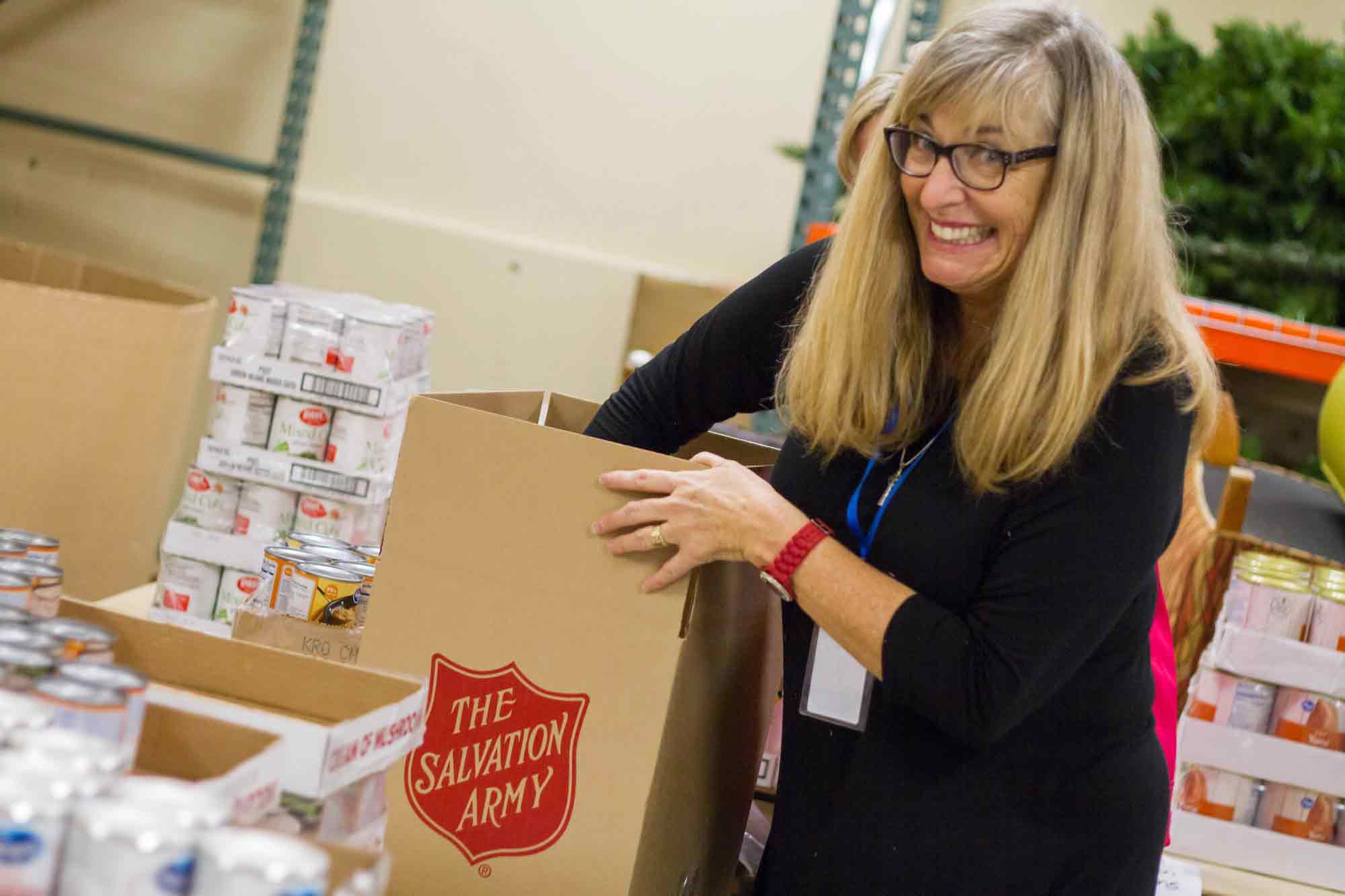 How one Northwest volunteer is Doing The Most Good beyond kettle season
Since 2013, Maureen Westfall has been an active Salvation Army donor and volunteer in Coeur d'Alene, Idaho.
When Maureen Westfall and her husband, Larry, moved to Coeur d'Alene, Idaho, from San Diego, California, she said she wanted to find ways to continue their involvement with The Salvation Army.
"The weekend we got here and moved into our house, we looked up The Salvation Army," Westfall said.
When living in San Diego, Westfall said she and her husband supported and attended various events and auctions for The Salvation Army over the years since their marriage in 1987.
"We both totally believe in the mission that The Salvation Army is on and we knew our money was going to be well used because they have a very good reputation," she said.
Instead of continuing their support to The Salvation Army in San Diego, Westfall said she wanted their contributions to go toward helping "people in need" in Coeur d'Alene.
"It was important to us to know that the money we give, as well as our time, stays here in the area," she said.
In 2013, when Westfall arrived in Coeur d'Alene, she said she and her husband attended the Red Kettle Kickoff event held at The Salvation Army Ray and Joan Kroc Center in Coeur d'Alene. Following the event, Westfall said she was invited to volunteer.
"It was the first time I was asked to ring the bell," Westfall said, mentioning her excitement to become more involved. "I jumped at the chance and I loved it the first time, so I offered to do it again that season."
Since her first time ringing the bell at the kettle in 2013, Westfall said she has helped out in each year that has followed, often wearing a festive outfit to bring out the Christmas spirit to encourage others to donate.
"Ringing the bell at Christmastime is one of my Christmas joys. I just have so much fun," Westfall said. "Where else can you be wished 'Merry Christmas' about a million times in two hours? It fills your heart."
"A lot of people have expressed their gratitude for me standing there doing it and I say, 'Honestly, I'm getting so much more out of this than you would ever understand unless you do it yourself,' Westfall said. "I walk away filled up so much more…by just offering a couple hours time."
In the 2021 kettle season, Westfall said she volunteered about six times to ring the bell. To honor volunteers who have dedicated their time to help fundraise, the Coeur d'Alene Kroc Center celebrated its inaugural Kettle Hero awards in January 2022 where, out of thousands of volunteers, Westfall was one of five people awarded.
"Maureen was an obvious choice," Kroc Center Director of Development Christy Markham said. "We were able to recognize her not just for this year, but for her many years of service."
In addition to her volunteering efforts, Markham said Westfall acts as an incredible advocate for all the work being done at the Kroc center.
"Not only is she giving back to us in physical ways, but she's also communicating our message on our behalf," she said.
Following her positive experiences ringing the bell, Westfall said she then began to assist with daily accounting needs during the kettle season, requiring each coin, cash and check donated is counted.
"My mom was the church secretary when I was growing up, so I've been counting money and helping out with that kind of stuff since I was about eight or nine years old," Westfall said.
"That doesn't sound like something a normal volunteer would be interested in doing or capable of doing, but she is and she's a gift to us," Markham added.
Westfall then took on the job of addressing mailing envelopes for special events and taking the time to provide hand-written thank you notes to donors. For the Kroc Center's biggest food drive, "Families Feeding Families," Westfall helps by sorting and packing food boxes.
She also began helping to run open senior time at the center. In recent years, Westfall said she's introduced the matching tile game, Chinese Mahjong, to older community members.
"It's a very good weapon in the battle against Alzheimer's and dementia," Westfall added.
Over the years, Westfall said she's been asked if she would be interested in going on payroll for all the hours she gives to the center, but each time she denies payment.
"I actually love getting to do this from my heart, not because of my bank account," Westfall said.
Kroc Center Development Associate Vicky Jo Carey said Westfall has put in "countless hours" over the years to assist in "whatever ways are needed."
"If Maureen says she is going to do something, she does it. If she says she will be somewhere, she is there," Carey said. "I never have to worry if she is going to show up. She will."
Each week, Westfall volunteers her time with Carey to assist in matters concerning donor relations and data management.
"She will attempt anything but also is not afraid to ask when she is unsure of something," Carey said.
Markham said everybody in the building appreciates Westfall and her efforts.
"It's a joy to know her," Markham added. "She's such a wonderful individual."
---
Do Good:
You can make an impact in the Fight for Good with whatever time and skills you have. Whatever your interest, there is a you-sized need for goodness in the world. Get the guide on How To Be An Impactful Volunteer and get in the Fight for Good today.
Interrupt the free flow of junk (e)mail with something good. Get the Do Good Digest. Join 21k+ people who care and get weekly inspiration sent right to your inbox.
Ready for more volunteer motivation? Listen to episode 99 of the Do Gooders Podcast to hear about how you can volunteer and be the reason somebody believes in goodness.