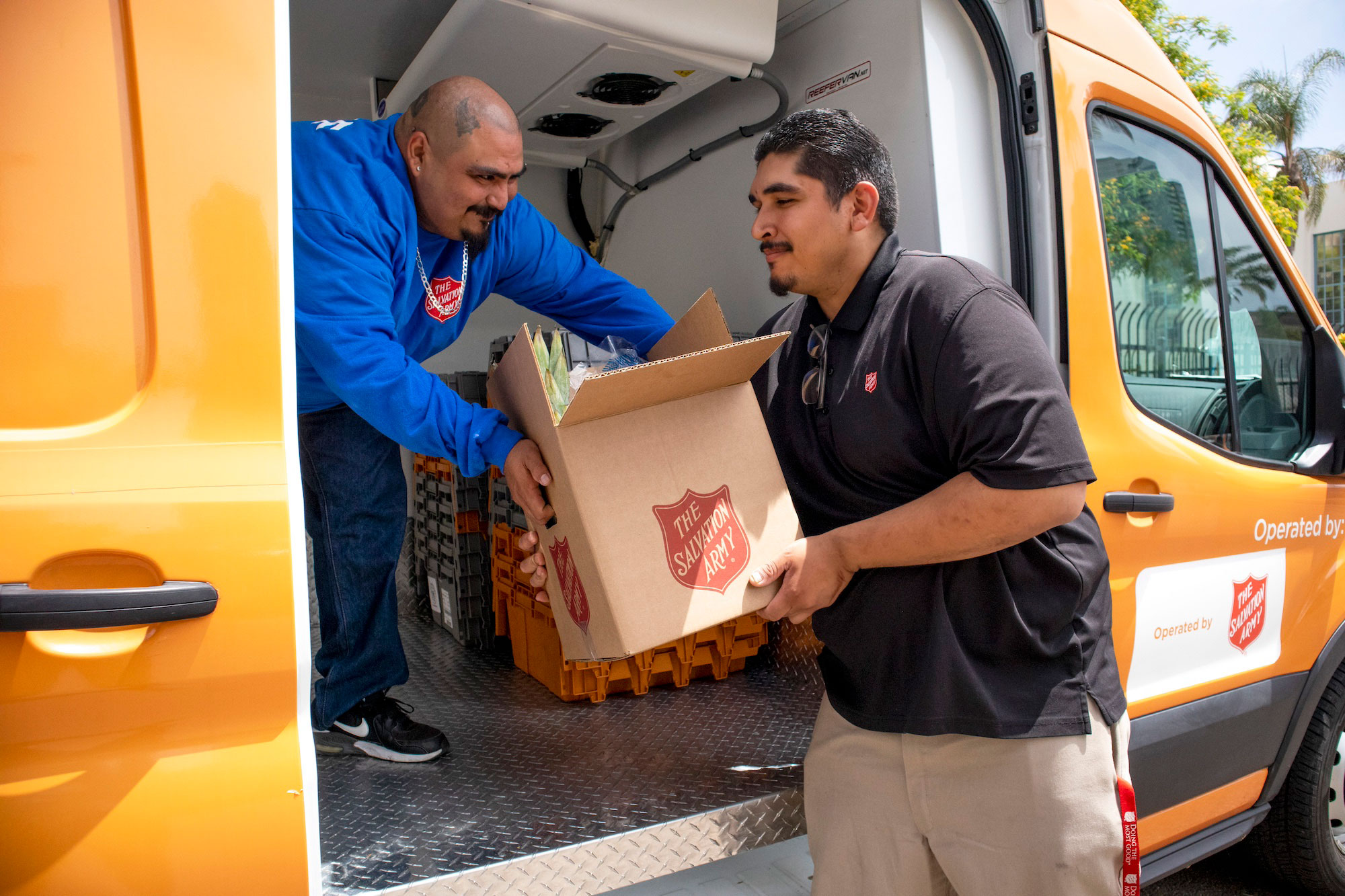 How a Salvation Army employment program gets men back on their feet
In San Diego, Salvation Army assistance programs are helping men obtain employment and exit homelessness.
Robert Thompson found himself homeless and living in his car due to an ongoing struggle with his mental health. Eventually, he said it led to job loss, financial difficulties and the need to seek help.
"Too much bad and not enough good is what brought me down," Thompson said. "I wasn't happy anymore and lost interest in my job. I became irresponsible and was eventually evicted."
After searching online, he came across The Salvation Army San Diego Centre City Corps Coordinated Assistance through Residential Stability (CARS) program that assists individuals or families experiencing homelessness for the first time with obtaining stability and employment.
After securing temporary shelter through the CARS program, Thompson encountered The Salvation Army San Diego STEPS: Shelter Transitional Employment Program Service. It offers men a three-phase plan to assist in their journey from homelessness to securing permanent housing and employment.
STEPS addresses findings from San Diego's Homeless Point-in-Time Count, which found 69 percent of the city's homeless population are men. The program can hold 36 men at once, with participants typically entering through outreach efforts and referrals.
Men joining the program begin with a 90-day interim housing phase, followed by a transitional stage that focuses on achieving self-stability. Additionally, a subsidized sober living component is an option for men working and saving for a stable future.
While in the program, men work alongside caseworkers and staff to rebuild their credit, create a resume, learn how to budget and participate in group work to grow their social skills.
For Thompson, the program provided the time and space to reflect and prepare for a fresh start.
"The goal of STEPS is to get men off the streets and start the process of becoming self-sufficient through case management, job readiness preparation and financial planning," said Megan Dowell, San Diego Homeless Services Director.
The program is flexible, and participants are not required to stay for each phase. According to Dowell, some leave after the 90-day stay and others join the subsidized sober living right away.
"It's up to the client and what services will best suit them," she said.
Both participants of the STEPS and CARS programs are encouraged to apply for an employment program where they complete an application, interview and potentially achieve temporary employment as a Salvation Army food pantry worker or food rescue driver.
The program is operated through private foundation funding, and allows those involved to obtain wages through their work and save for the future.
Thompson applied for the program and now works as a dedicated driver for The Salvation Army San Diego Centre City food pantry.
"I enjoy working," he said. "With the help I've received from The Salvation Army, I feel great knowing I can get through this."
Geof Lippert, Centre City Director who helps men in the employment program, described it as a small-scale job readiness initiative, typically admitting three participants each quarter. However, since its inception three years ago, the program has witnessed success and growth among its clients.
"Everyone who has left the employment program is more prepared to find employment than when they came in," Lippert said, adding that close to 100 percent of participants secure employment after completing the six-month work program.
According to Lippert, the program extends beyond housing and case management by empowering men with the knowledge and skills necessary to regain independence while practicing things they might have been unable to do due to previous circumstances.
"Without this program, it could be very hard for some of the men to find secure employment," Lippert said. "It really increases their self-determination immediately because we throw them right in, and they have new responsibilities and expectations—and they love it."
According to Thompson, the program has instilled confidence in himself and what he can do. He said once his role as a driver ends, he is eager to pursue work where his passion lies: in computer design and 3D modeling.
"I am thankful because I am now in control of my life again," Thompson said.
---
Do Good:
Need some extra motivation to do good today? Follow Caring Magazine on Instagram for inspiring stories, podcasts and more to get you in the Fight for Good.
Could you use a meeting with God not to get more from him, but to discover more about who he is and his heart for you? Get inside the Caring Magazine Scripture Study Collection and find a suite of free, printable Bible studies to help you start your day with hope, meet God over lunch or end your evening connected to your Creator.
What makes a good story? Where can you find "the magic" in one? And how do our values integrate with our own story? Take our free email course and discover exactly how to find your voice, own your story and share it with others.