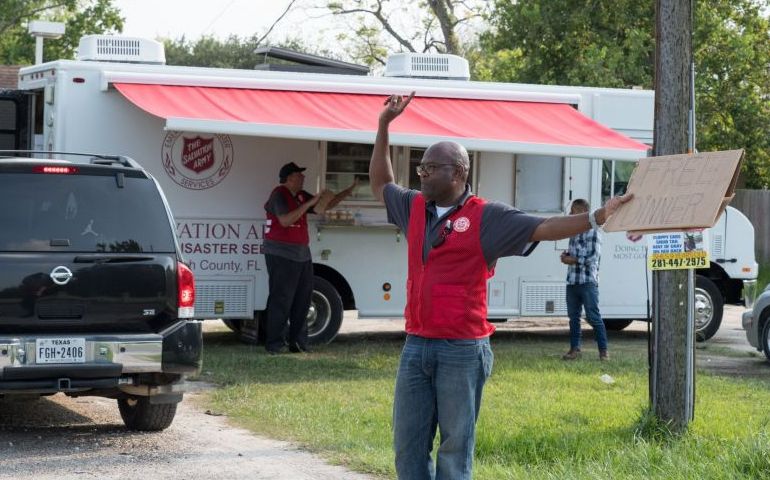 Here's what The Salvation Army's doing for Harvey victims over Labor Day Weekend
It's now been over a week since The Salvation Army began rolling out one of the largest disaster relief operations in its history. The organization is deploying trained disaster workers from across the United States and Canada.
So far, The Salvation Army has provided more than 175,000 meals, 130,000 drinks, 100,000 snacks, and counsel and prayer to nearly 6,000 individuals affected by Harvey.
Over Labor Day weekend, The Salvation Army is providing the following resources to Hurricane Harvey survivors:  
Thirty-three mobile kitchens and response teams, with an average capacity to serve 1,000 meals each day, are serving in Aldine Westfield, Bear Creek, Cleveland, Conroe, Downtown, East Texas/Jensen, East Houston, Fort Bend, Garden City, League City, New Caney, Northshore, Pasadena, Pearlan, Porter, Sheldon and Spring Branch. Some of these units are stationary, while others are roving throughout the community to serve areas with the greatest levels of need.
The Salvation Army currently has one Area Command in San Antonio and 13 Incident Command Posts in the following counties: Angelina, Bell, Bexar, Brazoria, Dallas, Galveston, Harris, Jefferson, Kerr, McLennan, Nueces, Smith and Victoria.  
The Salvation Army will continue to provide emergency shelter to families and individuals who have evacuated their homes at the Harbor Light Center, Sally's House, and the Family Residence Center.
The Salvation Army has secured warehouses in Corpus Christi, Victoria and Houston. These locations will support warehousing and feeding efforts along the coast.
The Salvation Army is also serving as a last resort emergency shelter in Beaumont, Corsicana, Lufkin, Temple, Tyler and Waco.
To support relief efforts, visit helpsalvationarmy.org, call 1-800-SAL-ARMY, or text STORM to 51555.