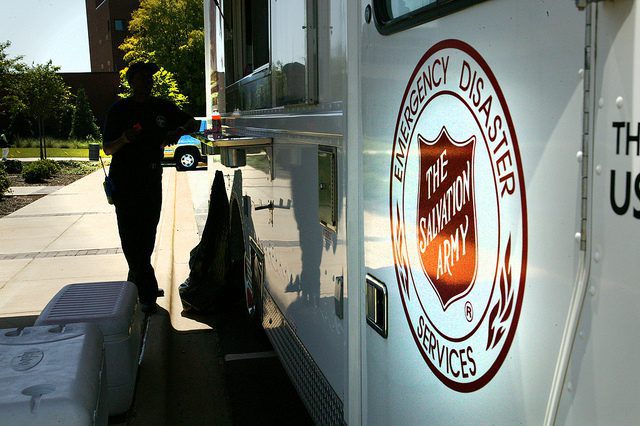 Hawaii EDS ready to respond to Hurricane Lane
While services continue for those affected by the Puna lava flow, Salvation Army corps service teams and volunteers on each island prepare for impending storm.
With Hurricane Lane moving toward the Hawaiian Islands, The Salvation Army Hawaiian and Pacific Islands Division is prepared to respond with community assistance as needed. As part of a team of agencies providing assistance during events, The Salvation Army works closely with the State of Hawaii Voluntary Organizations Active in Disaster.
"The Salvation Army has an established presence on Kauai, Oahu, Maui, Molokai and Hawaii, and we are ready to respond in our island communities as needs arise," said Captain Micheal Stack, Divisional Emergency Disaster Services Director. "During emergencies, the best way the public can help is to provide monetary donations which allows the delivery of the exact relief supplies a community needs. Plus, The Salvation Army uses one-hundred percent of all donations designated 'disaster relief' in support of disaster operations."
Meanwhile, The Salvation Army continues to provide services to people affected by the Puna lava flow. Since May 9, it has coordinated the food service with three meals per day to the emergency shelters in the Puna District. As of August 17, a total of 55,766 meals have been served including 9,825 vegetarian meals. The Army regularly purchases meals to support vendors in Pahoa, Keaau and Volcano Village.
Since May 13, The Salvation Army has operated a distribution center at the Pahoa Community Center in the Puna District. As of August 15, there have been 2,109 visits from 1,120 households who have received donations from the center including 1,703 mosquito repellant cans, 1,794 food boxes, 1,508 cases of water, and 1,131 hygiene kits.
In addition, since May 9, The Salvation Army has supported affected households with financial assistance to the Army's three thrift stores on the Island of Hawaii. As of August 15, a total of 149 households have received financial assistance with a total of $16,625 in vouchers redeemable at the thrift stores in Hilo, Honokaa and Kailua-Kona.