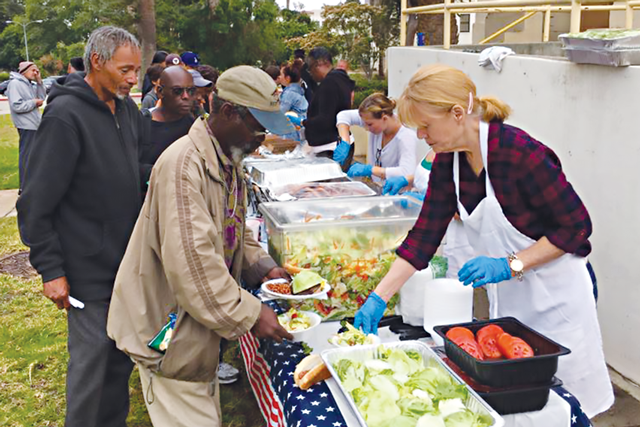 Haven transitions from LA campus
Bell Shelter, meanwhile, gains funding approval for 225 beds, some of which will be reserved for veterans.
A typical work day for Krystina Robinson sounds something like this:
"So, what are you passionate about?"
"What excites you?"
"Where do you want to be long term?"
By the questions alone, you might mistake her for a high school guidance counselor. But what Robinson's actually doing—intake at The Salvation Army Compton Corps for veterans in need of housing, employment and other resources—will shape an increasingly critical pillar of The Salvation Army's service to vets moving forward.
Why? The Haven, The Salvation Army's mainstay program for vets in Southern California, will move on from its brick-and-mortar location at the West Los Angeles Veterans Administration (VA) complex, after its contract with the VA expires Sept. 30.
It marks the end of an era.
The Haven has served roughly 2,500 veterans annually, and has been The Salvation Army's largest residential program for veterans in the Western Territory since its inception in 1994. Notably, the facility's housed 270 beds of emergency and transitional housing, some of which are being transferred over to The Salvation Army Bell Shelter to help ease the transition.
Already, 95 beds (plus staff members) from the Haven's "Victory Place" substance abuse program have moved over to Bell Shelter, and 30 more will follow Oct. 1, according to Steve Lytle, Bell Shelter Director.
After the VA cancelled all existing grant per diem contracts nationwide, Bell Shelter applied for 225 additional beds under several new program models and was conditionally selected for funding for all of those beds. Though not all of those will be designated for veterans, the news marks at least a small victory for those serving this vulnerable population.
"Luckily, we were able to retain the beds through this transition of contracts," Lytle said. "And I think it's critical that we continue to work closely with the VA to serve [vets]."
Indeed, it is. According to a recent report from the Los Angeles County Homeless Authority, veteran homelessness surged 57 percent from 2016—easily outpacing the 23 percent uptick in general homelessness over the same period.
"I think that really highlights the need for everyone to work together, so that we get these folks housed, and provided with the services they need as quickly as possible," Lytle said.
But in order to peg away at the housing crisis, they must also address the underlying causes of veteran homelessness. Namely, unemployment.
That's where Robinson comes in. She's one of the career development specialists for the Haven's "Community Integration," the counterpart to its longtime residential program. This case management element has already taken root in the Compton Corps, where Robinson works, the San Fernando Valley Corps, the Ventura Corps and the Santa Barbara Corps. And soon, it will make a home in four new Southern California offices—Westwood Transitional Village, the Santa Monica Corps, the Burbank Corps and the East Los Angeles Corps.
"For all intents and purposes, half of the Haven is [already] out in the community," said Pilar Buelna, The Salvation Army Southern California Divisional Director of Social Services.
In addition to the four new offices, they're also looking to open up the Community Integration programs to the general homeless population—allowing for an even broader reach.
"The great thing going forward is we're going to be able to extend our services in the community," Buelna said. "So I think that's the real positive that's come out of this. We're really integrating to fulfill the mission of The Salvation Army."
Robinson said she's excited at the prospect of being able to serve more veterans in more locations, but adamant that the same commitment to their well-being be upheld.
"We really just have to meet them where they are, and not just in terms of location," Robinson said. "We have to figure out, whether they're actually ready for employment. And yes, the goal is to get them a job. But we really want to find them a career path."
Therein lies the importance of the initial assessment. Through individualized job search and placement, resource connections to housing, employment and training opportunities and assistance with overcoming barriers to employment, these caseworkers, in many ways, form the cornerstone of The Salvation Army's service to vets—now more than ever.   
One of the veterans who recently came through the Compton office, James, ended up going on to heavy equipment operator school at College of Instrument Technology and securing a well-paying job in the industry. But even for model success stories like his, Robinson said, the line of communication stays open.
"We still keep in touch with all of our veterans for about a year after they find employment, just to make sure they're still employed and they're still happy with what they're doing," she said. "We just want to be there when they need us."