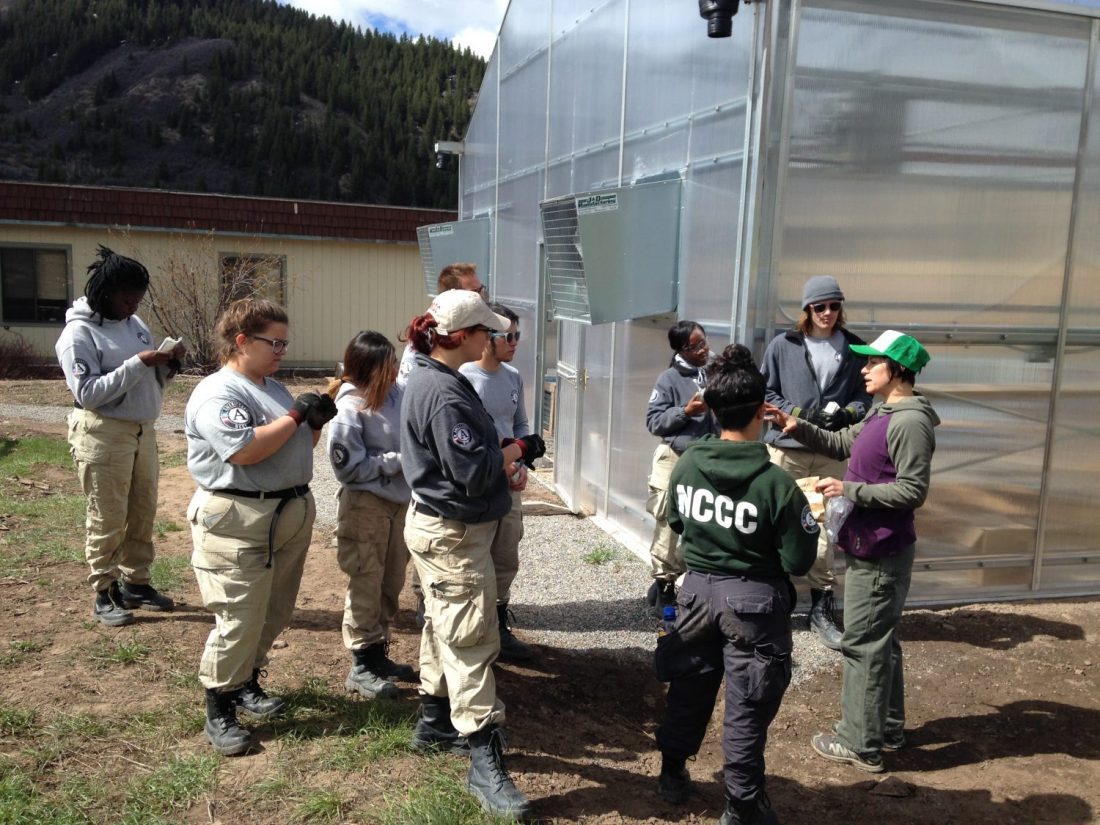 Growing against food insecurity
AmeriCorps commits a team to help The Salvation Army combat hunger.
AmeriCorps joined with The Salvation Army in a common goal: food security.
Ten AmeriCorps team members are working with Mountain Harvest, a project of the Vail Valley Salvation Army that engages local gardeners in an on-site, fenced-in garden with 24 plots and drip irrigation to stock the food bank with fresh produce.
In 2015, The Salvation Army received two grants to fund a new on-site greenhouse for year-round growing, but only the initial assembly was completed. The AmeriCorps team recently completed its internal construction.
"They built the infrastructure for the greenhouse—the potting tables, the bins that will house the plants," said Meighen Lovelace, coordinator of Mountain Harvest. "They cleaned and organized and took inventory of stock—what we had and didn't have. It was almost like having a construction crew on site. They even brought their own tools."
The team also prepared the 24 plots for the growing season and put in an additional eight raised beds.
For the AmeriCorps team, this assignment differed drastically from their two prior assignments, which involved tutoring and mentoring youth.
"You don't get to see those results right away," said Misty Dingus, member of AmeriCorps NCCC Sun 2, the team working in Eagle County now. "Yesterday, we dug a five-foot trench for the winter irrigation system to get plumbing to the greenhouse, so we're definitely seeing more tangible results now."
The team also helped at The Salvation Army's front desk, meeting clients and seeing firsthand how their work will impact the community.
"That interaction with clients has opened their eyes to the need in the community and makes it that much more special for them to be here," Lovelace said.
In addition to their work with the Army, the team spent time with other local community gardens, including the Colorado State University Extension Garden and another at the Edwards Colorado Mountain College campus. They're also helping organize a youth soccer program called COPA through the Vail Valley Foundation's YouthPower365 program. They supported a Summer Lunch program at three local schools sponsored by InteGreat!, which served 7,703 meals during its inaugural year in 2015.
The Salvation Army is lending its support to the Summer Lunch program in return, growing lettuce for the salad bar and rallying volunteers and awareness for the initiative.
"We want to make sure everyone knows that program is in place and that there's a place where kids can eat for free in the summer," Lovelace said.
The 10 AmeriCorps team members will split up into teams at each school, Dingus said, fanning out to help with everything from cooking to making sure kids get off the buses and to the site safely. Along with receiving a healthy lunch, kids can take part in an enrichment program, with activities ranging from music and story times, to arts and crafts and organized sports.
"The summer lunch program isn't just a meal," Dingus said. "[It's] time for the kids to get out and have fun as well."