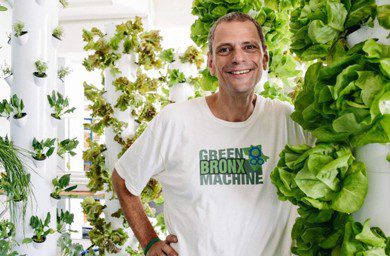 Greening Education
What if happy meals resulted in happy kids and a happier, healthier world? What if students were able to grow them in schools? Our Green Bronx Machine is a non-profit dedicated to growing, re-using, resourcing and recycling our way into new and healthy ways of living.
We're transforming landscapes and mindsets, harvesting hope and cultivating local talent while driving academic engagement and civic competencies in ways we've never imagined. School attendance has jumped from 40 to 93 percent and students are aspiring to careers and training they never, ever imagined.
Thirty-thousand pounds of Bronx Fresh vegetables later, our favorite crop is organically grown citizens, graduates, voters, members of the middle class, schools of students far more in tune with healthy eating habits and access to healthy food! We're moving those who are traditionally "apart from" success to becoming "a part of" it in ways that benefit all.
Across America, marginalized and high-need communities are phenomenal incubators for progressive change. As the health of the South Bronx goes, so goes the health of New York City, state and the nation. Our replicable model helps to move us from a nation of red states and blue states to a united nation of green states, living eloquently and ecologically in line with nature—one that is inclusive, equitable and transformational for all, and most importantly locally grown and maintained. That 37 percent of local residents are food insecure and others are eating their way into chronic health problems is unacceptable. The potential to bridge gaps in culture, race and ethnicity rooted in the common denominator of food—integrated with school and community—seemed worthy of pursuit, especially since many of our students previously thought donuts were vegetables. That we can engage students in and across all academic areas to be rooted in health, wellness and feeding people, while providing access to living wage employment and possibilities that help mitigate and impact environmental concerns globally is beyond anything we ever hoped for. Yet, as our TED talk shows, here we are and away we go.
We don't expect every student to be a farmer, but we do expect them to read, write, do the science, the math, problem solve, speak to ordinal directions and processes, offer outstanding customer service, be engaged and aspire to things and places they've never imagined before. This is the promise of education that we are determined to deliver. When our 2009 video, "Urban Farming NYC," filmed in a weekend as an extra-credit project, propelled us to the White House, peers and parents noticed. The whole Bronx cheered!
We're honored that our students want to impact lives in Haiti, Africa and their native homelands; remarkably, we're doing just that. It's all very visible and tangible—the students see it, grow it, taste it, own it, sell it—proof the Bronx can change attitudes now. In fact, rooted in the belief that we are all Amer-I-Cans, we believe we can change America now.
Another video, "Welcome to Green Bronx Machine," demonstrates that we are poised, ready, willing and able to export our talent and diversity in ways that make dollars and way more sense. To think that we are routinely taking kids from the South Bronx and employing them across America, in high profile locations is simply spectacular.
Collectively, we owe our children opportunities and safe, healthy places where they can be inspired to perform and dream of a brighter future. Where we learn matters and we must start embracing the notion that healthy environments and classrooms can facilitate learning, performance, retention and aspiration. Every child deserves a safe, healthy, nurturing school environment and our approach meets that mandate, resulting in children and teachers working toward a more inclusive, prosperous, purpose driven future elegantly and ecologically aligned with a triple bottom line.
I'm honored to be a Green Apple Education ambassador for the U.S. Green Building Council, an ambassador for Center for Green Schools, a global ambassador for One Percent for the Planet, and thrilled to be involved with initiatives like the Green Apple Day of Service, Green Schools Alliance, and Green Schools National Network. Together, we can change the way we teach and learn in this generation. We've partnered schools like JVL Wildcat Academy with local companies like Fresh Direct and national corporations like Whole Foods, Progressive Insurance and The Apron Project to create wholly inspirational learning environments.
We are presently using a new technology—Tower Gardens. Office Depot recently highlighted it in "Teachers Change Lives," showing that people can garden anywhere and that students can grow food efficaciously in schools mindful that input affects and effects student and teacher output. That children from the poorest Congressional District in America can be featured on Disney truly represents the new Bronx and the promise of public education irrespective of zip code.