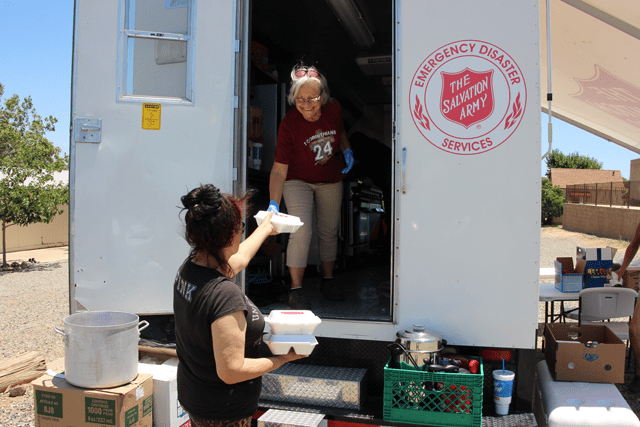 Goodwin fire activates Emergency Disaster Services team
Firefighters are attempting to contain the fire that started on June 24.

The Salvation Army responded to the City of Prescott, Arizona's, request for assistance in supporting those affected by the Goodwin Fire by mobilizing The Salvation Army's Emergency Disaster Services (EDS) team.
The fire started on June 24 and burned nearly 25,000 acres in the Prescott National Forest. The Yavapai County Sheriff's Office lifted the evacuation order in Mayer, but residents of surrounding towns are still waiting to return to their homes.
Lt. Elaine Mansoor from the Prescott Corps has been onsite since the fire first broke, with reinforcements now coming to address the escalating situation. The Salvation Army will have two canteen units onsite capable of serving 1,500 meals per day for residents, first responders and volunteers.
In the last 24 hours, The Salvation Army has fed nearly 100 people at a Red Cross shelter.
"We are grateful to be in a position to provide this critical support," said Major Wayne Froderberg, Salvation Army EDS Director. "But we could not do so without the support of corporations such as Bashas' Family of Stores, which has partnered with us throughout the month of June to raise funds for our fire relief efforts and is stepping up with additional corporate dollars today."
---
UPDATE: In the week after the fire broke, Salvation Army units dispatched from Flagstaff, Tucson, Show Low and Las Vegas helped serve over 3,100 meals and more than 29,000 snacks at eight different locations—as well as distribute vital toiletries, clothing, bedding, water and additional food donated by the community.
"The people of Prescott and the surrounding communities were at risk to suffer great losses, with many forced to evacuate their homes," said Tucson Amphi Corps Officer Lt. Jeff Breazeale. "It's times like these when The Salvation Army responds to do the most good."
---
Anyone wishing to make a monetary donation can text the word Goodwin to 51555 or go online to prescott.salvationarmy.org or salvationarmyphoenix.org.