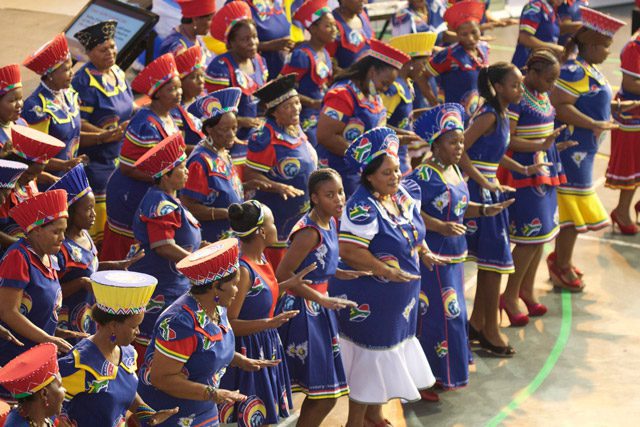 'Go and Tell'
Rally led by Commissioner Silvia Cox inspires thousands of women across Southern Africa.
By Major Carin Holmes –
[gss
gallery ids="17998,17999,18000,18001,18002,18003,18004″]
More than 3,000 women across The Salvation Army Southern Africa Territory took part in a lively weekend rally led by Commissioner Silvia Cox, world president of Women's Ministries. The congregation gathered at Orlando Community Hall in Soweto, South Africa, to celebrate, sing, dance and give testimony to God's work in their lives.
Territorial President of Women's Ministries Colonel Yvonne Conrad helped lead the weekend with the divisional directors of women's ministries under the theme "Go and Tell."
Following a praise and prayer meeting on Friday night, Saturday saw an ocean of color as the women—clothed in traditional dress—marched into the hall with banners of all eight Southern Africa divisions represented. In a traditional South African "shayatafula," the divisions sang and danced their way one after another toward an offering table, raising over $45,000 USD through the Home League Helping Hand initiative in the territory.
Two guests spoke: Weziwe Gcotyelwa Thusi, member of the executive committee in KwaZulu-Natal Province, and Sibongile Mokoena, education outreach coordinator for the South African Environmental Observation Network. They challenged the women to be practical and active in their communities because their locality needs women of God with vision and insight. The celebration lasted into the evening with testimony and praise.
Sunday started with a public march of witness with the women—led by the KwaZulu and Natal Divisional Ladies Band—saluting Cox and Conrad. During the morning meeting, numerous women spoke of their personal experience of God's grace, which was celebrated through brass band music, lively singing and timbrel displays.
Cox picked up the "Go and Tell" theme in her Bible message to encourage the women to each live and share their faith. She said to the women that their "lives must reflect the presence of God in their homes, corps and communities."
Hundreds of women sought God during the altar call and many responded to the invitation to officership. Everyone went away with the realization that The Salvation Army in Southern Africa is well resourced with educated and committed women, ready to "Go and Tell."