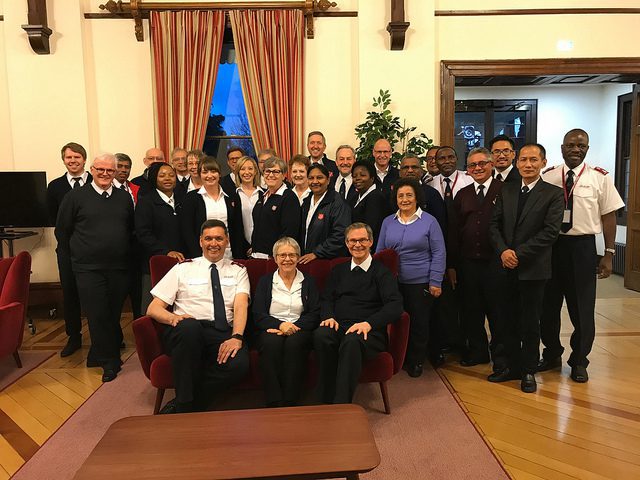 General Peddle encourages The Salvation Army to engage with moral and social issues
World leader of The Salvation Army General Brian Peddle delivered the keynote address at the March 2019 meeting of the movement's International Moral and Social Issues Council (IMASIC). For the first time, the meeting included chairpersons of territorial councils that address moral and social issues. Representatives from Salvation Army territories who are considering starting moral and social issues councils also attended.
The General called on all present to find more ways to be effective at engaging Salvationists and the wider Salvation Army in current issues. He thanked everyone who has worked on these critical matters in the past but urged attendees to find new approaches to help Salvationists and The Salvation Army speak faithfully into our complex world.
The General expressed appreciation for the support he receives from IMASIC and The Salvation Army's International Social Justice Commission (ISJC), calling IMASIC one of the best-kept "secrets" of the international Army. Since the reformation of IMASIC in 2008, 16 International Positional Statements have been written, approved by the General and shared with every territory, command and region. However, Peddle noted, positional statements are not the only tool to help Salvationists and The Salvation Army live out God's mission in the world. He expressed the hope that those present would learn and identify ways to work better together in the future.
During the course of the meeting, people from 24 territories and commands reviewed the work done in the past 10 years by IMASIC and territorial moral and social issues bodies. The use of positional statements and global issues that need to be addressed were also included. The meeting included new resources—developed by IMASIC, ISJC and the International Theological Council—to encourage conversations on human sexuality.  
A new format for International Positional Statements was released at the meeting. Most of these documents are now freely available in Spanish, Chinese, Portuguese, German, French and English on the ISJC website. Some are available in Italian and it is hoped that additional languages will be added in the future.
"Working together is essential if Salvationists are to engage the complexities of our times," said IMSIC Chair Dr. James Read after the meeting. "We knew that going into the meeting. So, the aim of the gathering was to build knowledge, enhance trust and discover paths of collaboration. We succeeded in finding practical steps forward."
Originally published on The Salvation Army International