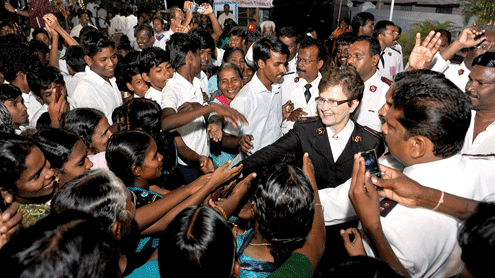 General Linda Bond visits India
International leader welcomed by thousands of Salvationists and friends.
General Linda Bond visited The Salvation Army's India South Eastern and India South Western territories in February. In each territory, thousands of people welcomed her. Captain Elizabeth Nelson from International Headquarters accompanied her.
In the India South Eastern Territory, a motorized golden chariot transported Bond, Nelson and territorial leaders Commissioners M.C. and Susamma James to the Booth Tucker Memorial Church in Nagercoil, where 25,000 people gathered to see the Army's international leader.
The General challenged Salvationists in the India South Eastern Territory to be a holy people before God and the world. Each Bible-based message expanded on aspects of the International Vision: "One Army, One Mission, One Message." She emphasized the importance of prayer, saying, "Without prayer the church cannot go forward," and stressed the importance of holiness.
Large crowds also greeted Bond in the India South Western Territory, including territorial leaders Colonels Samuel and Bimla Charan. Here she spoke at officers' councils on the Army's "One Mission" vision, saying Salvationists should be the people they are called to be and do what they are called to do. In another session, she asked: "What kind of officers do we need?" challenging Army officers to serve people with a willing heart and lead them with a gracious Spirit.
After each of her messages, scores of people approached the mercy seat to dedicate or rededicate their lives to God.
From salvationarmy.org/ihq