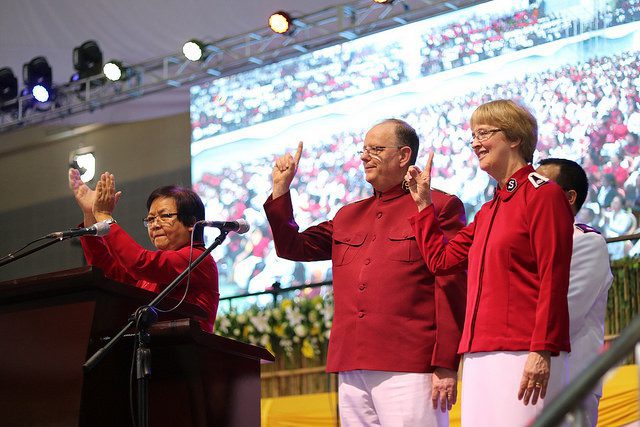 General Cox celebrates India East centenary
By Jean Vanlalrochuangi –

General André Cox and Commissioner Silvia Cox, World President of Women's Ministries, led a six-day congress to celebrate a century of Salvation Army ministry in the Indian state of Mizoram—the India Eastern Territory.
The international leaders wore red uniforms for the centenary flame-lighting ceremony, in recognition of the red uniforms worn by the pioneer officers who introduced The Salvation Army to the people of Mizoram.
Throughout the 10 public meetings, the Coxes focused on mobilization, reminding Salvationists and friends not to be content with their present achievements. If the faith of a few zealous people could lead to a century of service, they said, how much more will the present generation of passionate Salvationists achieve? With God, they said, everything is possible.
Thousands of people responded to altar calls, and at least 54 young people committed their lives to officership.
All public sessions were held at R. Dengthuama Indoor Stadium, Mualpui. By the final day, the total attendance topped 20,000 people, making this the largest event in the history of the territory. Officers and soldiers from Australia Eastern Territory, India National Secretariat, Myanmar Region and India South Western Territory attended, along with India Eastern Salvationists and friends. One color sergeant from Saikawt Corps even traveled eight days by bicycle to attend the meetings.
The contributions of old and young were recognized as the General presented two local officers with long-service badges for their 50 years of ministry and gave Merit Badges to 447 newly-graduated corps cadets.
Every session featured items from soloists, songsters, bands and timbrels, with a video wall adding extra information and images. Each was broadcast live by two local cable networks, reaching the whole of Mizoram. Local newspapers and cable TV reported the international leaders' visit and highlights of the centenary celebrations.  
The General unveiled a statue of pioneer officer Lt. Colonel Kawlkhuma, O.F., as a permanent recognition of the 100th anniversary. He also opened a new prayer hall at Chanmari West Corps and blessed the refurbished building for the centennial family store at Temple Square, which is part of an initiative to enable the territory to support itself financially.  
The General and Commissioner Cox were received by the Government of Mizoram as State Government official guests. His Excellency the Governor of Mizoram, Lt. General Nibhay Sharma, and Lal Thanhawla, the Hon. Chief Minister of Mizoram, attended the congress with their wives.