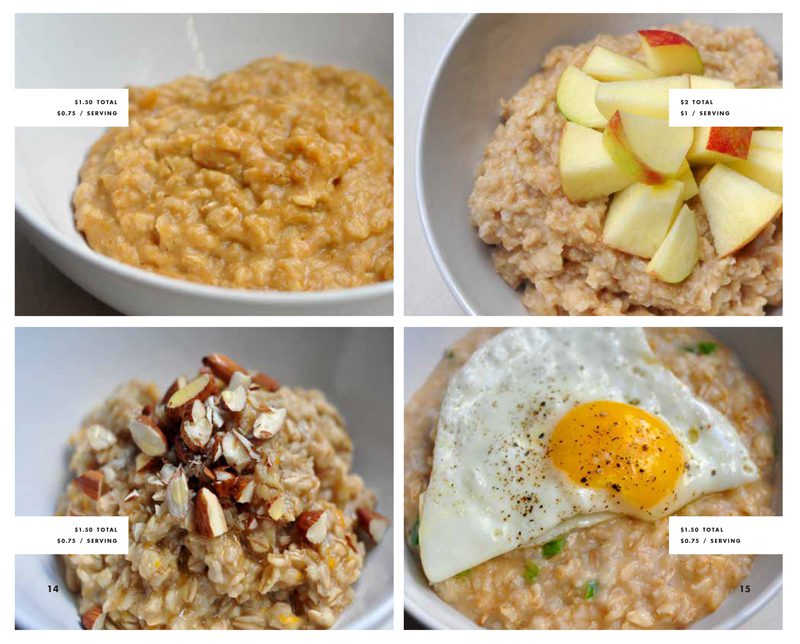 Frugal flavor
New cookbook invites you to eat well on a budget.
With just $4 a day, you can eat well and enjoy it.
That was Leanne Brown's goal in writing "Good and Cheap"—a cookbook for tight budgets.
Submitted as her capstone project for a master's degree in food studies at New York University, Brown shared a free PDF of the book online and started a Kickstarter campaign with a goal to raise $10,000 to print copies for those without Internet access. The campaign raised over $144,000 and in five months the PDF was downloaded more than 500,000 times.
"The better I get at cooking, the better my life is as I can make food exactly what I want it to be," Brown said. "There is so much mental health good that can happen from eating well, and food is a way to show love. When you can cook and show love to yourself and people around you, sharing that skill is deeply meaningful."
Brown said she grew up spending time in the kitchen with "anyone who would let me in," and took ownership of her own food preparation when she became a vegetarian at 14. After college, while working for a city councilor in Canada, Brown found new meaning in food.
"I was involved in city policy, and most interested in food policy," she said. "It was a whole area I'd never thought of. At a city level it's about land use—encouraging farmers markets, local foods. I was really interested, and wished I could work on this all the time."
She enrolled at NYU and studied the evolution and cultural elements of cuisine, the economics of food and the food system in America. Each month, the Supplemental Nutrition Assistance Program (SNAP), as part of the U.S. Department of Agriculture Food and Nutrition Service, provides over 46 million people with a monthly debit card stipend for food based on need.
"The recipe book has beautiful photos, and is ethnically and culturally sensitive," said Gail Frank, who holds a doctorate of public health in epidemiology and a professorship at California State University, Long Beach. "There is great variety—everything from grits to tofu. From the standpoint of meeting anyone whose pocketbook is restricted, this would certainly have appeal. You can dream big, feel positive and empowered and have marvelous tasting food."
Frank teaches and wrote a textbook on community nutrition, served for 19 years as a volunteer with the Academy of Nutrition and Dietetics (formerly the American Dietetic Association), and co-directs a community program focused toward parents of overweight children. She acknowledged that it's not easy to make ends meet and eat healthy, and said eating well on $4 per day would be difficult.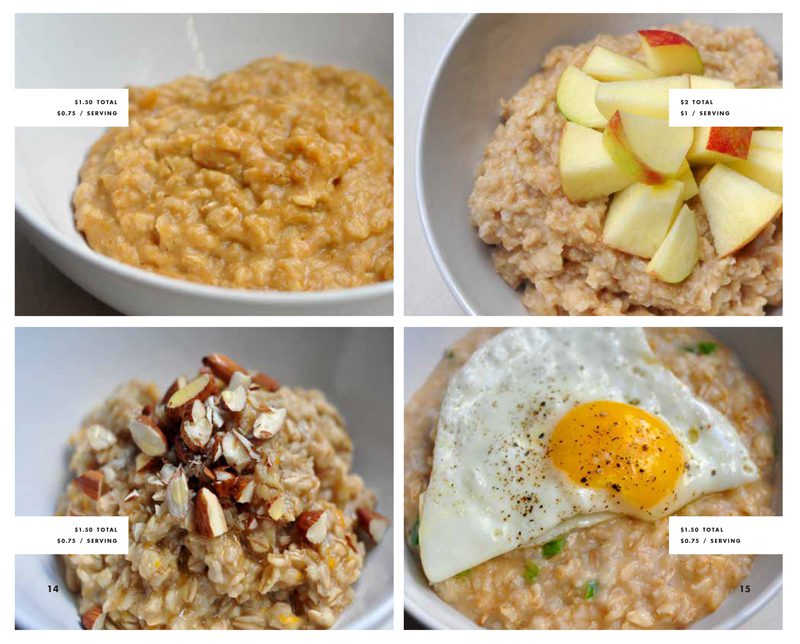 "No matter what your income level, taste is a factor that motivates what you eat," Frank said. "But cost is the next big item there. When you don't have the money to eat and you're feeding your family, you're going to buy things that fill people up." This, she said, leads to purchasing foods that are higher in fat, salt and sugar.
"Hunger drives us to just eat what's available," she said. "A family high on stress and low on time would first need to determine what resources and support are available to them, and then I would direct people toward staples."
From potatoes to milk or eggs, Frank said the key to using staples to eat well and on budget is menu planning. Plus, one must have a kitchen, time and some inventory in order to make use of "Good and Cheap," which is also addressed in its opening pages with a guide to building a pantry. To determine costs, Brown collected pantry prices from four grocery stores in Inwood, a relatively low-income neighborhood on the north tip of Manhattan, and looked at online grocery stores or nationwide averages collected by the Bureau of Labor Statistics for fruits and vegetables in season.
Brown said the book isn't challenging you to live on so little, but it is a resource in case that's your reality.
"We don't have control over a lot of things in our lives, and food is somewhat constrained by where we live, but it's a basic thing every single day that can bring tremendous pleasure and give energy," Brown said. "We should enjoy every meal we have. It's not either pleasurable or healthy eating; those two things ideally are together. The most enjoyable meals are the ones that are also good for you, that leave you feeling good afterward."
For example, Brown said, everyone enjoys a hamburger but "a beef burger makes you feel really sleepy. The protein is very heavy and a particular fat makes you tired." So she wrote a recipe for a half beef and half lentil burger patty.
"The flavors meld together and taste nice together," she said. "Merged, you have a great way to construct your meat and something that leaves you a little lighter but you still get the pleasure of eating a burger."
Chef Paul Penney of Aussie in the Kitchen joined the Kickstarter campaign as a certified personal chef and member of the U.S. Personal Chefs Association.
"It really intrigued me because I'm here in Detroit and we do have a lot of people using the SNAP program and I do a lot of work at the farmer's market, where you can get double bucks on SNAP," he said. "I have tried to challenge the notion of eating on $4 per day quite ferociously and have met it."
Penney appears twice a month on Fox 2 Detroit's Cooking School, making some of Brown's recipes—from eggplant tomato pasta to corn chowder. He is featuring one of her recipes in his segment each month.
"I'm a strong believer in sitting around the table with good food to bring people together to talk," Penney said. "You can have different political or religious views, but food tends to be an equalizer."
Brown said eating well can also help you gain some control of your finances.
"Cooking from scratch or close to it allows you to have significantly more control over how much you're spending and knowing what's going in to everything," she said. "If you're on a restricted budget, you can look through 'Good and Cheap' and see recipes you hadn't thought of using and ingredients you hadn't thought to try before. Hopefully something seems appealing and can bring new life to eating, and can help stretch money to get better value out of your food and have healthier food more often."
Over 500 organizations applied to receive the 8,000 free copies of "Good and Cheap" supported by the Kickstarter campaign, from food pantries, to farmers markets, housing authority offices, and various clinics. A hospital in Boston purchased a large quantity of the cookbook to give to small nonprofits in surrounding communities for distribution with a goal of bettering public health outcomes in the region.
"There is power in food and cooking as food is key to so many things in our lives," Brown said. "The diversity of organizations interested in this is testament to it. Food is an important part of our lives."