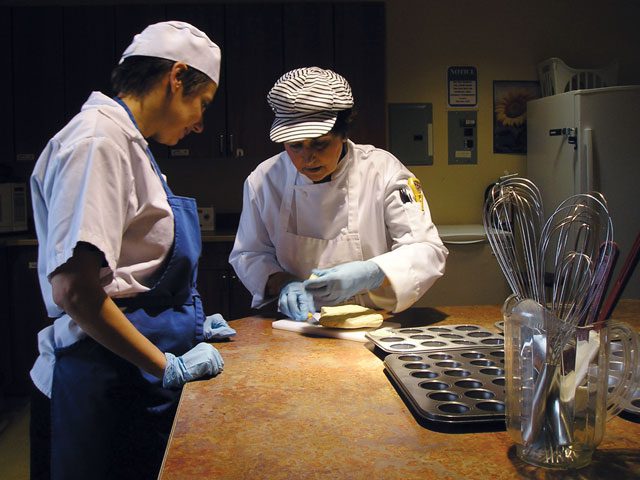 From leafy greens to stew

The Salvation Army in Canada aims to improve nutrition.
By Vivian Gatica – 
Proper nutrition is vital to human life, but some people are unable to meet this need because of financial obstacles—even in developed nations like Canada.
According to the 2013 Food Banks Canada HungerCount report, 43 percent of single-person households, 25 percent of single-parent family households, and 22 percent of two-parent family households rely on food banks as their source of nutrition.
The Salvation Army in Canada recognized the issue, and established programs other than food banks to help community members get the food and information they need to adopt a healthier lifestyle.
These are a few of its efforts to combat hunger and malnutrition for a healthier nation.
Haven of Hope Ministries school lunch
When The Salvation Army Haven of Hope Ministries received a donation targeted toward child hunger, it contacted local schools and in March 2012 began the Haven of Hope school lunch program to feed 55 children at Coronation Park Community School in Regina, Saskatchewan.
The school pitched in for 15 meals, allowing the program to offer 70 lunches.
"Parents want the best for their kids, and in an attempt to give them something to eat they would sometimes not send the right type of food…but that might be all they had," said Val Wiks, Haven of Hope community ministries coordinator.
Haven of Hope implemented the same program at Thomson Community School, serving lunch to students five days a week.
"Student hunger is related to a student's ability to maximize their own learning potential throughout the day," said Ken Meredith, Thomson Community School principal. "Students who are not hungry can learn more than those students who are hungry.  The lunch program offered by The Salvation Army positively affects our students' ability to learn throughout the school day."
Three times a month, The Salvation Army program serves the children hot meals, like stews or casseroles, and also helps the schools with food for end-of-the-year picnics.
"This is just a little bit we can do to help them out," Wiks said. "If we can give a person's child a lunch at school, and it gives the parents dignity at home so they don't have to worry…then I think that's a success."
According to Wiks, teachers even saw a positive change in behavior in the classroom.
"One of the teachers said it was much easier to teach, and she could tell the kids who received the lunch from those who didn't because they were more attentive," Wiks said. "[Another] teacher has seen a very dramatic attitude change in one of the children…because of being fed."
The program continues to provide lunches at community areas, like pools and youth programs, during the summer.
Wiks said, "Here at Haven of Hope one of our goals is to change a generation, and if we can do that through lunches, if that keeps a child in school and they get an education and then they get a job, then that's one less person who is going to need help in the future."
Healthy Families breakfast and exercise
To improve nutrition for children outside of school environments, The Salvation Army in Shawinigan, Quebec, created the Healthy Families program in February. Two Saturdays a month it provides children—ages 5 to 12—a nutritious breakfast and promotes exercise.
"Low-income families with financial problems have difficulty in affording nutritious food," said Captain Mélissa Tardif, who oversees the program. "We want to provide kids with a healthy breakfast and encourage them to exercise."
Aside from breakfast, Healthy Families also hosts nutrition workshops for the children, teaching them good eating habits and healthy recipes to try at home. Sometimes they even cook the food themselves.
"On Mother's Day, the kids cooked fruit pies that they gave to their mothers," Tardif said. "In another class, they also cooked muffins and learned how to read recipes and how to use measuring cups and spoons."
Another important part of the program is exercise. The Salvation Army organizes games to play at the church or at a park nearby.
"We do team sports and all kinds of games," Tardif said. " We also have two huge bouncing castles that the kids really like."
The new program is still small, but Tardif is hopeful that it will continue to attract children in the surrounding community.
Sally Ann's Healthy Eating Kitchen
The Salvation Army in Vancouver is taking a different approach to promoting nutrition, targeting low-income individuals—primarily single mothers—with Sally Ann's Healthy Eating Kitchen.
Established in October 2013, the program includes cooking and educational components that give participants knowledge and experience in nutrition, budgeting, food safety and meal planning.
"We see a lot of people coming to our office who are eating food from our food banks containing a lot of sodium and fat," said Jessica Chow, community kitchen coordinator. "We wanted to educate them and give them the opportunity to learn."
A community kitchen instructor teaches cooking lessons, giving participants nutrition and food safety tips, while they learn how to cook a variety of new healthy meals. After this, student volunteers for the Hunger Actions program at Simon Fraser University conduct informational workshops on pantry essentials, nutrition, budgeting, meal planning and goal setting.
"I think a program like this is really helpful for just introducing people to…different food they may not have known about," Chow said. "This kind of program is going to be long-term help for a lot of families."
Sally Ann's Healthy Eating Kitchen is arranged in cycles of new participants with four sessions in each cycle. Now with a waiting list, Chow interviews applicants, prioritizing individuals with children and those who would most benefit.
Due to the positive response and participants wanting to extend their involvement, the Army created Friends of Sally Ann's Kitchen for graduates with workshops, recipes and food swaps. Chow said the Army also acquired a plot at a community garden for participants to grow their own food for use at home.
Dinner Bell
The Salvation Army Ocean Crest Ministries in Campbell River, B.C., joined forces with the Health Authority and Campbell River Mental Health and Addictions Services to create the Dinner Bell program in 2013.
Led by Chef Connie Preston, Dinner Bell program coordinator, the program provides vocational training and rehabilitation as well as low-cost nutritional meals to people with mental health or addictions.
"Many folks in this population do not have the skills or knowledge to provide for their own needs nutritionally," Preston said. "This can lead to health problems in addition to issues they may already be dealing with."
According to Preston, the Dinner Bell program's services are "directed specifically to individuals registering through Mental Health and Addiction Services and the program is supported by the presence of a mental health professional who is on site during the days of instruction both to deal with any issues that may arise on the part of clients and to engage in hands-on assistance with food preparation."
The 26-week vocational course takes place twice a week with instruction and training where students prepare entrees for meal distribution days.
"Some of the graduates from the Vocational and Rehabilitation Training program have begun to compile resumés and are motivated to look for jobs in the food industry," Preston said. "Others have developed the confidence to create nutritional, interesting food in their own home kitchens."
Preston said they follow the Canadian Food Guide.
"Clients…show amazing results within the first few weeks not only in terms of skill levels but also in their sense of self-confidence," Preston said. "To observe the rise in self esteems, the development of team spirit and the support and encouragement they offer one another is remarkable."