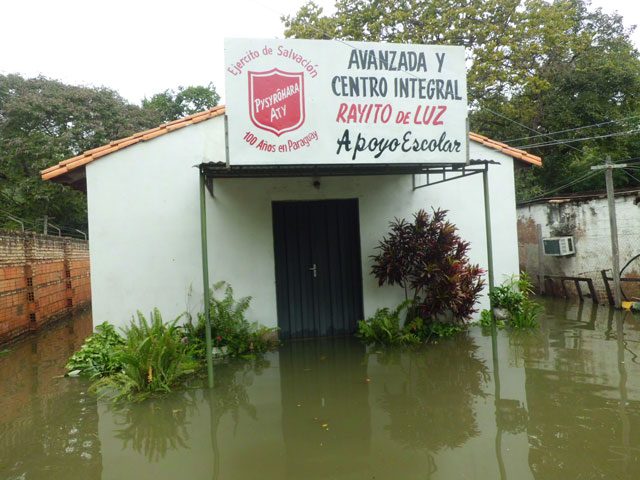 Floods inundate Paraguay
Communities and Salvation Army facilities damaged by rising waters
The Salvation Army in Paraguay responded to recent floods that affected thousands of people in communities near the Paraguay River—where waters rose due to intense rains in Brazil's southern region.
The Salvation Army's Rayito de Luz outpost facility incurred damage to its furniture and equipment. The building served as a center for children to receive educational support outside of school, as well as extracurricular activities and snacks.
Present alongside the area's families, The Salvation Army helped them evacuate, and provided hot meals and blankets. The Rayito de Luz children are being served at an alternate location for the time being.
Flooding began in June and according to Salvation Army Paraguay District Officer Major Pablo Nicolasa, the Rayito de Luz outpost building is still under water, as is the rest of the neighborhood. He is coordinating efforts within the community to provide detergents, bleach and cleaning equipment to disinfect local houses as soon as the waters recede.
The estimated total cost for the repairs, furniture and cleaning supplies is $50,000. USA Western Territorial Commander Commissioner James Knaggs reached out to the South America East Territory offering prayer and funding for costs of repairs and outreach efforts in Paraguay.
"When we read of this kind of devastation it reminds me that we have a responsibility to help each other," said Major Don Gilger, territorial world missions and child sponsorship director. "Here in the USA West we have the resources to help others and I was encouraged to see Commissioner Knaggs not only reach out with prayer but also with monetary assistance to help in the recovery and rebuilding of the outpost in Paraguay."
Salvation Army youth and women's ministries have been present in the affected area for more than 20 years.
Gilger said, "This is the kind of work that inspires us to make a real difference."