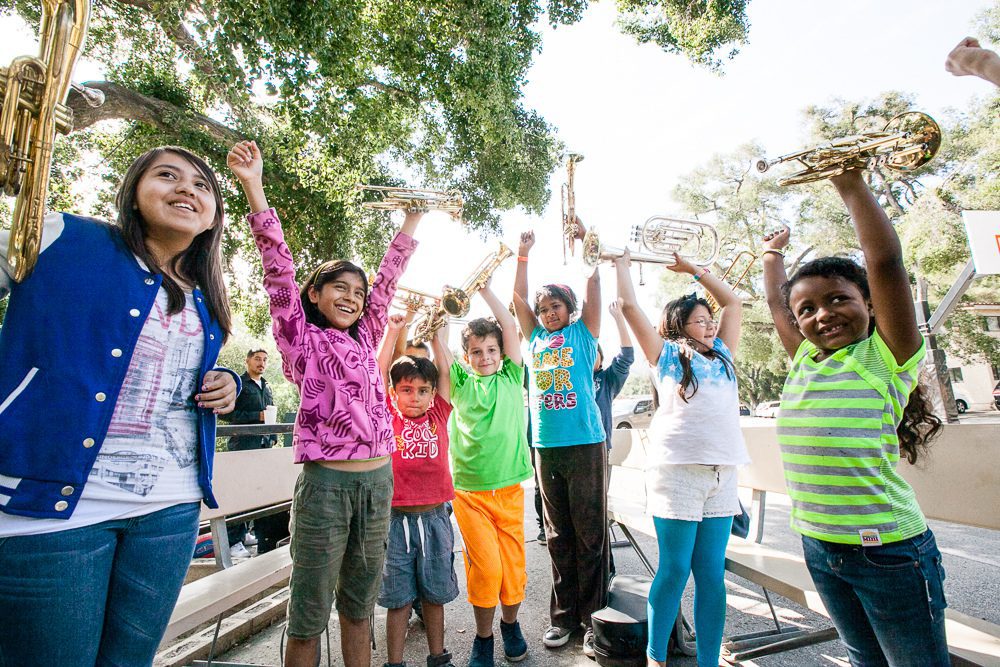 Exercising creative potential
The Salvation Army builds character through music and art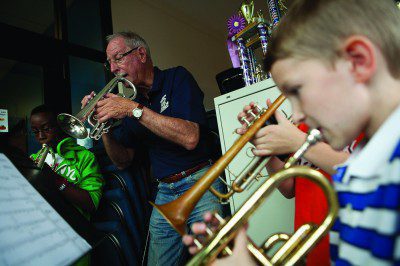 One of the greatest gifts a child can receive is the gift of creativity. Whether that gift is bestowed in the form of music, theater, dance or fine art, the ability to create is one of those gifts that keeps on giving. Regardless of whether a child chooses to pursue the arts professionally, the skills involved—teamwork, discipline, commitment—will continue to serve that child throughout his or her life.
The Salvation Army offers just that to the youth of its corps (churches). Though its music programs are the oldest and most robust, The Salvation Army also offers creative arts programs like drama, dance and fine arts. It has a long history with music, particularly with brass bands, dating back to 1878 with Charles Fry and his three sons of Salisbury, England. They formed a brass quartet to play at outdoor meetings and were quickly integrated into the Army's campaign. Since then, brass bands have become almost synonymous with The Salvation Army.
WHY ART EDUCATION
Arts education fosters brain development.
Through art, students develop cultural awareness and appreciation of other viewpoints.
Art teaches critical thinking rather than getting the right answer.
Art teaches children to evaluate and make good judgments about qualitative relationships.
Art reminds us that the limits of our language do not define the limits of our thinking.
SAT scores for students who studied the arts for 4 years were 103 points higher than students with no coursework or experience in the arts.
Children who study music tend to have larger vocabularies and more advanced reading skills than their peers who do not participate in music lessons.
Students who study art are 4 times more likely to be recognized for academic achievement and 3 times more likely to be awarded for school attendance.
Self-concept is positively enhanced through the arts.
Sources: Art in Action, Education Fund
New York-based videographer Stephen Ditmer grew up playing in a Salvation Army brass band.
"I became involved with music from an early age as a member of a young people's choir, and later on as a member of a brass band," Ditmer said.
As a film student at Long Island University in 2010, Ditmer made a documentary for his thesis, 'The Brass behind The Salvation Army', which explored The Salvation Army's unique history with brass bands.
"I chose to make 'The Brass behind The Salvation Army' because as a student it became clear that not many people knew very much about The Salvation Army, other than it being a place to drop off used clothing," Ditmer said. "Rather than delve into other aspects of the organization, I thought its rich musical heritage would be the most surprising and interesting to some."
Ditmer currently plays piano for his corps songster brigade (choir) and cornet in the brass band, and also leads a young people's choir. As both participant and leader in The Salvation Army music culture, he attested to the importance music has in the lives reached by The Salvation Army's brass band programs. According to Ditmer, in 2013 worldwide, there were 26,703 adult bandsmen and 105,608 adult songsters, and 22,712 young people's bandsmen and 86,240 young people's songsters.
"Not only do children learn about music, but they learn about commitment and discipline as well," Ditmer said. "They are able to build fellowship with their peers in a safe environment around people who love them. Some even go on to be professionals, like former Principal Trumpet of the New York Philharmonic Phil Smith, or Principal Trumpet of the London Symphony Orchestra Philip Cobb."
More than 94 percent of Americans believe that music is a key component to a child's well-rounded education. – Gallup Poll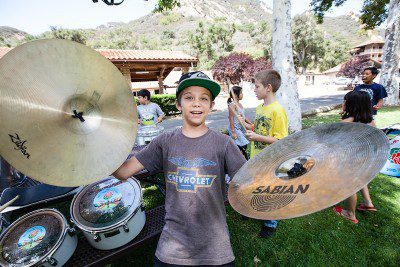 Ronald Waiksnoris, territorial music secretary in The Salvation Army's Eastern Territory based in New York, echoed Ditmer. "In my experience as territorial music director in the Eastern Territory for the past 30 years, I have found music and the arts to be the best possible way to reach young people," he said. "Young people all over the world play brass instruments in The Salvation Army, sing in our singing groups, act in our drama troupes and dance. The music and arts bring Salvation Army culture together."
Music and other creative arts programs vary by division, depending on the demographic makeup of the area and who is available to instruct, how often, and at what level. The Salvation Army's music and arts programs rely heavily on volunteers. In this way the arts programming is an extension of the divisional worship practice.
DO GOOD
Sponsor a Salvation Army music education program in your local community. Visit salvationarmyusa.org to find the center closest to you.
Try a free art lesson through Art in Action, which has used its award-winning curricula in over 250 schools at artinaction.org.
Pressure your local school board to maintain arts funding. Visit the VH1 Save the Music Foundation (vh1savethemusic) to find ways to restore music programs in America's public schools.
"We might have hula dance in the worship, or a Korean fan dance, or there are Chinese lion dancers in San Francisco; it all varies regionally," said Neil Smith, music and worship development secretary in The Salvation Army's Western Territory. "Some kids have nothing, and getting involved in the arts programs makes them feel wanted. There's a lot of teamwork involved. It gives them a chance to participate in something in a safe environment, to share in their improvement, to be a part of the church family, and eventually to step up and become leaders."
The territory originally only offered music programming, but opened up to other creative arts in the last decade. Some areas have a music and arts day where they meet every month and offer classes and workshops in music, drama and dance.
"A lot of it is decided by what the leadership in the division has to offer," said Joy Lee, territorial creative arts director in the West. "If they have someone in the division who does drama they'll try to teach drama to the young people there. The goal is to work toward something."
Lee noted the importance of these programs, especially with funding cuts in local schools.
"Learning the language of music or dance or theater allows kids to not only develop that language but also to develop discipline," Lee said. "It takes a lot of discipline to practice and get through rehearsals and master that other language. Not only are they learning to play notes, but they're learning to exercise their creative potential. It helps them to not just get through school, but to express worship and tell stories."