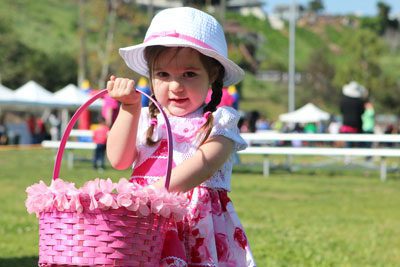 Connect with your kids this Easter
Interactive ways to share the resurrection story
EMPTY EASTER EGG HUNT
Hold a traditional Easter egg hunt with plastic eggs but keep them empty. No stuffing required. Ask the children to find five eggs (one of each color available) and then have them visit a different station for each egg to receive an object to fill their egg with that represents part of the Passion story. For example:
Green egg—Palm Sunday: piece of "donkey" fur or palm branch
Pink egg—Last Supper: cheerio or oyster cracker to represent bread
Purple egg—The Cross: a small wooden cross or cross sticker
Yellow egg—Empty Tomb: a small chocolate egg (to eat!), egg stays empty to represent the empty tomb
Blue egg: Jesus Appears Again: nail to remind us of the holes in Jesus' hands that helped Thomas believe
RESURRECTION ROLLS
Hide 12 eggs and send the kids to go find them and return them to you unopened. Then tell the story and as you open each egg, one at a time to reveal what's inside and go through the passages.
Egg 1 Oyster cracker (or bread): Matthew 26:26
Egg 2 Silver coins: Matthew 26:14-16
Egg 3 Purple cloth: Matthew 27:28
Egg 4 Thorns: Matthew 27:29
Egg 5 Rope: Mark 15:15
Egg 6 Cross: John 19:16-17
Egg 7 Nail: John 19:18
Egg 8 Sign that says: "This is the king of the Jews" : Luke 23:38
Egg 9 Sponge (with vinegar):  Matthew 27:48
Egg 10 Cloves or spices : Luke 23:5-6
Egg 11 Rock:  Matthew 27:59-60
Egg 12 Empty : Matthew 28:55-56
Or fill each egg with play dough. Randomly hand them out to kids and have him or her shape the items listed above. Have each present the sculpture and let the story unfold. Each creation will be unique and offer a personal touch to the story.
RESURRECTION ROLLS
Ingredients (Original recipe makes eight rolls)
1 (10 ounce) can refrigerated crescent dinner rolls
8 large marshmallows
1/4 cup melted butter
2 tablespoons ground cinnamon
2 tablespoons white sugar
Directions
Preheat oven to 400 degrees F. Lightly grease a baking sheet.
 Separate crescent rolls and give each child one triangle shaped section. This represents the tomb.
 Each child takes one marshmallow, which represents the body of Christ.
 In a small bowl, mix together the cinnamon and sugar.
 Dip the marshmallow in the butter and roll in cinnamon and sugar mixture. This represents the oils and spices the body was anointed with upon burial.
 Lay the marshmallow on the dough and carefully wrap it around the marshmallow.
Make sure all seams are pinched together well (otherwise the marshmallow will "ooze" out of the seams).
 Bake until golden brown, about 15 minutes. Then let cool.
 Break open the tomb and the body of Christ is no longer there!
 Celebrate God's love.