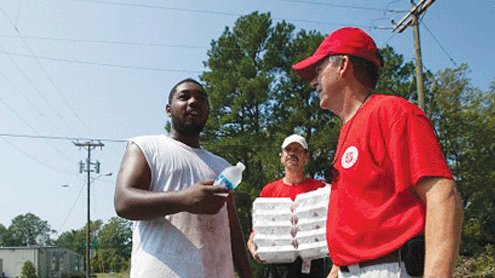 East gets shaken and drenched
Army mobilized in wake of temblor and hurricane
By Erica Andrews
On the heels of the unusual magnitude 5.8 Virginia earthquake Aug. 23, which sent shockwaves as far away as South Carolina and Maine, Hurricane Irene made landfall in North Carolina Aug. 27 and continued up the Eastern Seaboard claiming at least 45 lives, forcing 10,000 flight cancelations and leaving millions without power.
The Salvation Army damage assessment teams are working throughout North Carolina, Virginia, Maryland and Delaware providing mass feeding of evacuees and assistance to fire, rescue, police and other emergency response personnel.
Major George Hood, national community relations and development secretary, said although he is "cautiously optimistic" that the damage reports aren't as bad as previously thought, he knows there still remains more work to do. "It is critical that we provide the base of support for damage assessment teams, rescue personnel and survivors," Hood said in a press release.
In advance of the hurricane, National Commander Commissioner William Roberts declared it a national disaster, spurring Salvation Army personnel—along with 370 canteens—into strategic staging locations between the Carolinas and New England.
Although the storm didn't have the devastation that forecasters predicted, it did cause the worst flooding that Vermont has seen in a century.
"We prepared for the worst and we got the worst in central and southern Vermont," Gov. Peter Shumlin told the Huffington Post. "We have extraordinary infrastructure damage." This damage included the loss of at least three historic covered bridges and hundreds of road closures, causing the state to be declared a federal disaster area.
By the time the storm reached New York, it was downgraded to a tropical storm and its winds weakened to 65 mph. Mayor Michael Bloomberg ordered 370,000 residents to evacuate homes in low-lying areas to ensure their safety.
The Salvation Army is also serving those affected by Hurricane Irene in Puerto Rico. Nearly 800,000 residents of Puerto Rico are without power and Salvation Army shelters continue to be available in Puerto Rico, St. Thomas and St. Croix. In the Bahamas, an emergency operations center was established in Kingston, where the Army is distributing food and water supplies. Meals Ready to Eat (MRE) and bottled water were shipped to the Turks and Caicos.
To donate to The Salvation Army's hurricane response, text "STORM" to 80888 to give $10, visit salvationarmyusa.org or call 1-800-SAL-ARMY.