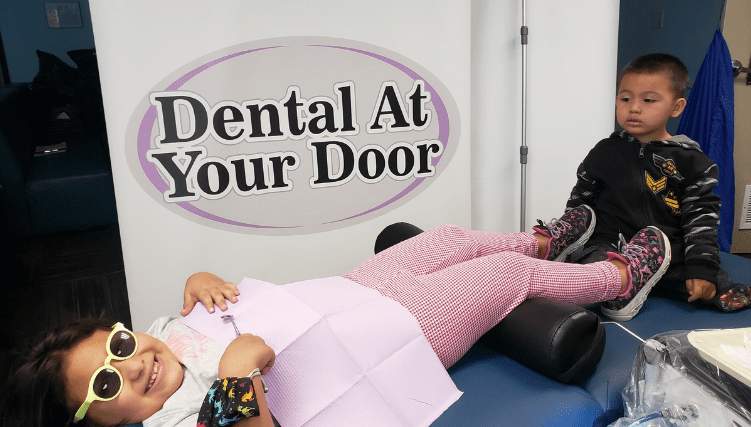 Dental At Your Door brings smiles to residents of Denver's Salvation Army shelters
When Jennifer Geiselhofer was 16, a high school friend arranged her first dental assisting job, and she found her lifelong career. She became a registered dental hygienist in her home state of Colorado, and steadfastly believes that everyone should have clean teeth and a healthy mouth.
Over time, Geiselhofer found the culmination of her calling by serving the underserved. 
Today, she doesn't work in a dental office; instead, she provides care to people in need through her small business, Dental At Your Door, and nonprofit, Deserving Dental—including providing preventative dental care at all of The Salvation Army shelters in Denver. Under certain circumstances, she and her small team also perform home visits.
A combination of circumstances led Geiselhofer to move away from working in a practice and branch out on her own. In 2009, after working as a registered dental hygienist for 12 years, she volunteered at Colorado Mission of Mercy (COMOM). 
This event, typically held at a fairground or gymnasium, is a weekend of free dental care for people in need, with dental professionals using portable equipment.
"It was such an uplifting feeling being able to use my skills to give a deserving patient something they would never usually be able to afford," Geiselhofer said. "I loved the way I felt and the way I improved the patient's health by treating their gum infection."
The experience was a far cry from her regular employment in an upscale dental office, where she was expected to dress up—including high heels—and offer an almost spa-like experience to clients.
Shortly after this experience, a patient came to the office for her regular six-month appointment.
"She told me her husband was suffering from severe Alzheimer's and was bedridden," Geiselhofer said. "She asked if there was a dental service that came to the house to clean his teeth. There wasn't, but I remembered just a few weeks earlier how I provided onsite/traveling care at the COMOM event. I thought…hmm, I can do this for her!" 
At the time, Colorado was one of a few states allowing hygienists to practice independently, without a dentist.
After checking with the man's doctor to ensure a dental cleaning would be safe, Geiselhofer packed up a little tackle box with supplies and made the house call.

"When I walked into his bedroom I was overwhelmed," she said. "He was lying in a hospital bed with machines beeping all around him. When I was done with his session his wife hugged me and cried tears of relief…I drove home in a daze. It was such an amazing feeling to help this man with something I do every day without thinking much about it…I knew this was my calling."                                                                                                                                                                                            
The problem, though, was she had no business training and didn't know how she would get the necessary equipment. She wondered how she would get patients.
Committing to calling 
"For the next six years I planned, saved, organized, and decided to be a temporary hygienist in over 100 different offices," Geiselhofer said. "My thought was, going out on my own I wanted to be as experienced as possible."
During her years of temping with different dentists, Geiselhofer learned more than if she had stayed with just one dentist. "There were so many more interesting patient cases I was exposed to than if I had stayed in the same office seeing it done from only one point of view," she said.
Finally, in 2015, she was ready. She approached a small, independent day shelter to ask if it would like an onsite dental hygienist once a week. Soon she had a little pop-up clinic set up in the shelter's basement called "Dental At Your Door." Patients used Colorado Medicaid to pay for the services. 
"From there, I became word of mouth among social workers at different shelters, picking up more days here and there," she said. Before long, I became the exclusive preventative dental provider at all of the Salvation Army shelters in Denver. We have been providing care for almost five years at The Salvation Army on a weekly basis."
Geiselhofer offers services at other locations, too, but she said The Salvation Army may just be her favorite. The feeling is mutual.
"Jennifer Geiselhofer and her staff are absolutely amazing," said Julie Wirtz, Resident Manager for The Salvation Army Denver Adult Rehabilitation Center women's facility. "They genuinely care for the ladies in our program…They do routine cleanings and cancer screenings and if a woman needs further work, they refer them to a dentist that they know. Some of our ladies have not had dental cleanings or work done on their teeth in a very long time, so for them to get a caring professional to come to them, is a surprising gift." 
Dental At Your Door also serves at The Salvation Army Lambuth Family Family Center, Denver Harbor Light and the Crossroads Center, a 24-hour shelter that has been housing about 300 men a night during the pandemic.
"Dental At Your Door is the sort of group organizations dream of working with," said Katie Coler, Education and Activity Coordinator at Lambuth Family Center. "They're flexible, kind, and most importantly, they take the time to make sure their patients feel safe and valued, never missing a chance to go above and beyond. Jen and her team have brought donations on their days off, and frequently follow up on past patients. We're so grateful for what they add to our program."
Filling the insurance gap
Over time, Geiselhofer noticed that while most shelter residents had Medicaid, a significant number did not, and could not receive services. They didn't qualify for Medicaid, even though they were living below the poverty level. She said last year the maximum yearly income to qualify for Medicaid was just above $17,000.
"[It] was breaking my heart to turn people away, so I decided to do something about it," she said.
Geiselhofer formed Deserving Dental, a 501C3 nonprofit organization, to secure grants and donations in order to treat shelter residents that fell in the insurance gap.
"Both Dental At Your Door and Deserving Dental work side by side to provide care to all," she said. "We are both the same team behind two different names.  When a patient has Medicaid we wear our Dental At Your Door hats, and if the patient doesn't have Medicaid we wear our Deserving Dental hats. This way everyone can receive our care regardless of their ability to pay." 
Currently Geiselhofer has one hygiene assistant who works with her. Prior to the pandemic, she had a team of hygienists, who would rotate throughout the week—after their regular jobs, they would volunteer with Geiselhofer.
Her current dental assistant and office coordinator is Sonshyne Clark, who has been with Dental At Your Door for almost three years, after working in private practices since 2010.
"My right-hand girl who is with me at every shelter, every day, and I couldn't do what we do as great without her is Sonny," Geiselhofer said.
Clark said she's changed since coming to Dental At Your Door.
"All those years in private practices were great," she said. "But honestly, nothing compares to being able to provide an amazing dental experience for those who we know need it most. I really see our patients' lives change after their visit with us. Being an assistant for Dental At Your Door has changed me too…Before working [here] I would tend to look down on [people experiencing homelessness], not give them the time of day and think they were hopeless. Now, seeing these patients up close and personal, I have so much more love and compassion."
While homeless shelters are their main place of service, they also provide house calls and nursing home visits for patients with mobility challenges like Parkinson's disease, stroke and paralysis. 
"Access to quality care is the one of the biggest impacts we make on the shelter community, Geiselhofer said. "Our patients do not have transportation to get to an office. Many are also scared and embarrassed to go into a traditional office after 20 years without care. We break the ice for them by bringing dental into their comfort zone of the shelter. We provide that important initial cleaning visit and education to prepare them for the dental office visit. Our patient visits are typically two hours long and involve full mouth anesthetic."
Geiselhofer noted that people are judged on how their smile looks. 
"Our patients are excited about smiling big for job interviews and housing applications," she said. "We had one man shave off his overgrown beard and mustache after our dental hygiene session. He said he didn't need to hide his teeth behind that long beard anymore. He didn't even look like the same person, and it wasn't just the beard—you could see the confidence just beaming in his smile and eyes."
---
Do Good:
You've probably seen the red kettles and thrift stores, and while we're rightfully well known for both…

The Salvation Army is

so much more

than red kettles and thrift stores. So who are we? What do we do? Where?

Right this way

for Salvation Army 101.

It's because of people like you that The Salvation Army can serve more than 31 million Americans in need each year. (

That's almost one person every second, every day.)

Your gift helps The Salvation Army fight for good all year in your community. It's an effort to build well-being for all of us, so together we rise. And that good starts with you.

Give to spread hope

with a donation of funds, goods or time today.