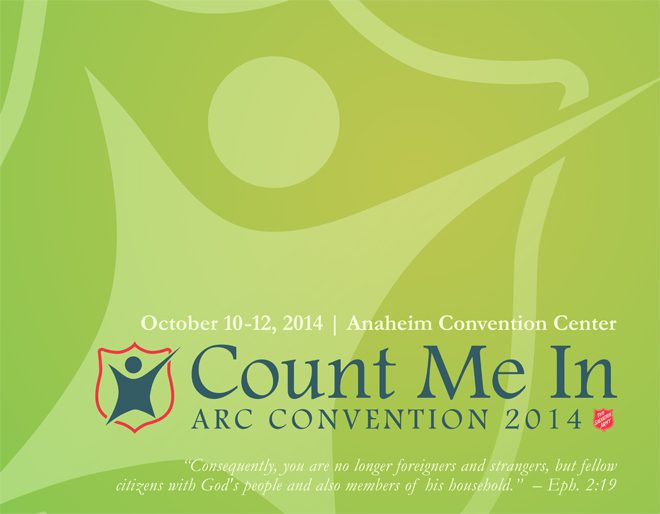 "Count Me In" to unite corps, ARC
 The first-of-its-kind convention preps for 5,000 attendees.
The Western Territory will host "Count Me In," a three-day congress at the Anaheim Convention Center in Southern California from Oct. 10-12 to advance the ongoing partnership between adult rehabilitation centers (ARC) and corps.
Roughly 5,000 active ARC beneficiaries, alumni, family members, administrators, volunteers, corps officers and soldiers are expected to attend, according to Major Shari Fowler, chairperson of the event's planning committee.
"We want the men and women who come into the program to get connected to the Army in a greater sense and know that it's an ongoing ministry and family," Fowler said. "We're going to try to bring this together more holistically so we can partner better. It's not just one-sided where we're trying to strengthen the ARC ministry. We're really looking to develop our corps as well."
The Western Territory runs 24 in-residence ARC programs for anyone struggling with addiction to focus on sober living, work therapy, and the resources needed to develop a personal relationship with God.
"For many individuals, the ARC is their spiritual home, where they learn to pray, learn to worship," said ARC Commander Major Man-Hee Chang, who initiated the gathering. "But at times, we've neglected to provide good aftercare to these individuals. We don't want them to disappear after they're out of the program. We want the beneficiaries to know that you can continue your spiritual journey at the corps. They want to help with your recovery there. They want to be a part of it."
Dr. Steven Arterburn, author of "The Life Recovery Bible" and host of the nationally syndicated Christian counseling talk show "New Life Live," will serve as the opening night keynote speaker. The following day will be "Empowering Day," an opportunity for beneficiaries to learn from recovery experts, including Maria Durso. The final day will conclude with an address from Western Territorial Commander Commissioner James Knaggs.
The convention will feature over 20 planned workshops, targeting both individuals in recovery and leaders in recovery ministry. A few highlights include: "Big Book Comes Alive," "Women in Recovery," "Personal Discipleship & Evangelism," "The 13th Step," "Relapse Prevention" and "Faith Into Action."
"This really speaks to the unique position The Salvation Army has in ministering to the unique needs of people," said Major Henry Graciani, San Diego ARC administrator. "Every single corps I've been to for 14 years, I've had men or women who have struggled with addiction. So really, addiction ministry is not limited to the ARC because corps will have opportunities to minister to individuals with that same addictive behavior."