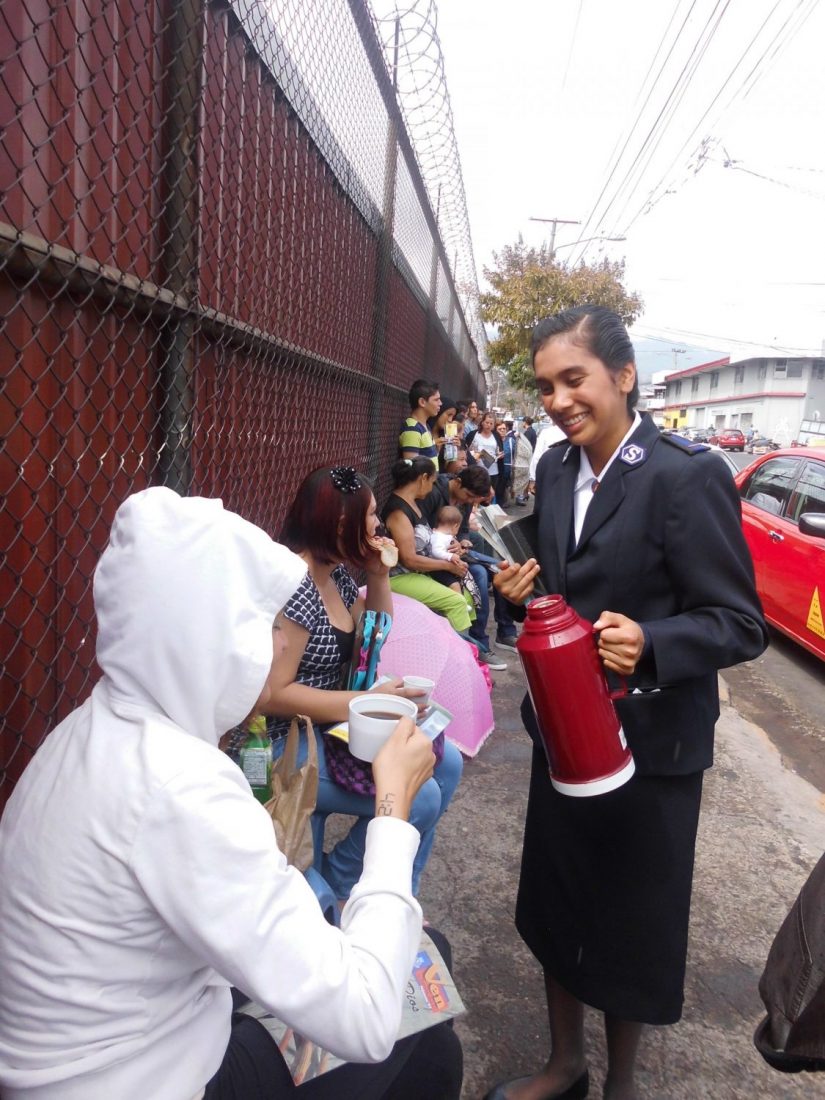 Costa Rica ministry offers twist on prison outreach
The Sagrada Familia Corps reaches approximately 150 people loved ones visiting prisoners each month.
By Vivian Lopez –
The "Sagrada Familia" (Sacred Family) Corps in San Jose, Costa Rica is taking its prison ministry a step further by reaching out to family members visiting their loved ones in prison.
The idea stemmed from the "Misión Integrada" (Integrated Mission) project at the College for Officer Training in Costa Rica in 2015, according to Lt. Daniel Herrera, Sagrada Familia corps officer.
"The prison is close to the corps and the cadets take the initiative to meet the spiritual needs of family members visiting the prisoners," said Sgt. Dayana Herrera, who helps organize the ministry.
Salvation Army volunteers pass out coffee and sandwiches twice a month to the long line of people waiting their turn to visit a loved one at the jail. They also offer Salvationist literature, conversation about Jesus and take prayer requests.
"There are many people in need and it encourages us to help and fulfill our mission of preaching the gospel of Jesus and [responding] to the human necessities in his name," Dayana Herrera said. "This outreach not only fills our hearts with joy, but also helps our community understand that together we can help more and more people."
According to Daniel Herrera, the ministry helps approximately 150 people a month, some of whom end up attending the Sagrada Familia Corps.
"This project makes it possible for us to reach out to family members or friends of the prisoners who many times open the doors of their homes to us so we can pray for them," Daniel Herrera said. "The people we've helped feel the support of God during this difficult time of being their for their family members in the prison. They have hope knowing that there are people praying for them."
Daniel Herrera said that due to high rates of violence within the prisons, this program offers a support system for the prisoners and their family members.
"This program is necessary for the community because it gives us a great opportunity for service," he said. "We also want every member of our corps to identify with the work we are doing at the prison and that they help us reach even more people so they can hear the word of God."