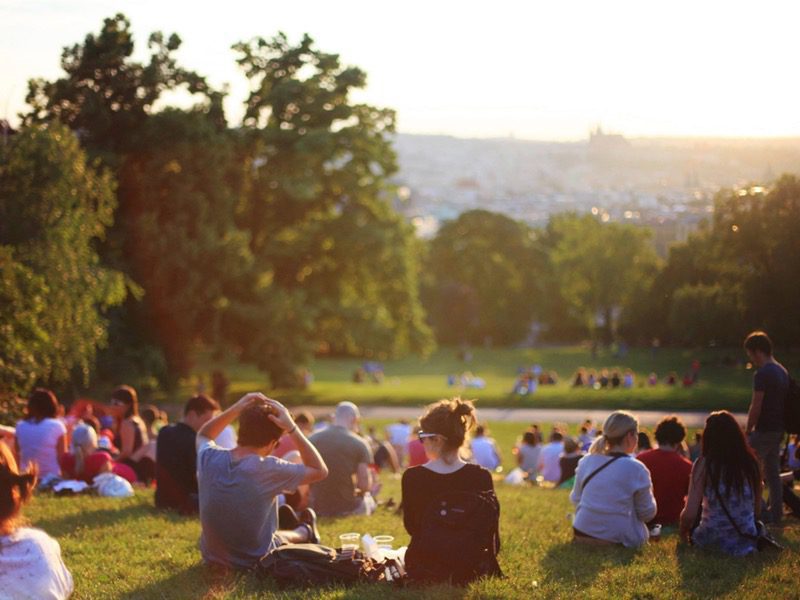 Why community over competition is more than a popular hashtag
The idea of community is greater than competition.
It's easy to get caught up in the fear of falling "behind" or the shame of feeling like we're underachieving. It's sad, but true. Society has trained us to believe that there is one path to success, one "right" way to do things, one job, and so on. We subscribe to the safety of the conventional life path—high school, college, graduate school, job—that we forget about the multiple other options that are out there, many of which might be a better fit for us.
I scroll through Instagram and I see so many women who are confident in their purpose and what they are delivering. It's scary and disheartening to think where I may fit in. Where do I fit? How do I fit in here? Are my little squares worthy of their feed?
I have this choice, we have this choice: to protect ourselves from disappointment and potential failure, or to stop and breathe deep and share our heart nonetheless.
"Coming together causes miracles in our lives. We have a 'me too' moment and immediately feel peace with our own journey. In the summoning of the troops, the ones that know you. Get you. The ones that don't, but get it. You'll see magic." – Maxie McCoy
#communityovercompetition is more than just a hashtag.
It's a movement, and there are so many others out there determined to live it out.
When we come together, we feel protected in our numbers and in our love. When we come together in support, we feel nourished and energized. When we come together to learn and listen, we end up transformed.
Who's your community? Who's your collective? The ones that know your calling and push your momentum?
When you open up about that big goal, the one that requires you to ask for help, your collective responds immediately with "On it. Go girl. I've got you." Suddenly dreams become reachable. Your reach becomes longer through the support of your community.
When you open up about that big fear, the one that shakes you to your core, your community surrounds you with whispers of "You are not alone. We've got you." Suddenly the weight of perfectionist-striving is lifted.
[Tweet "Coming together causes miracles in our lives."] We have those "me too" moments and immediately feel peace with our own journey. In the summoning of the troops, the ones that know you, get you, understand it, we see magic.
Show up. It matters. It will come back and bloom.
When God gives us a calling, there are going to be times when we must do things that take us out of our comfort zone. There will be times that we must choose faith over fear, dreams over doubts, confidence over comparisons and action over apathy. Fulfilling the calling of God on our lives will require that we step out and step up on a regular basis.
But if we are trying to do this all on our own, the reality is, we may never accomplish all that God has for us because our mind, our thoughts, doubts and fears, many times, get the best of us.
This is why I believe God created us for community. He created us for community over competition. When we can help each other and cheer each other on, we will accomplish things we never thought were possible.
My learning
I struggle with my own insecurities. Is what I am doing good enough, worthy enough, "gifty" enough? When my mind and heart turns to these questions, I start to feel these little heart flutters—but not the good kind—when I see the work of others. I want to cheer them on, I want to be in the front row. Instead, I place myself in the trenches. I tear myself down and I tear them down with me. I don't want that! You don't want that either, right?
We each have a gift. No two gifts are the same. You know, like snowflakes? I think we automatically assume that there is not enough room for us all. But, friends, God created each of us with a purpose and he placed us on this big-big-big world to thrive in that purpose! There is room at his table for each one of us and our gifts. I repeat, there is room.
Let's not let the filter of social media cloud our hearts and overcast our gifts. Let's do this together. Every one of us has a gift that is valuable to the kingdom. Your gift needs my gift and my gift needs your gift. We cannot further the kingdom all on our own.
Bible verses on community
Do you not know that in a race all the runners run, but only one receives the prize? So run that you may obtain it. Every athlete exercises self-control in all things. They do it to receive a perishable wreath, but we an imperishable. So I do not run aimlessly; I do not box as one beating the air. But I discipline my body and keep it under control, lest after preaching to others I myself should be disqualified (1 Cor. 9:24-27 ESV).
So, whether you eat or drink, or whatever you do, do all to the glory of God (1 Cor. 10:31 ESV).
Do nothing from selfish ambition or conceit, but in humility count others more significant than yourselves. Let each of you look not only to his own interests, but also to the interests of others (Phil 2:3-4 ESV).
Have this mind among yourselves, which is yours in Christ Jesus (Phil. 2:5 ESV).
If you've gotten anything at all out of following Christ, if his love has made any difference in your life, if being in a community of the Spirit means anything to you, if you have a heart, if you care—then do me a favor: Agree with each other, love each other, be deep-spirited friends. Don't push your way to the front; don't sweet-talk your way to the top. Put yourself aside, and help others get ahead. Don't be obsessed with getting your own advantage. Forget yourselves long enough to lend a helping hand. Think of yourselves the way Christ Jesus thought of himself. He had equal status with God but didn't think so much of himself that he had to cling to the advantages of that status no matter what. Not at all. When the time came, he set aside the privileges of deity and took on the status of a slave, became human! Having become human, he stayed human. It was an incredibly humbling process. He didn't claim special privileges. Instead, he lived a selfless, obedient life and then died a selfless, obedient death—and the worst kind of death at that—a crucifixion (Phil. 2:3-8 MSG).
The Lord God said, It is not good for the man to be alone. I will make a helper suitable for him (Gen. 2:18 ESV).
Pray hard and long. Pray for your brothers and sisters. Keep your eyes open. Keep each other's spirits up so that no one falls behind or drops out (Eph. 6:18 MSG).
And let us consider how to stir up one another to love and good works, not neglecting to meet together, as is the habit of some, but encouraging one another, and all the more as you see the Day drawing near (Heb. 10:24-25 ESV).
It's better to have a partner than go it alone. Share the work, share the wealth. And if one falls down, the other helps, But if there's no one to help, tough! (Ecc. 4:9-10 MSG).