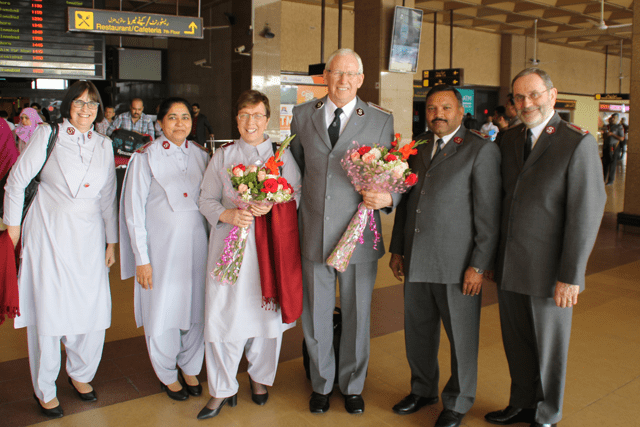 Commissioners Peddle visit Pakistan
Commissioners Brian and Rosalie Peddle, Chief of the Staff and World Secretary for Women's Ministries, respectively, took part in public meetings in three locations in the Pakistan Territory in late December: Islamabad, Karachi and Lahore.
Welcome dances showed the country's cultural diversity, with representations from near the Khyber Pass on the Afghanistan border to the culture of the Sind in Karachi and back to the Punjab in Lahore. Officers meetings were also held in each venue, with the visitors having opportunity to address all 350 officers and cadets of the territory.
Visits with both the Canadian High Commissioner to Pakistan and the Norwegian Ambassador proved fruitful and Territorial Commander Colonel Ivor Telfer an opportunity to present his plans and programs. Both dignitaries were interested in the corps-based community development plans.  
Prior to a meeting with the Territorial Strategy Council and a visit to the Training College, the Peddles went to the Shantinagar, a village started by The Salvation Army 100 years ago. The meeting in the village had to be held outside of the corps building as the 2,000 people attending could not be accommodated inside.
Traveling between the cities gave the Peddles occasion to see and understand the contrasts in the country, along with the challenges and opportunities for the territory's 45,000 soldiers and officers.
Wherever they went the Peddles communicated that passion for God is good but not enough; his people need to have a hunger for the Lord and his Word.