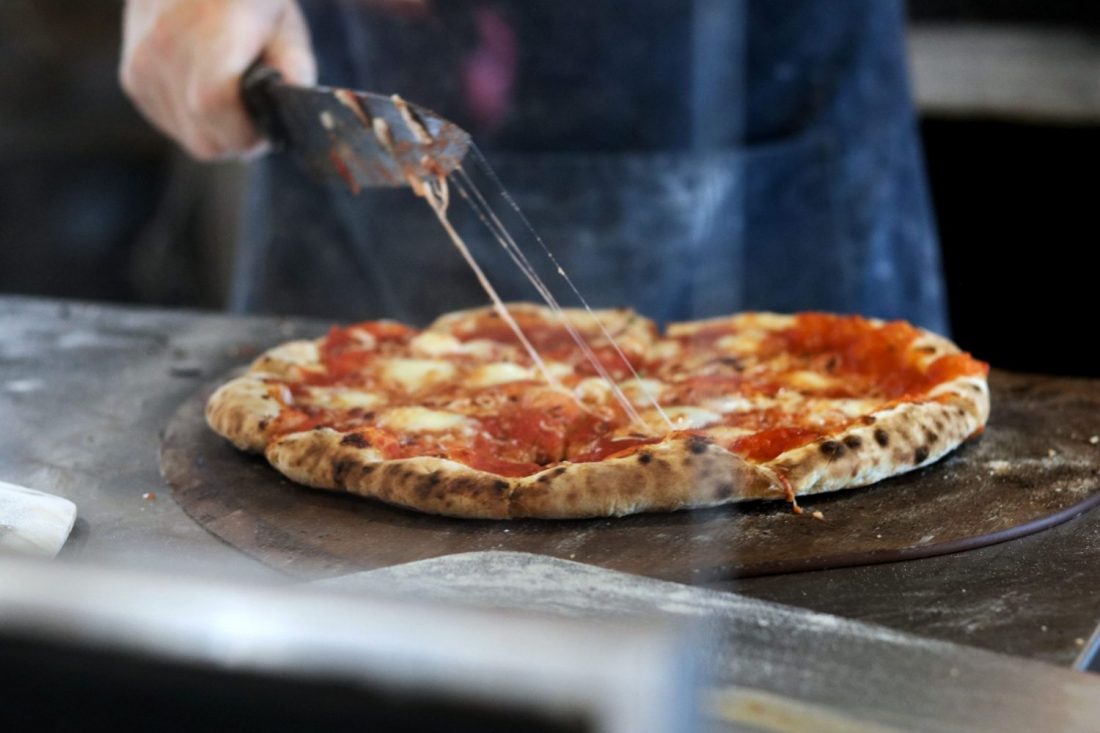 Colorado family pays it forward one pizza at a time
Pizza is more popular than ever in 2020, according to a recent survey of Americans of all ages, and that's good news for Dennis and Barbara Sorrow of Cortez, Colorado. 
Several years after The Salvation Army helped the Sorrow family get back on their feet, they've opened a new restaurant, Southwest Pizza, after remodeling a vacant storefront on Main Street last summer. While the ongoing coronavirus pandemic has forced the Sorrows and other local restaurateurs to close their doors to indoor dining, they've been able to offer take-out and delivery of their specialty pizzas, breadsticks and desserts. They make their pizza dough in-house and pride themselves on using fresh, locally-sourced heirloom tomatoes for the sauce. 
Building on their combined 30 years of experience in the business, the Sorrows wanted to start something new. Cortez, a small, but bustling town of just under 9,000 people, seemed like just the right place to set up shop. 
Since the restaurant was featured in a recent article in the Cortez Journal, sales have doubled, Barbara Sorrow said. She also said the most rewarding part of owning their own business is realizing they've directly brought joy to others. 
Still, they've found time to come back to The Salvation Army to give thanks—and to give out coupons for their new eatery in hopes of paying their good fortune forward. 
"The Army worked with several agencies and donors to ensure their success," said Evalena Russell, service center coordinator at The Salvation Army in Cortez. "This is their way of giving back—and those coupons will certainly be used by families facing similar situations." 
Russell said she helped the budding entrepreneurs connect with those who were hiring in the area when they relocated to Colorado from Georgia back in 2013. She offered other resources and support to help with housing and essential items to help provide a fresh start following the housing crisis and recession that left 46.5 million Americans living below the poverty line by 2012. Back then as they do today, the service extension center in Cortez offers disaster services, food and nutrition programs, housing and casework services for families in need. 
"In Cortez, we help in any way that we can," Russell added. "I look at the whole picture, then determine if we can help them in-house or through another agency."
Over the years, they've kept in touch. A friendly "hello" at school drop-offs or pick-ups gave Russell an opportunity to check in on how the family was doing. Seeing them prosper now is one of the many gifts she's grateful for—especially this year. 
"What I remember of the Sorrows is that they were willing to take whatever work they could get," she said. "They were very driven and goal-oriented. They did not ask for help other than to get them started. This is a family that just needed a hand up, and they had it from there." 
The Sorrows recently hired their first employee for Southwest Pizza, and hope to continue to expand in the new year—potentially by adding a second location. For now, the familiar flavors and coziness of the pizza oven is keeping them warm. 
"I always came back to making pizza," Dennis Sorrow told the paper. "It's my favorite, like coming home, like family." 
As for advice for other families looking for a fresh start—especially during these challenging times? "Don't be scared to try something new," Barbara Sorrow said.
---
Do Good: