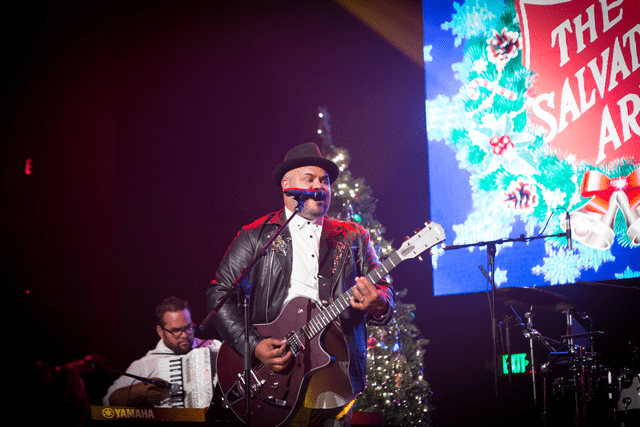 Christmas in July benefits people on Skid Row
A Christmas in July Concert featuring Israel and Adrienne Houghton was presented July 10 by PS Media Talent owner Francis Perdue with major sponsor The Belasco Theater at its venue in Los Angeles.
Organized by The Salvation Army Southern California Division with Friends of The Salvation Army Entertainment Industry Committee, the event benefited The Salvation Army and Besos Care Packages coordinated outreach to homeless individuals living on Skid Row. Inspired by Isaiah 58:10, the Houghtons created Besos Care Packages, which offers basic necessities plus handwritten notes of encouragement to people living on the streets of downtown Los Angeles.
Last Comic Standing finalist Ron McGehee served as host with Major Osei Stewart, General Secretary for the Southern California Division.
"The event was a great success," Stewart said. "What was presented that evening touched the hearts of so many—we shared Salvation Army videos and stories in an intimate setting for blessed individuals who were able to experience Israel Houghton and his wife Adrienne Bailon-Houghton as they performed selected Christmas songs and some of Israel Houghton's popular praise and worship songs.  It was heartwarming and a worshipful evening concert."
The concert offered an up-close listen to a Christmas album currently in the making.
In addition, it included a performance from Laci Kay and a message from United Nations youth representative Meredith O'Connor. Performing from The Salvation Army were David Longoria, Lt. Alexander Williams (aka Shalem) and Naia Tillery.
Before the concert, over 300 athletes and celebrities attended the PS Media Talent Fuse Event ESPY pre-party, a charity and networking event benefiting The Salvation Army.
"We are still counting proceeds from the evening, but for an event where we did not have to invest a lot of up-front funds, we were able to do some fundraising and friend-raising, which I believe will be invaluable in the long run," Stewart said.