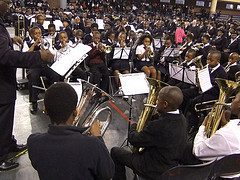 Chief of the Staff and World President of Women's Ministries in South Africa
By Noluntu Semeno, Captain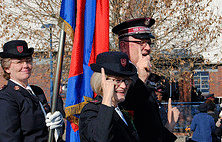 A warm South African welcome awaited the Chief of the Staff Commissioner Barry C. Swanson and the World President of Women's Ministries Commissioner Sue Swanson when they landed at the OR Tambo International Airport in Johannesburg, South Africa.
The Southern Africa territorial leadership, accompanied by a brass band and women dressed in traditional attire, gathered at the airport to greet them. The arrivals hall came to a standstill for few moments as people listened to the band music and the women's animated ululating while singing their joyful greeting. Salvationists stood in formation at the main door and led the special guests to the territorial leaders Commissioners André and Silvia Cox.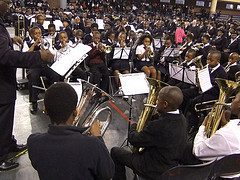 At the opening festival of praise, at Orlando Community Hall, Soweto, the Chief of the Staff and World President of Women's Ministries were led into the meeting by an imbongi (a traditional praise singer). Salvationists from around the Central Division gathered to enjoy a time of praise, which included contributions from bands and songsters brigades, a timbrel display and drama.
In his Bible message, Commissioner Barry Swanson challenged soldiers to allow God to lead them, reminding the congregation that God knows who we are and who we will become. He urged those present to be receptive to God's leading in their lives so as to enjoy the promise of eternal life in Christ.
A soldier's rally took place on the Sunday. The meeting was preceded by a march of witness in the streets of Soweto. Bands marching from different directions converged on the venue. The community in Orlando witnessed the colorful march as flags flew high.
Before Commissioner Sue Swanson spoke she was introduced by the Territorial President of Women's Ministries, Commissioner Silvia Cox, then welcomed by women proudly wearing traditional tribal dresses and national costumes representative of different cultures within the territory. Their World President responded with a word from Ephesians 2, emphasizing the importance of unity and oneness.
In his address based on a verse in 2 Corinthians 5, the Chief of the Staff reminded the congregation that through Jesus we have been reconciled with God and are his new creation. An opportunity for prayer in the concluding moments of the meeting saw the mercy seat lined time and time again, as people recommitted themselves to God.
These celebrations set the scene for a tremendous week in which the territory hosted its first national officers councils in more than 24 years. These were addressed by the international visitors, who later also spoke to cadets and staff at the training college during their morning devotions. Visits were made to several Army social service centere, including Ethembeni Children's Home and Ephraim Zulu Senior Citizens' Centre.