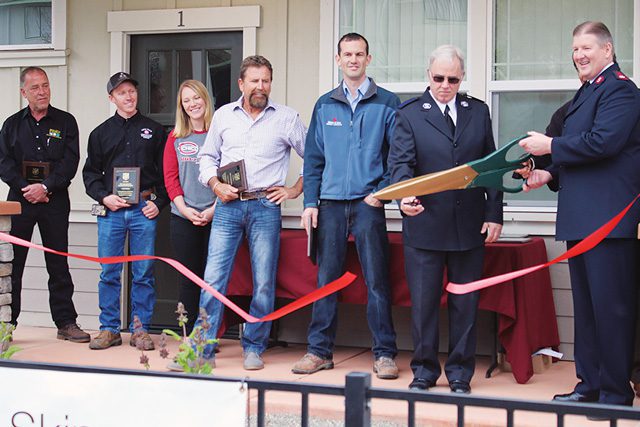 Chico dedicates new transitional housing
New Salvation Army homes to aid single-parent families in recovery.
By Sydney Fong – 
The Chico Corps recently hosted a dedication event to celebrate the new Ann and Emmett Skinner Transitional Living Program (TLP), constructed in 2014 by student volunteers from California State University, Chico, and by community and business volunteers.
The four-unit duplex facility will serve single-parent families who have successfully transitioned out of the Army's adult rehabilitation program. The TLP will house families and will provide continued case management, weekly counseling, 12-step programming and the community outreach needed to regain stability and recover as a family. With partnerships with outside agencies, county services and Salvation Army ministry programs, the goal is to prepare the families for a successful transition back into the local community.
"We know that this new program will unite families and give them some stability that they were desperately needing," said Envoy Tawnya Stumpf, Chico Corps adult rehabilitation program administrator.
The TLP duplexes were mostly constructed last March during a nine-day construction project by the students from California State University, Chico's College of Engineering, Computer Science, and Construction Management (ECC). Students, staff, faculty, staff, advisors and other community volunteers worked daily from 6 a.m. to 10 p.m. Each shift consisted of 50 to 60 volunteers hammering, cutting and laboring to aid in the successful completion of the project.
"It's as good experience to see the fruits of our labor and knowing families will be moving into these homes," said Justin Besotes, construction manager for students.
In mid-March, the TLP secured its first resident.
"This is beyond anything I can imagine or dream of," said Hillary Holt, a new resident and a mother of two young children. "God has completely turned it around for me. He's given me a testimony, that's for sure, and I hope to glorify him in all that I say and do."
The constructed homes include environmentally friendly features such as high-efficiency heating and air conditioning equipment, instant water heaters, drought tolerant landscaping, LED lighting, high-efficiency appliances, and solar electricity.
The project was also made possible by substantial contributions by Ann and Emmett Skinner and other local donors.
"It's amazing to see," Emmett Skinner said. "Looks very spacious and it's well designed. My wife, who passed away two years ago, was very instrumental in getting this built. This is very emotional."