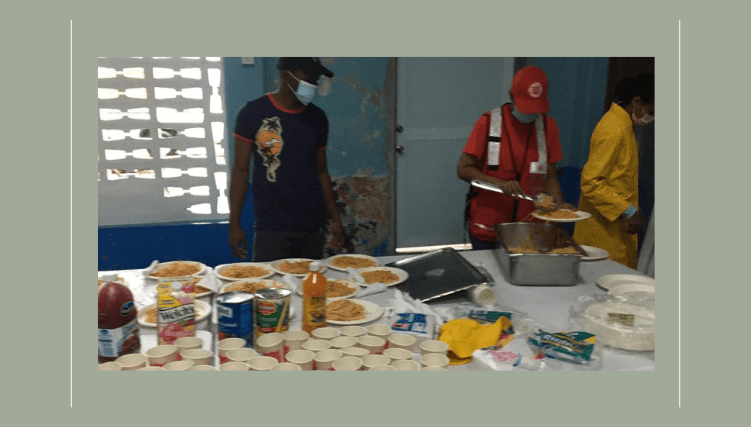 Caribbean Salvation Army Responds to Hurricane Elsa Ahead of Landfall in Florida
Hurricane Elsa, the first of the 2021 Atlantic hurricane season, has caused severe damage in the eastern Caribbean islands of St. Lucia and Barbados. Roofs were torn off by the 75 mph winds, with downed trees and power lines blocking roads. Flooding posed another threat to communities in the path of the storm. The Salvation Army on both islands has been providing emergency support.
In Barbados, Elsa was the first hurricane to directly hit the country since 1955. As it made landfall, Prime Minister Mia Amor Mottley announced that the government would be working with The Salvation Army and other faith-based organizations in order to meet human needs arising from the hurricane. 
Consequently, The Salvation Army's Reed Street facility in Bridgetown and Lighthouse Center in Speightstown were mobilized to receive donated goods of food and clothing in readiness for distribution to affected members of the community.
Across in St. Lucia, The Salvation Army's Castries Corps in the capital was designated as an emergency shelter by the local authorities. Coordinating the response in Castries, Captain Derrick Mitchell said, "We are prepared to do what we need to do. We are ready to prepare meals for them [people unable to remain in their homes]. We are here to help."
During the event, Salvation Army teams cooked hundreds of hot meals for people adversely affected by the winds and torrential rain, as well as for members of the emergency services.
Having lost intensity, Tropical Storm Elsa then made landfall in Taylor County, Florida, on July 7. In common with all such extreme weather events, The Salvation Army's Emergency Disaster Services based in Atlanta, Georgia, has prepared for all eventualities and was ready to deploy mobile canteens and/or other resources as necessary in collaboration with first responders and local government. 
Major David Swyers, The Salvation Army's Area Commander for Tampa said, "Wherever the need arises and they ask us to come, that's what we do."
"We can roll out with dedicated teams who know how to cook meals…[T]hese units are large enough to cook thousands of meals and we have 50 to 60 easily available at any time to go," he said.
Photo courtesy Salvation Army International IHQ Flickr.
---
Do Good:
Need some extra motivation to do good today?

Follow Caring Magazine on Instagram

for inspiring stories, podcasts and more to get you in the Fight for Good.

It's because of people like you that The Salvation Army can serve more than 31 million Americans in need each year. (

That's almost one person every second, every day.)

Your gift helps The Salvation Army fight for good all year in your community. It's an effort to build well-being for all of us, so together we rise. And that good starts with you.

Give to spread hope

with a donation of funds, goods or time today.