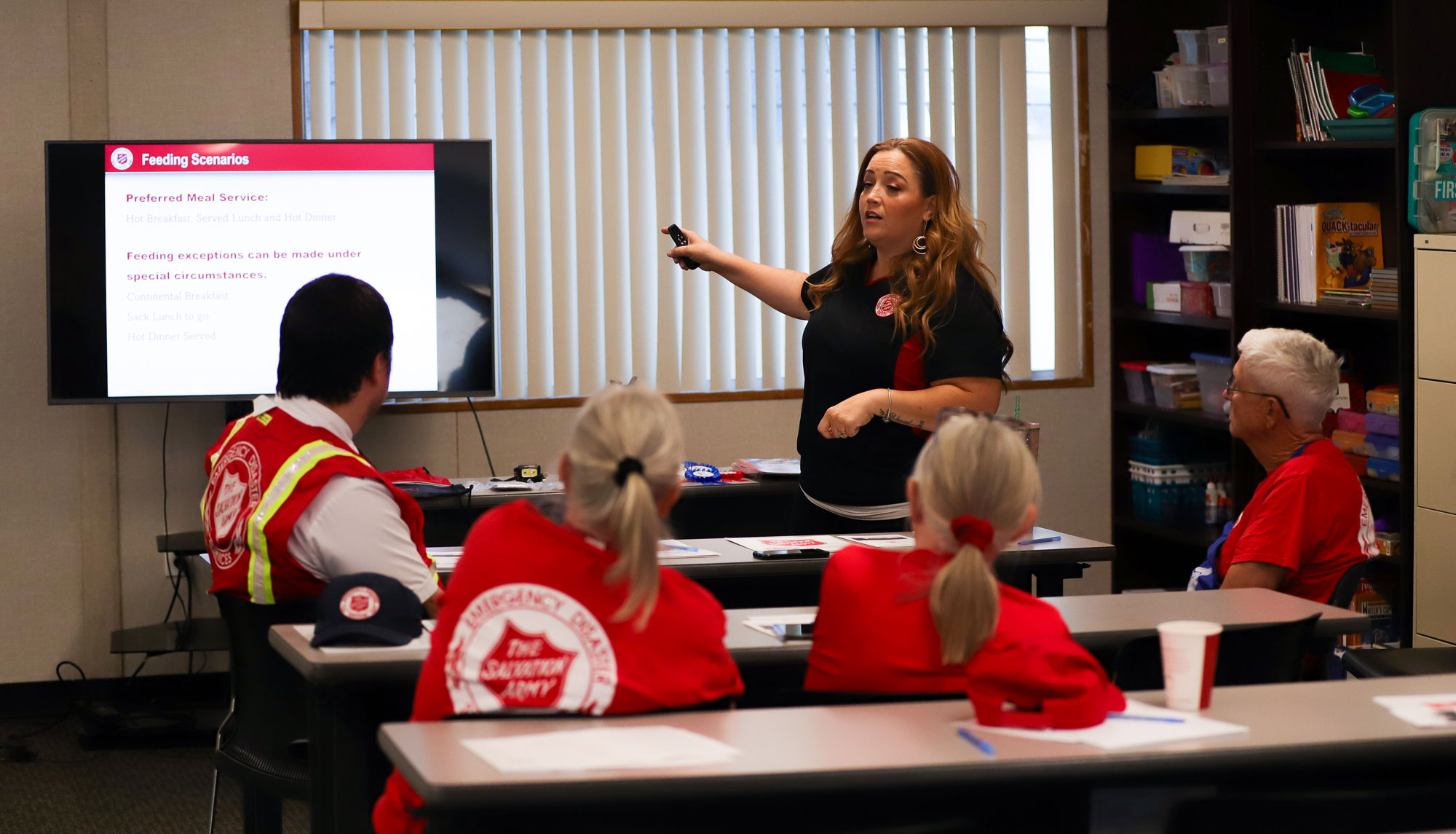 Canteen Cook-Off readies Salvation Army volunteers for real-life disaster events
Volunteers leave simulation training ready to respond when needed.
The low hum of generators rumbled through the parking lot at the Roseville (California) Salvation Army June 17, as a dozen new and seasoned volunteers arrived to spend their Saturday at an Emergency Disaster Services (EDS) training event.
Following a lesson on standard procedures for emergency disaster response including food handling safety, spiritual care and best practices for helping people on what is often one of the worst days of their lives, volunteers participated in a canteen scavenger hunt designed to familiarize them with canteen facilities and supplies.
Next, two teams of volunteers entered separate canteens for the day's main event—the Canteen Cook-Off competition.
"Food is one of the most fundamental services we can provide in any emergency situation," said Amy Mefford, EDS Deputy Director in the Del Oro Division, including Northern California and Northern Nevada. "This training simulates a real-life disaster response where we can not only make sure our canteens and equipment are ready for the disaster season, but also our volunteers can familiarize themselves with the canteen and the process so when we respond, everyone is ready."
With a stopwatch set for 30 minutes, teams received specific menu items to cook, understanding their culinary creations would be evaluated by a panel of judges based on plating presentations, taste and teamwork. The dishes of tacos, beans, rice and salad began pouring out of the canteens and into red EDS bags. In total, the teams made 150 meals, which were donated to a local shelter.
"I am so grateful for this training and new opportunity to help others in need," said EDS volunteer Josephine Steckel. "Getting to cook in a canteen with teammates who are passionate about helping the survivors in disaster situations was an experience I will never forget."
It was one of at least 12 trainings Mefford and EDS Director Patrick McGinn have led at corps in the Del Oro Division, with six more scheduled in the adjacent Golden State Division, which serves the local communities of San Francisco, the Central Coast and the Central Valley of California. To prepare the Western Territory's future Salvation Army officers, they're also bringing the training to the College for Officer Training at Crestmont in Rancho Palos Verdes, California, in October.
"We want people to walk out of the training feeling empowered, and not scared, and feeling more confident that they're not on their own," McGinn said. "With the team, they can do this."
McGinn said it's more important than ever that EDS teams are prepared, with the mindset that they may be summoned at any time.
"California has fires but it has floods and it has earthquakes…This year, we've had floods from January to March," he said. "We responded to that in nine different cities with nine different corps, nine different teams…It was unprecedented for the last 10 years—the atmospheric river over and over again for two weeks at a time. It got our teams to understand that we need to be ready."
McGinn said he and Mefford are working with almost all the division's corps to have an EDS team, whether it's three volunteers, or 10 or even 30.
"We're up to 12 teams now," he said. "So we can be more accountable to our county government partners, our other non-governmental partners, our corporate partners—and we can stay in the response longer."
McGinn gives all the credit for The Salvation Army's disaster response to the individuals carrying out the response.
"EDS wouldn't work without volunteers," he said. "All our canteen teams willingly give their time to us. Our volunteers love responding. They love helping The Salvation Army help other people."
When disaster strikes, it's often the presence of The Salvation Army canteen that signals to people hope has arrived. As McGinn said, "Our volunteers love being that dependable sign of hope for people."
With reporting by Grant Hansen
---
Do Good:
It's because of people like you that The Salvation Army can serve more than 31 million Americans in need each year. (That's almost one person every second, every day.) Your gift helps The Salvation Army fight for good all year in your community. It's an effort to build well-being for all of us, so together we rise. And that good starts with you. Give to spread hope with a donation of funds, goods or time today.
You can make an impact in the Fight for Good with whatever time and skills you have. Whatever your interest, there is a you-sized need for goodness in the world. Get the guide on How To Be An Impactful Volunteer and get in the Fight for Good today.