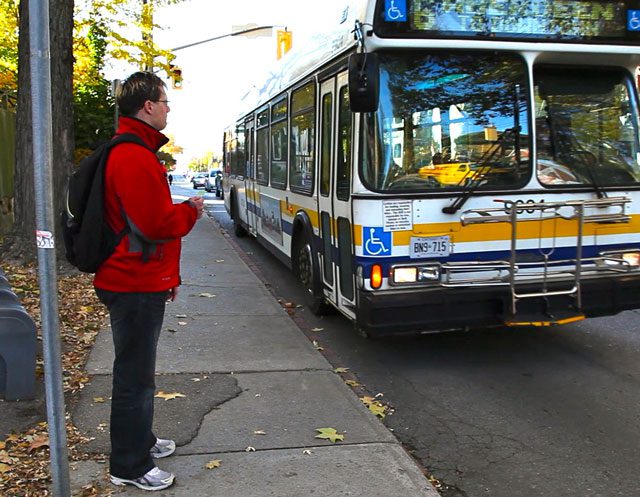 Bussing Around
Salvation Army program trains those with developmental disabilities on riding the bus
By Vivian Gatica –
Many people depend on public transportation to get to work, school and other places each day.
Acknowledging this fact, the city of Hamilton in the province of Ontario, Canada, funded the Community Access to Transportation (CAT) program—coordinated by The Salvation Army Lawson Ministries in collaboration with other developmental services agencies—to teach people with developmental disabilities how to use the Hamilton Street Railway (HSR) public transit system.
"The Developmental Services Transportation Committee, comprised of representatives from developmental services agencies across the city of Hamilton…had been meeting for several years to address issues around transportation for the population we serve," said Michelle Martin, Salvation Army Lawson Ministries CAT program coordinator.
City funding for the program was approved in 2011, and a trial run launched the same year. Running through this spring, 151 participants were successfully trained.
CAT curriculum consisted of lessons in pedestrian and bus safety, as well as route training, which were taught through a series informational videos and in-class instruction two days a week for a month. Field trainers from Lawson Ministries and its partners then conducted 40 hours of on-the-bus instruction, starting by planning and riding a route with trainees with necessary prompting. The trainer then gradually stops prompting until they are simply shadowing a trainee. Finally, the trainer will meet the CAT participant at a pre-determined location.
"[CAT] provides a lot of independence and empowerment for folks who access developmental services. They can get places on their own," Martin said. "It's a win-win situation. It increases the engagement of trainees with their community, [and] frees up rides on Accessible Transportation Services—which they must call for in advance—for [people] who really need it."
Although the CAT program has ended, Martin and the Social Planning Research Council of Hamilton presented final reports with outcomes to the Hamilton Public Works Committee and city staff for evaluation, and is optimistic that the program will be extended.
"Response has been excellent," Martin said. "We've gotten a lot of positive remarks and support from caregivers of trainees who have gone through the program. The school boards here in the city have embraced it wholeheartedly and are hoping that the program continues."
Martin hopes to continue finetuning the CAT program curriculum and material and extend its current collaborations while looking for opportunities to work with other agencies. Meanwhile, graduates of the program are already on their way independence.
Karen Gilby—who was trained by a staff member at The Salvation Army Lawson Ministries—now takes the bus by herself to work at ARC Industries in Hamilton, and is able to go and watch her favorite wrestling events in her free time.
"I wanted to do it," Gilby said about learning to ride the bus. "It makes me feel happy, very happy."
Peter Lauretani was trained by a staff member from Community Living Hamilton, a partner agency.
"I learned how to take bus and I had a very good experience," Lauretani said. "I learned about the directions, about bus schedules, and I learned to be independent."
Lauretani takes the bus to school, and to the movies.
"I am responsible. I am very reliable. I have a good memory," he said. "It feels good, and very positive."