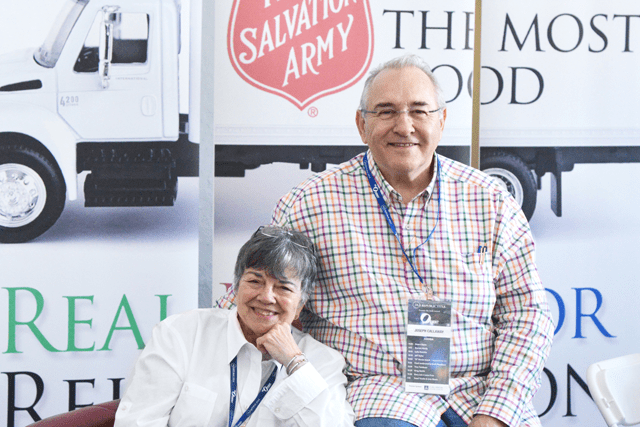 Callaways given National Association of REALTORS® Good Neighbor Award, donate prize to Salvation Army
By Marlene Klotz-Collins –
After 93,000 online votes, the National Association of REALTORS® and its distinguished Good Neighbor Award announced that JoAnn and Joseph Callaway, members of The Salvation Army National Advisory Board and Phoenix Advisory Board, won the Web Choice Favorite contest.
The couple directed their $2,500 prize, along with $2,500 garnered as one of the top 10 finalists of the Good Neighbor Award, to The Salvation Army. The nomination process was open to the million-plus realtors in the United States.
"We were humbled and honored by this distinction but truly most delighted that The Salvation Army was placed in the spotlight and, of course, received the $5,000 award," said JoAnn Callaway. "Our recognition was centered on the exceptional work of The Salvation Army's Adult Rehabilitation Centers (ARCs), but we also had an opportunity to place emphasis on the recent disaster relief efforts for Hurricanes Harvey and Irma.
"We are blessed and grateful to be involved with this beloved Army and honored by the enthusiastic, genuine embrace extended the organization by the real estate industry," she said.
In 1997, JoAnn and Joseph Callaway started Those Callaways, a Scottsdale, Arizona-based boutique real estate brokerage considered in the top 3 percent in America.
"The Callaways are a remarkable duo," said Salvation Army Southwest Divisional Commander Lt. Colonel Kelly Pontsler. "Our community, and our Army nationwide, is stronger because of their efforts and exceedingly generous hearts."
The Callaways are the masterminds behind two real estate industry-related programs launched in Phoenix that are now being replicated in communities across the country.
Real Estate Wednesdays started in 2013 as an effort to engage people in the real estate industry to volunteer as bell ringers on the four Wednesdays between Thanksgiving and Christmas. In the Phoenix metro area, 2,200 industry volunteers were bell ringers at 155 Red Kettles each week in 2016, realizing a net benefit just under $300,000. It is anticipated the 2017 season will push the total net benefit to The Salvation Army in the Phoenix metro area well beyond the $1 million mark for the five holiday seasons since its inception.
The Callaways introduced Real Estate for Rehabilitation in 2015. The program has experienced meteoric growth through the unparalleled commitment and dedication of volunteers. The effort is supported through the real estate industry as realtors, title companies and other agents encourage clients to donate furniture, clothing and household goods during the various points of contact in buying and selling a home.
The Callaways have logged immeasurable miles and hours on a regular basis to conduct workshops at the national, territorial, divisional and corps levels to assist in the launch and growth of Real Estate for Rehabilitation. Increases in pick-ups and increased value of donations are being reported throughout the nation as ARCs reap the benefit of this unique program.
"The respect and influence JoAnn and Joseph enjoy by all has brought an entire new industry to The Salvation Army," said Major Grady Brown, Western Territorial ARC Commander.  "They have opened doors never before available to us, and these opportunities have given exposure and dividends beyond measure. I cannot appropriately express my pride knowing people of such stature and graciousness love The Salvation Army and the ARC as they do. We are blessed by their ongoing support to further our mission."