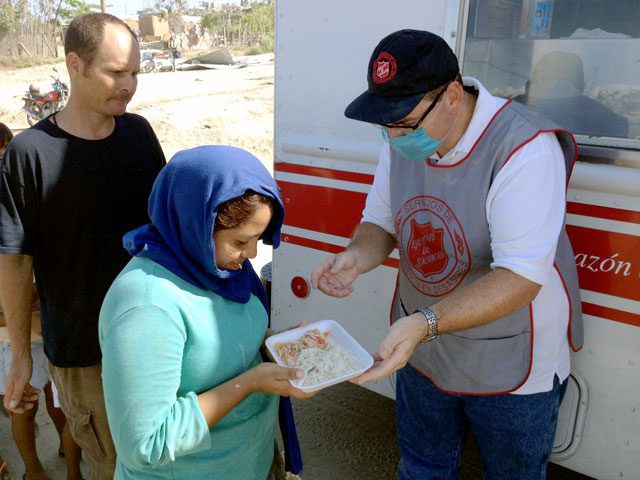 Army responds to Cabo San Lucas hurricane
EDS team and canteens at the scene to help with relief efforts   
The Salvation Army Mexico Territory deployed 16 people and three canteens in September for Emergency Disaster Services (EDS) response to Hurricane Odile in Cabo San Lucas.
Efforts included serving in a town further out from Cabo San Lucas where the affected families were being sheltered.
EDS provided meals to them until late September, when the government allowed for the families to return to their homes and the children to go back to school.
After leaving the area, the team went to Cabo San Lucas to provide assistance in some of the hardest hit neighborhoods, which had no electricity or water and where most were using tarps and plywood to create shelter where their homes once stood.
"The area we served in was a poor neighborhood before the hurricane," said team member Captain Jason Koenig. "As a result of the hurricane, most of the homes were destroyed beyond recognition."
The team came across a church congregation in the area who was meeting where their church building used to be, singing praises to God.
"We met the pastor who smiled and you could see his eyes were filled with hope," Koenig said. "This was a very humbling experience and a reminder that God always provides."
Canteens served meals to the people for a week until their resources ran out.
"As people walked up to the canteen, they were very thankful saying this was the first meal they had in many days," Koenig said. "I am very thankful to have had the opportunity to serve with the EDS team in Cabo San Lucas representing The Salvation Army Mexico Territory."
[gss ids="9552,9560,9554,9557,9556,9553,9551,9555″]