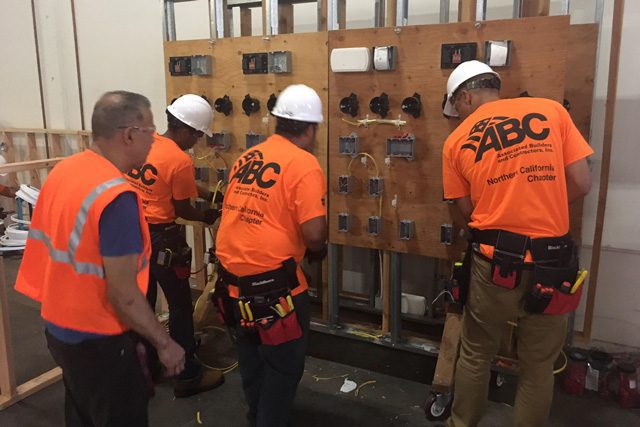 Building for a better future
Construction program gives one participant an opportunity she'll never forget.
After struggling for years as a single mother of two, Rosie finally got the opportunity she'd long sought: a promising start to a career as an electrician. And nothing would stop her. Not even a two-hour commute—on a mountain bike.
With a 6 a.m. start time looming and no public transportation available that early, she grabbed her daughter's mountain bike and pedaled 12 miles to work for her first two weeks on the job until her company offered to give her a ride to and from work.
"I [was going to] show up no matter what," Rosie said. "Nothing was going to stop me from making it to work every day."
Just a short time ago, Rosie and her kids lived at The Salvation Army E. Claire Raley Transitional Living Center in Sacramento, California, when she was recruited for a pilot Construction Training Program of The Salvation Army in August 2017. After completing it, Rosie was employed that same month as an electrician trainee for Royal Electric Company at a job fair hosted through the program.
"That was like God was opening up a new door for me," Rosie said. "It's changed my life. I'm able to sustain me and my kids on my own. It's amazing."
The Construction Training Program is a one-week hands-on course on core construction skills, but also focuses on different areas of construction quarterly, including electrical, carpentry, plumbing and painting. It's open to Adult Rehabilitation Center beneficiaries and clients at the Transitional Living Center, GED program and The Salvation Army's Family Services in Sacramento County.
"Our men and women are mature. They've already hit rock bottom; they're just looking for a chance," said Captain Martin Ross, Del Oro Divisional Secretary for Harvest Initiative and Sacramento Social Services. "We really think it's a win-win for both the [construction] industry and for men and women who are looking for a second chance. Not only do they just get a job, but they get a career."
The Salvation Army teamed up with Associated Builders and Contractors Northern California Chapter (ABC Norcal), which provided the curriculum and instructor for the program.
"It's intense," said Sergio Cortez, ABC Norcal workforce development director and program instructor. "A big part of this course is leadership, integrity [and] accountability. We see that really pushes them to the limit so when they get a job, they work by those principles."
Cortez said Rosie, the only woman in the class, was up for the challenge and had an enthusiastic demeanor throughout the program.
"She did the best work in the class," Cortez said. "She was a perfectionist. All of her stuff came out great."
As an electrician trainee, Rosie started by helping with electrical work on a building that had been stripped down.
"It's cool because I still got all of my on-hand stuff but I got paid at the same time," she said. "It's been amazing. I enjoy going to work. I love everybody that works there. It's not what I expected—this is way better."
After her employer noticed her hard work and dedication to the electrical field, Rosie was told the company decided to sponsor her apprenticeship training program, which she is set to start early this year.
"I literally started crying," she said. "It's like one door opens after another and gets better and better."
During the apprenticeship, Rosie will continue her hands-on training, and take on additional schooling, with an opportunity to bump up her pay rate.
"Rosie's success is exactly what we envisioned when we started this program," Cortez said. "She's moving up exactly how we wanted it to happen, for contractors to see that she's going to put her work in and they are ready to invest in her."
Rosie reflects on her journey and where she was just a short time ago.
"I was struggling to wash my clothes and make sure the kids had shoes and stuff. When they told me I could do this, I was like, 'This is a godsend,'" Rosie said. "It took a lot of worries off of my shoulders."
The sense of accomplishment she felt after graduating from the program is something she will never forget.
"I felt like a superstar," she said. "I was proud to finish, especially being the only woman…My self-esteem and pride have gone up through the roof. And it's nice because my kids are proud of me. My son is thinking he might want to be an electrician, which is amazing. I haven't felt this good in a long time."
After completing her apprenticeship, Rosie aspires to be a master electrician and instructor.
"I want to be able to teach people like we were taught," she said. "I want be able to be an instructor to teach the younger generations how to be electricians. That's my goal."
Rosie's name was changed for this article.