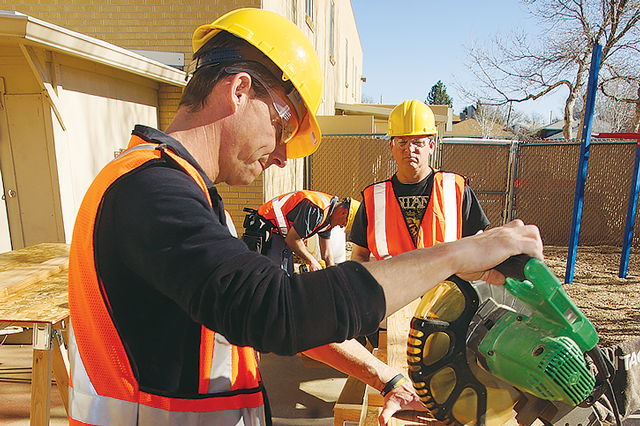 Bridge to employment in Aurora
Corps' construction school helps people in recovery gain job skills.
By Caramie Petrowsky –

A former meth addict and thief turned her life around following rehab at The Salvation Army Adult Rehabilitation Center (ARC) in Denver and graduated from the construction school at the Aurora (Colorado) Corps Community Center.
Ariel Jaje, 24, took part in the month-long educational program in June 2016. Within three months she found a well-paying job, something she's extremely grateful for, she said.
Aurora Corps Officers Lts. Timothy and Tanya Pemberton launched the construction school
in late 2015, a few months after their arrival at the corps. The Salvation Army partners with the Colorado Construction Institute, with the institute providing instruction.
Participants spend four weeks learning construction basics, from proper safety protocol and how to use carpentry tools to professional skills, like the importance of attendance and punctuality. The goal is to help all students get a job in construction after they graduate.
"The school offers an important bridge to employment for recent graduates of the
ARC in Denver," said Tanya Pemberton, who started the program as a way to provide individuals the means to employable skills and a way to qualify for jobs that pay a livable wage.
Jaje has been an alcoholic since she was 18, she said. After high school she joined the Marines, but it wasn't long before she got kicked out for underage drinking.
After her discharge, Jaje started drinking more. Eventually she turned to Adderall, a stimulant often prescribed for ADHD and narcolepsy. When she couldn't get her hands on the pills, she turned to abusing methamphetamine. The drug completely took over, Jaje said.
"I found a guy that was my drug dealer and thought I fell in love with him," she said. "He ended up beating me; he almost killed me a few times."
Jaje realized she needed help and went to the Denver ARC, but she left after four days and returned to her old ways. To get cash to buy meth, Jaje stole credit cards from people's cars. She used them to buy electronics, which she then sold on the street.
She was caught, charged with credit card theft and ordered to rehab. The judge gave her a deferred sentence with two years of probation if she could stay out of trouble.
She was sober for 44 days when she entered the ARC for the second time.
"I went in knowing I had to change. It was life or death," she said.
Jaje completed the program, graduating on Jan. 27, 2016, her 24th birthday. Then, for six months, she looked for a job.
As a member of the Aurora Corps, she learned about the construction school. Meanwhile, a workforce center signed her up for a construction boot camp.
"When I saw the address, I saw that it was the address of the church," she said.
It was a good omen for Jaje, who hoped to land a job working in the safety department of a construction company, she said.
Through the program—offered six times to date with three sessions planned this summer—she got her OSHA (Occupational Safety and Health Administration) 10 card, essentially her "foot in the door for being on a safety team anywhere," she said.
After completing the program in July, Jaje initially struggled to find an entry-level safety job, but in September, Spacecon, a Denver-based drywall, planing and finishing company, hired her.
"I love the job," said Jaje, who has been based at the Country Club Towers II jobsite since she started, assisting with the construction of two 31-story luxury apartment buildings. As the safety manager for the job site, Jaje takes new hires to orientation and ensures everyone follows proper safety protocol.
"It's a high-risk falling hazard as they go up and down the towers," she said. Jaje oversaw 60 people when she first started. Now that number is closer to 150.
"I'm pretty blessed—I was growing in my knowledge as they were growing in their numbers," she said.
Before she'd been with the company for three months, she got a $1 an hour raise, she said.
"Because I lived my life for so long not caring about my body or my emotions, it serves a higher purpose to be in this field," she said. "I'm grateful for the construction school—it's the only way I got to where I'm at now."
From Pemberton's perspective, Jaje's success story is one she hopes will be replicated as students take part in the construction school.
"She got her dream job," Pemberton said. "It's exactly what she wanted when she went into the program."