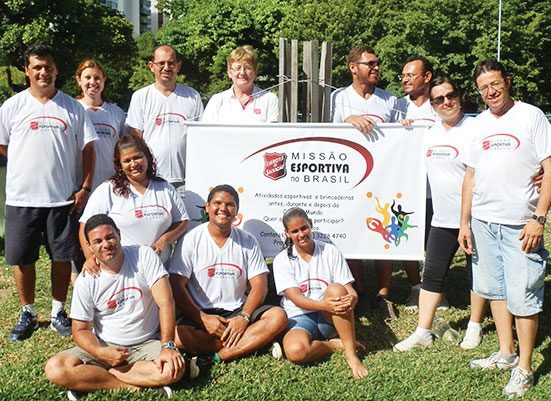 Brazil Territory prepares for FIFA World Cup
Campaign aims to capture the universal energy of sports
By Meagan Hawk –
The FIFA World Cup is the most widely viewed sporting event in the world: 3.2 billion people watched in 2010 when South Africa was the host country. Millions of soccer fanatics are projected to attend the matches this June in Brazil. As soccer teams, fans and the world eagerly anticipate this massive global event, The Salvation Army, too, prepares.
"Sports activities have been part of Salvation Army programming for almost as long as the movement has existed," said Lt. Colonel David Bowles, sports ministry coordinator in Europe.
"Sport is a universal language," he said. "The universal passion and impact of this common language is profoundly experienced during major international sporting events."
Bowles said that the mission of The Salvation Army's Sports Ministry Department is to capture this universal energy of sports innovatively and intentionally and use it as a tool to bring glory to God through evangelism and Christian discipleship.
Coming together under the banner of International Sports Ministry, Salvation Army mission teams and representatives from Australia, Great Britain, Germany and the U.S. will cover eight of the 12 tournament host cities to work alongside corps and local officers during the games.
Mission teams from the U.S. Western and Central territories will share Jesus with people on the street, in parks and on playing fields. They will also distribute thousands of Rumo magazines (Brazil's War Cry), printed both in English and Portuguese.
The Australia Eastern Territory team will lead a week-long soccer clinic for at-risk children. The camp will emphasize training, technique and skill, and will include a spiritual application. The Southern California Divisional Youth Band will share its music ministry in Rio de Janeiro and São Paulo.
Leading up to the 2014 FIFA World Cup, The Salvation Army is holding soccer-concentrated outreach ministries in local parks. The territorial sports ministry task force plans to use this event as a kick off for a permanent sports ministry in every corps.
"One of the major strengths of The Salvation Army is that we shape our ministry to engage with the cultures and communities in which we serve," Bowles said. "Many people with whom we desire to share Jesus are somehow engaged in sports; it's a culture we want to impact for Christ."
Under the leadership of Territorial Commander Commissioner Oscar Sánchez and Chief Secretary Lt. Colonel Douglas Danielson, sports ministry has become a strategic outreach and discipleship strategy within the Brazil Territory.
From the 2014 FIFA World Cup through the Rio 2016 Summer Olympic Games and into the future, Salvationists in Brazil will continue to intentionally share Jesus and grow disciples in and through sport.