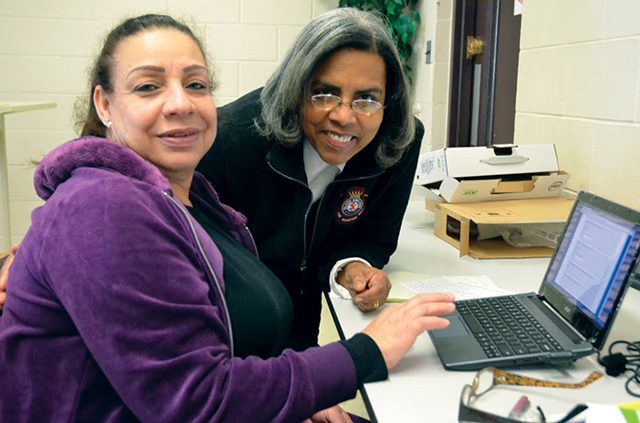 Boston Central Hispanic Corps greets increasing population
Growing nearby Latino presence reflects statewide trend
By Drew Forster – 
As Boston's Latino population soars, The Salvation Army Boston Central Hispanic Corps helps many of its new residents adapt to their new surroundings.
Between 2000 and 2010, nearly every community in Massachusetts saw its Latino population increase, including Boston, which added 22,828 Latinos—a 27 percent increase. Yet, many newcomers face language barriers, cultural shifts and difficulty finding employment.
"We try to greet everybody with a lot of love…for people in need, especially recovering people, that have been mistreated outside in the streets," said Major Elizur Vasquez, Boston Central Hispanic corps officer. "When they come here, we try to bring them self esteem, to lift them up so they can know that they are valued."
Chris Farrand, social services director for the five Salvation Army corps in Boston, works with corps leaders to determine how to best invest their resources. One way is through a culinary skills program that teaches single parents on a low budget and limited time. "When they find that the kids are healthier, that actually affects their academic performance," Farrand said. Another is through educational programs for adults and seniors such as English as a Second Language (ESL) and computer literacy.
"Some people come from different countries and now their son is growing up here and he's got a different language, so it's hard [for them] to communicate," Vasquez said.
The corps also hosts an annual service event that helps new arrivals connect to American culture—a Thanksgiving holiday meal basket distribution to roughly 2,000 people that reflect Boston's ever-growing diversity. In the past three years, The Salvation Army has increased the number of households assisted by its annual Thanksgiving distribution by 67 percent.
Vasquez hopes to help newcomers in the city for years to come.
"I was out there without hope, and God gave me hope," Vasquez said. "Everybody has potential, so I try to give back what's given to me."