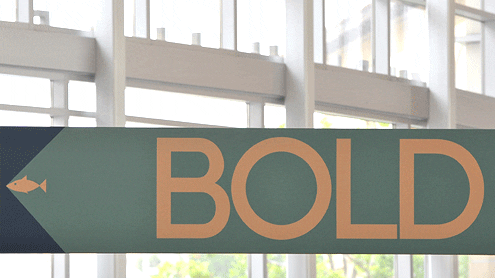 Boot camp 4 proves bold
By Christin Davis
A simple but striking white 6- by 11-foot origami fish suspended on stage at Boot Camp 4 juxtaposed the conference theme—"Bold"—for nearly 500 youth workers from around The Salvation Army Western Territory.
"The general sessions were intentionally scripted in a way for the delegation to be 'selfish' and focus on their own spiritual walk," said Jim Sparks, the West's youth development and leadership director.
Sitting solo at a keyboard, Audrey Assad—whose debut album, The House You're Building, was named Christian Album of the year in 2010—led worship throughout the conference. The songs, from "Holy, Holy, Holy" to "How Great is Our God," were offered often a capella, in corporate prayer.
In the opening session, Territorial Youth Secretary Captain Roy Wild urged delegates to "come boldly into his presence." He reminded each one that youth ministry is not just a job, but a specific role from God with 1 Peter 2:9: But you are a chosen people, a royal priesthood, a holy nation, God's special possession, that you may declare the praises of him who called you out of darkness into his wonderful light (NIV).
"We need to prepare ourselves, and live in a way that is pleasing to God," Wild said. "We need to live a life of worship."
Sparks said this Boot Camp is unique in its intensity of teaching. From the preaching, to elective lecturers, and leadership tracks, attendees were urged to be bold in life and ministry. General session guest speakers included Jonathan Acuff, author (jonacuff.com); Dr. Kara Powell, executive director at Fuller Youth Institute (fulleryouthinstitute.org); Doug Fields, pastor and author (dougfields.com); Dawn O'Brien, morning show DJ on 95.5 The Fish (thefishhawaii.com); Eugene Cho, co-founder and executive director of One Day's Wages (eugenecho.com); Dr. Jim Burns, president of HomeWord and executive director of the HomeWord Center for Youth and Family at Azusa Pacific University; and General Linda Bond, international leader of The Salvation Army.
Powell, Burns and Dr. Amy Jacober, lead consultant with Youth Ministry Architects, led learning tracks, respectively, on Sticky Faith, helping kids develop a faith that sticks; marriage and parenting; and three questions in every adolescent's heart: Who am I? Do I matter? Where do I belong?
Fields spoke to this as well, saying, "Today's teenagers are looking for relationships, they want to be amazed, they are attracted to and need to do something radical, and are looking for empathy and healing for their hurts. Everything today's teens are looking for, Jesus is."
Electives ranged from child safety, Adventure Corps, being parents of a gay child, avoiding burnout, to being married in ministry. Late night fun included salsa dancing, a concert with Audrey Assad and broomball on the ice.
Bond, preaching from Mark 10:17-31, challenged the youth leaders to figure out what might be holding him or her back from following Christ.
"I love this story of the rich young ruler, but find it sad, too. I wonder if there came a point when he thought, 'I missed it,'" Bond said. "Soldiers of our God, arise. Shake the slumber from your eyes. If anything is holding you back from leading the charge, you need to give it up tonight. Don't ask kids to do what you're not prepared to do."
In the final session, Cho implored the delegates to intentionally and prayerfully invest in themselves, what he called the "greatest investment you can make for your ministry." He said this includes getting enough sleep, physical health, deep study, enjoying life, and being honest in our temptations.
Cho said each of us have the capacity to do beautiful things, but also have to be aware that we have the capacity to do dark things, reminding the crowd of drunkard Noah, deceitful Abraham, manipulative Jacob, murderous Moses, persecuting Paul, adulterous David, denying Peter.
"I fear if we're not careful we become people that fall more in love with the idea of things we're teaching—of being bold—than in putting it into practice," Cho said. "The greatest sermon you will ever give is not from platform or pulpit but how you live your life."
See more from attendees on Twitter with the hashtag #bc4, video reviews at sayconnect.com, and photos at thegatheringpix.com.