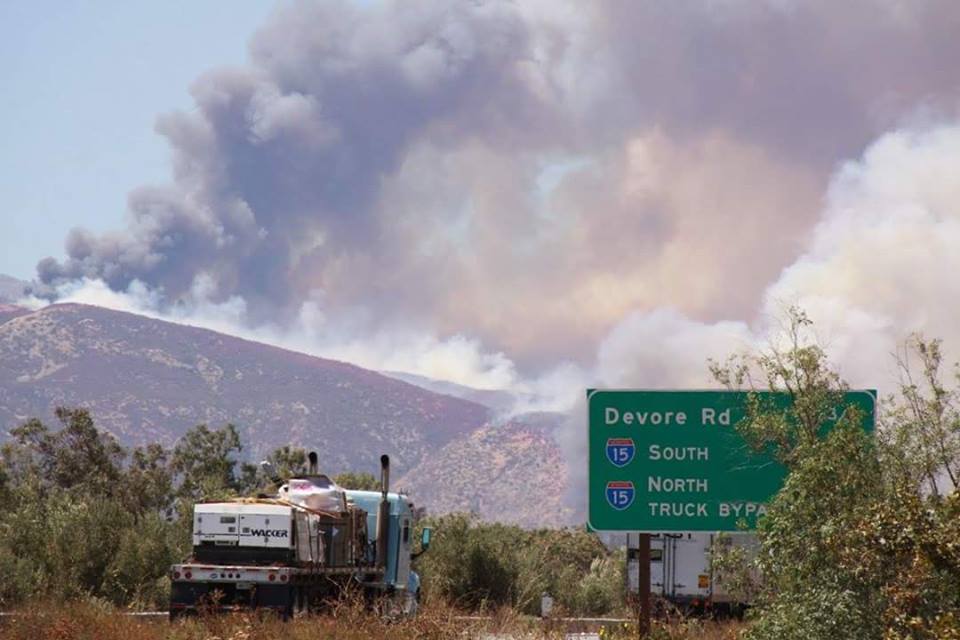 Blue Cut Fire thrashes inland, Salvation Army mobilizes response
The erratic blaze was only 4 percent contained, as of Thursday morning.
As the Blue Cut fire blazes through parts of San Bernardino County, The Salvation Army of Victorville has teamed up with The American Red Cross of the Inland Empire to provide assistance to evacuees.
The Salvation Army has prepared and served over 1,250 meals to evacuees since the response began Wednesday morning, and expects to continue serving roughly 750 meals a day "at least through the weekend," according to Maxine Didonato, social services program manager for The Salvation Army in Victorville.
The inferno has burned over 49 square miles and forced more than 82,000 to evacuate since erupting on Tuesday.
"It looked like it was dark out at 1 o'clock in the afternoon Tuesday because the sun was barely shining through all the smoke," said Didonato, who's coordinating a team of anywhere between 12 and 20 volunteers for the response.
With additional centers in Big Bear, San Bernardino, Ontario and Redlands, as well as throughout the Inland Empire, The Salvation Army is prepared to offer increased support as needed. The Salvation Army also has mobile units in the area on standby to deploy.
Along with food service, Salvation Army staff are also delivering pet food to the San Bernardino County Fairgrounds, which have served as a makeshift shelter for evacuees.
California Gov. Jerry Brown declared a state of emergency Tuesday, and though firefighters are making progress on containing the blaze, it was still only 4 percent contained as of Thursday morning.
According to Incident Commander Mike Wakoski, the Cajon Pass has acted as a "funnel," sending winds that raced up to 30 mph to help the blaze jump Interstate 15, which hasn't seen a fire in 13 years.
"In my 40 years of fighting fire, I've never seen fire behavior so extreme," Wakoski said in a statement.
To give, visit victorvalley.salvationarmy.org or call 1-800-SAL-ARMY (1-800-725-2769) and designate "Blue Cut Fire." Monetary donations by mail may be designated "Blue Cut Fire" and sent to:
The Salvation Army
P.O. Box 1389
Temecula, CA 92593
The Salvation Army is also accepting in-kind donations—specifically food, water and clothing. All in-kind donations will be given to evacuees and fire victims. They can be sent to:
The Salvation Army
14585 La Paz Dr.
Victorville, CA 92395