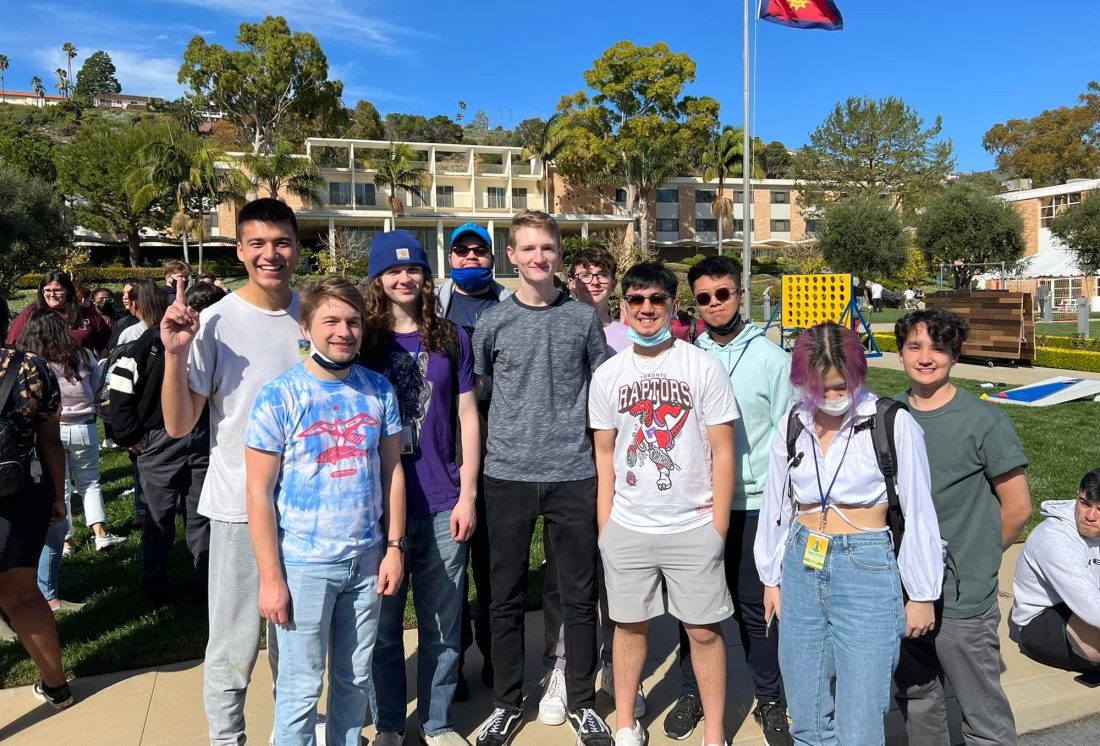 Better together: Youth musicians build community through weekend of music
The Western Territorial Youth Band and Chorus meet after a two-year hiatus.
Eighty-five musicians ages 13-25 came together from throughout The Salvation Army USA Western Territory for the Territorial Youth Band and Chorus "Raise a Hallelujah" weekend Feb. 18–20 at the College for Officer Training at Crestmont campus in Rancho Palos Verdes, California. All nine of the West's divisions were represented, and about 40 participants were new to this event.
"This is a safe place to get to know others," said Territorial Secretary for Women's Ministries Colonel Donna Igleheart, who with her husband, Chief Secretary Colonel Kelly Igleheart, spoke to the group on Saturday morning. "The [pandemic] season hasn't been wasted. There's plenty to do now."
Also on hand during the event were territorial leaders, Commissioners Douglas and Colleen Riley, and the West's youth leaders, Captains Emmanuel and Jennifer Masango. They encouraged the youth, who came together after a period of isolation and playing music in a vacuum.
"I thought it was a good idea," Territorial Music Secretary Neil Smith said about the weekend. "We haven't been together for two years…This will also be preparation for this summer's Western Music Institute (WMI), which will be in person."
That two-year gap disrupted the natural progression of youth through the Army's music programs, and interrupted the development of both their musical and leadership skills. Pre-pandemic, the Western Territory Youth Band and Chorus comprised those who were active in their corps' music programs and who had tried out and been accepted for these groups, which would then meet a couple of times a year.
With the loss in continuity, Smith decided to open up this event to include both previous and potential group members. All musicians came with the recommendation of their divisional music director.
Smith said the music department has kept in touch with group members throughout the pandemic, but the department still had concerns about the event.
"We were anxious that people would want to get together," he said. "We needn't have worried, though."
Old friends reunited and accepted the newcomers.
"Everyone is very welcoming; it's a good experience, being here," said Lizbeth Avalos from the Santa Ana (California) Temple Corps. "During the pandemic, we've had to isolate ourselves. At church we've had to be careful. I feel like worship has definitely changed.
"With the youth, we've had to distance ourselves a lot…[After] not being able to see people we used to see at camp or church groups, it's pretty cool seeing them and how much they've grown in singing and band…It's a good opportunity to get back to normal, as some would say, and to experience this and feel God's presence in everyone who's here."
A Morgan Stanley Alliance for Children's Mental Health Aug. 2021 survey, representing a group of teens ages 15-19, showed "nearly half (48 percent) of U.S. teens are concerned about experiencing social anxiety in transitioning back to 'normal life.'"
The group activities The Salvation Army offers youth may help ease some of the pandemic social anxiety and counter the isolation Avalos spoke about.
"This trip more so than any other year has been about the camaraderie together, and just being in the same place together for the first time watching [the kids] reconnect with each other," said Evan Figueras, former Northwest Divisional Director of Music and Gospel Arts, who came to help out with the chorus. "There's just a lot of emotions going on, and I think it's affecting the music making. I think we're making better music now, because of this."
Smith had considered another challenge: bringing relatively inexperienced musicians together with more experienced ones. This was not a problem, though, even when he directed his most proficient first-chair musicians to move back to the last row to help the more inexperienced ones.
"The older ones embraced the younger ones…there was no 'them and us'; everyone jumped in," he said.
In the spirit of connection, Majors Amy and Rob Reardon led a worship circle on Sunday morning. In between songs led by the weekend's praise and worship team, Rob Reardon offered Scripture relevant to today's challenges, followed by an interactive time of prayer requests and prayer.
Amy Reardon spoke to the group as a fellow musician, emphasizing the power of music to lead people into the presence of God and the importance of preparing one's heart for this purpose.
"To be a musician…is to be a minister," she said. "We need to take this seriously. Bringing people into worship; that's a big deal. Even if you're last chair, bring your all, because it's for God's glory."
She said of all the musical performances she's heard, the most powerful was a vocal solo by a woman who got every note wrong, but who sang with her whole heart.
"Preparing your heart is even more important than preparing your skills—though of course that's important," she said. "You bring your best to God always. Remember, you are a minister of God to the people."
Afterward, Smith spoke about the role these young musicians hold in their corps, how their skills and their passion for the Lord are vital to creating an atmosphere of worship.
Douglas Riley then engaged the youth in conversation, telling them, "I want to hear from you—I mean it." He asked them a number of questions, including, what their biggest stressors are and how The Salvation Army can better meet their needs.
He encouraged them, saying, "Somebody's listening. You never know who you're impacting."
That afternoon, after just two days of rehearsals, the two groups presented a live-streamed concert, available to view on the THQ West – Music & Creative Arts Facebook page. It was a testament to what musicians can accomplish together, even in just two days.
"[The event] worked well," Smith said. "We had a large range of ability, but the idea was to reach out and encourage as many young musicians as we could."
Going forward, the challenge for the youth is to stay connected by participating in corps and divisional activities, and possibly WMI, Smith said, adding that the Music Department will continue to keep in touch with them every month.
---
Do Good:
You've probably seen the red kettles and thrift stores, and while we're rightfully well known for both…The Salvation Army is so much more than red kettles and thrift stores. So who are we? What do we do? Where? Right this way for Salvation Army 101.
Need some extra motivation to do good today? Follow Caring Magazine on Instagram for inspiring stories, podcasts and more to get you in the Fight for Good.
Read more about the Western Territory's annual youth music school, the Western Music Institute.