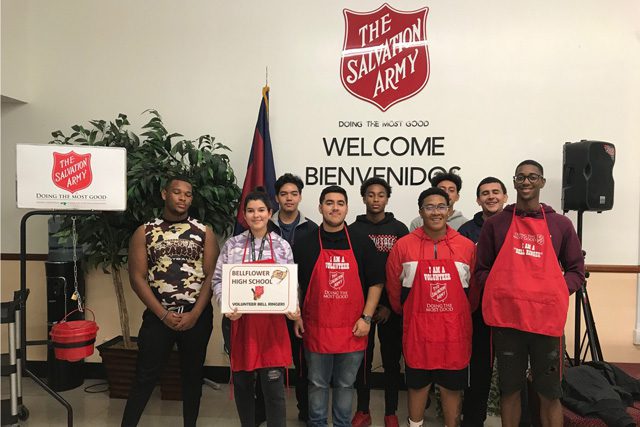 Bellflower Corps teen kettle volunteers turn partners
High school students make a difference while earning community service hours.
By Hillary Jackson –
As the 2018 kettle season approached, Bellflower Corps (California) Volunteer Coordinator and Young People Sergeant Major Carlos Figueroa was on the hunt for volunteer bellringers. He reached out to local schools and got some calls back, including a response from a teacher at Bellflower High School, who felt like the opportunity he presented was "an answer from God."
The teacher came to tour the corps facility, and was amazed by the work The Salvation Army is doing in the community, said Bellflower Corps Envoy Manuel Martinez. "At that moment she said, 'Whatever you need and whatever number of students you need, just shoot me an email and I will get them for you.'"
The following week, student volunteers packed 500 boxes of food and served meals for the corps' Free Community Thanksgiving Lunch and Homeless Thanksgiving Celebration. They also helped on Christmas distribution day, and carried boxes of food and toys to families' cars. After school, they rang the bell at kettles and covered stores from 9 a.m. to 7 p.m. on weekends.
"It was the beginning of a perfect match in a community where there is a lot of need," Martinez said. "The students were on time, presentable and did a wonderful job in all the activities. We knew it was God and that he is working in our community to do great things in the City of Bellflower."
For the 50 youth volunteers from Bellflower High School, the opportunity to be a volunteer bellringer has expanded into a partnership of volunteering with The Salvation Army—helping with food distribution and homeless outreach efforts while earning community service hours.
"They really help out in every aspect…the manpower," Figueroa said. "It's hard to get volunteers."
At the corps' Thanksgiving dinner, Figueroa said one of the youth volunteers noticed an older couple sitting down, with the wife spoon-feeding her husband. The teen sat with them, and took over feeding the man. When Figueora talked with her later, the volunteer said, "I just wanted [the wife] to enjoy the lunch."
Figueroa often sees compassionate acts from the students, who come with good attitudes and kindness. While many of the community meals are served during school hours, he said many students come for holiday and community feeding opportunities outside class times.
In February, The Salvation Army asked Bellflower High School to support a jacket drive for those experiencing homelessness in the community. The corps suggested students could get volunteer hours if they brought in a sweater or jacket in good condition, but most students who dropped off donations did not want the hours—and it resulted in 50 donated jackets in good condition.
"We know this is a long-term partnership and we feel that God has had his hand in it all along," Martinez said. "We opened the invitation to all those who volunteered to attend our Divisional Youth Retreat as well as our weekly activities and we know that a door has been opened not only for a partnership, but also to reach youth for Christ."