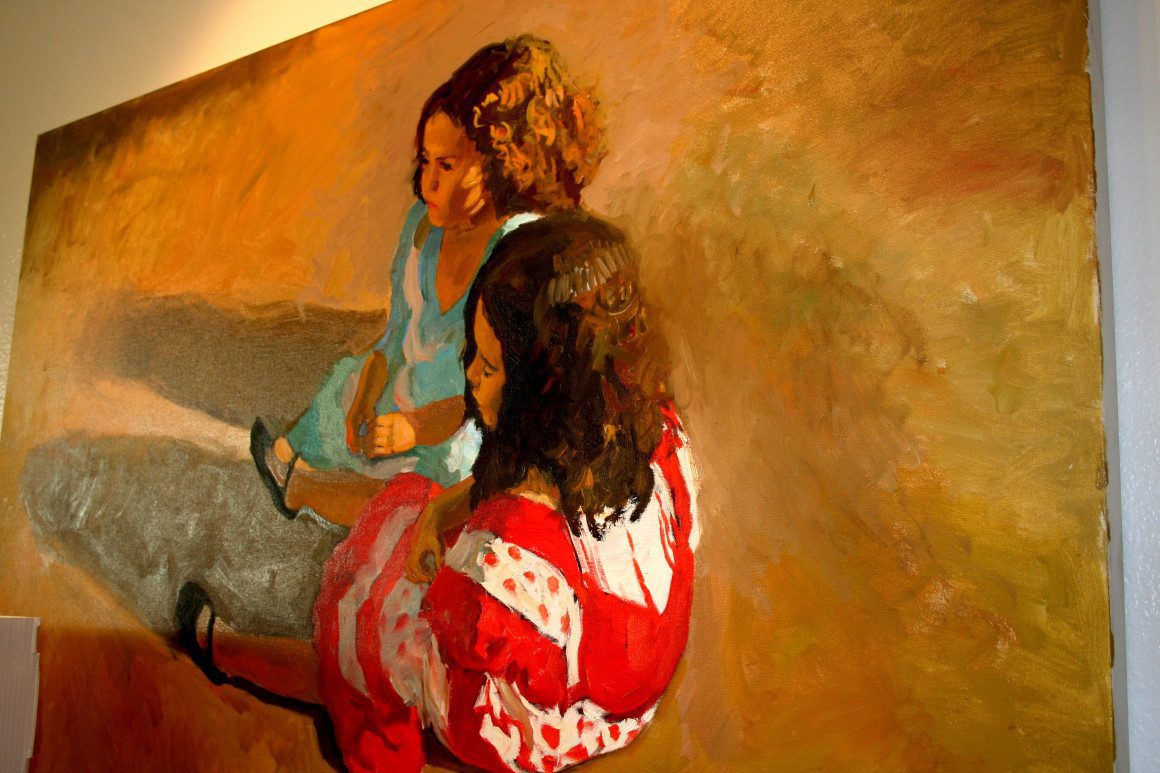 Art – a social services healing agent
"Art and Shelter" exhibits paintings and photographs at Alegria.
In the Silver Lake community of Los Angeles, The Salvation Army's Alegria—a transitional housing program for homeless families affected by HIV and AIDS—is also home to a unique "Art and Shelter" series, displaying high end art on the walls of this social service facility.
"Original art is a simple enhancement of what we do here," said Paul Hebblethwaite, executive director at Alegria. "It says to someone that you're special enough to have something rich. A high design environment pampers the consumer— we've translated that same experience to homeless services."
The mission of this innovative program is to expand contemporary art awareness while enriching the social services environment.
"The harsh reality of the art market is that it validates a small number of artists and relegates the rest to the hallway closet—where does the unsold art end up?" Hebblethwaite wrote in his blog on conversantlife.com. "My only conclusion is that this system results in a tragic absence of art in contemporary life, with art divided between walls of the art establishment and the darkness of an artist's closet (or worse, a landfill)."
Hebblethwaite said he believes that environment should reflect perspective.
"People live up to their environments," he said. "If they live in a nice place, that carries expectations and they're less willing to compromise."
A visual language
When Hebblethwaite assumed responsibility as executive director at Alegria in September 2007, he instituted changes in the facility's aesthetics—toned down wall colors, painted visible pipes white instead of bright colors, and installed accentuating lighting in the hallways—to give the space a more home-like feel. He also filled the bare walls.
Hebblethwaite began Art and Shelter to display professional art at Alegria in January 2008.
"Art is a visual language—an ever-changing and expanding form of communication," Hebblethwaite said. "With art you can explore divergent issues and ideas; art addresses the issues in society that we want to ignore."
He said the displays have allowed the staff at Alegria opportunities for conversation—object lessons with residents that relate to their life situations.
A role in the healing process
The fourth exhibit, "Remembrances" by Jonathan Puls, concluded in January 2009. Puls's portraits and paintings focused on small moments of his family memories, which are his "most intimate and restorative works."
"I was excited to have my work in this space because it is an unconventional and experimental idea to combine the language and culture of 'high art' with a facility that is dedicated to meeting immediate needs in its community," Puls said. "On a more fundamental level, it makes a statement that art can play an integral role in the healing process within individuals and communities. These are beliefs I hold very deeply, that both in the process of making and seeing, art can be a healing and restorative agent."
The first exhibit at Alegria, "Universal Terrains," featured abstract art by Raymond Berrellez with a multitude of color and texture. The second showcase contained abstract and urban graffiti paintings from
a group of 17 artists. The third display featured photography by Tatiana Cardeal of a 22-story abandoned clothing factory in Sao Paulo, Brazil, where 468 homeless families live. A preview of each exhibition can be viewed at artandshelter.org.
Enriching social services
The opening reception for the fifth exhibit, "The Stillness Within," is scheduled for March 28, 2009. In an effort to connect the local community and Alegria, it will feature photographs by John Marshall High School's photojournalism students, who aimed to capture the stillness within a person in a photograph. The images are raw art—no artificial lighting, retouching, or digital reworking were used.
This exhibit will be on display from March 28 to April 30, 2009.
Dan Callis, a professor of art at Biola, a local Christian university, will display his own artwork in May, followed by a white elephant art auction in September.
Hebblethwaite has encouraged other executive directors to exhibit art in their facilities. One painting is on display at Southern California's Bell Shelter and another at the nearby Zahn emergency shelter. He hopes to keep collecting artwork to further enrich the environment of social services in The Salvation Army.
"Art is about finding places where the stories you are concerned about resonate with others," Puls said. "I hope a bit of that happens here."