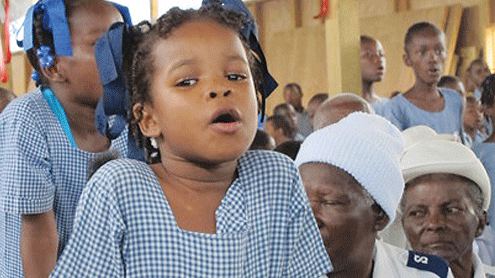 Army's recovery efforts in Haiti move forward
The Salvation Army breaks ground for its new Delmas 2 compound and teaches teens shoemaking.
The Salvation Army's ongoing presence in post-earthquake Haiti continues to have a stabilizing effect on the Haitian people through rebuilding projects and educational opportunities geared toward developing self-sufficiency.
On March 24, The Salvation Army of Haiti broke ground for the new Delmas 2 compound, the headquarters that marks a 60-year presence of The Salvation Army in Port-au-Prince but had been destroyed in the 2010 earthquake. With construction set to begin in May, the new complex will include a church to seat 3,000 people; new kindergarten, primary and secondary school buildings for College Verena; and a new clinic and social services buildings.
The groundbreaking was a time to "reaffirm the Army's passion to demonstrate the love of God and validate our commitment to recovery and redevelopment," said Lt. Colonel Victor Leslie, chief secretary of the Caribbean Territory.
Those present to show support included Michel Porsenna, vice president of The Salvation Army Haiti Advisory Board; College Verena sponsor Kindernothlife (KNH); agents from Army donor territories including Canada, the U.S. and Norway; and representatives from International Headquarters and Caribbean Territorial Headquarters. Delegates from MOCHRENA ("Mouvement Chretien pour un nouvel Haiti") and the Ministry of Foreign Affairs, on behalf of Haitian President Michel Martelly, also participated.
National news media personnel filmed the ceremonies and conducted interviews with Divisional Commander Major Vilo Exantus and Haiti Recovery and Development construction manager Major Jean Volet.
One of the Army's efforts to develop self-sufficiency is skill-building classes, including shoe making. Currently, 10 teenagers meet each weekend in Petite Place Cazeau to learn how to make shoes. Instructor Reginald Francois' classes, each lasting four hours, teach not only the basic knowledge of shoemaking, but also the history of the craft.
"There's a lot of talent," Francois said, referring to the teens in his program. "Shoemaking is not just a business, it's an art."
After completing the class and mastering the skill, some of his students even plan to teach others, but Francois' dreams go beyond the classroom. He envisions organizing a larger workshop and making the shoes for sale everywhere there is a Salvation Army. During the 2011 holiday season, his class sold 30 pairs of sandals and is at work on a new product for 2012 Flag Day.