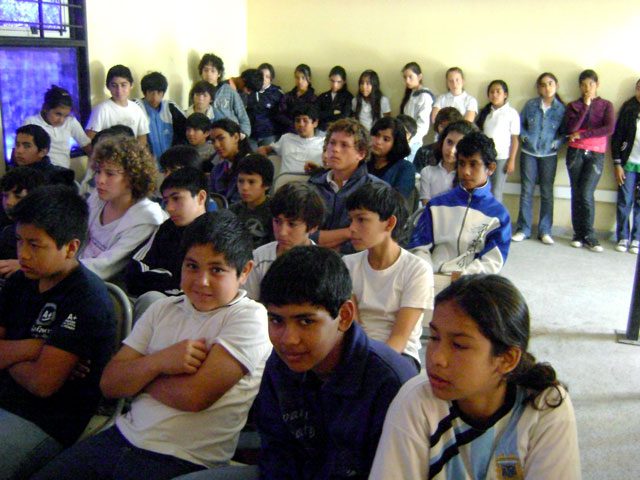 Salvation Army Argentina prioritizes youth addiction prevention
For seven years, The Salvation Army in Argentina has made efforts to combat addiction by implementing an addiction prevention program at local schools, exposing children and teenagers to the dangers of substance abuse.
"We want to be a channel of blessings, help, and tools for adolescents to gain a new hopeful perspective on the precautions they need to take to avoid the dangers of drugs, which has become a common problem worldwide and has devastating effects in homes everywhere," said Lt. Martin Escudero, addiction prevention program director and Santa Fe corps officer.
Workshops for the addiction prevention program take place twice a month during the school year, and include educational presentations that address what drugs are, statistics of use by age, effects of use, the obstacles in helping an individual overcome his or her addiction, and what the Bible says about addiction. The program is for students in sixth and seventh grade, but Escudero would like to implement it to younger children as well.
"The starting age for drug consumption in Argentina is at 11 years old, which tells us that we have to work to prevent this when one reaches his or her preteen years," Escudero said.
Each presentation also contains audio-visual examples to spark reflection. Outside resources include guidance for students, as well as workshops and support for parents. Each student receives a informational pamphlets and survey results, and must complete classroom activities.
"All of the material involved is meant to capture the attention of the students and take them to a reflective state that illustrates the impact drug use has towards family, school, relationships, and health," Escudero said.
The program is currently taking place at the República de Bolivia No. 534 school, which is located approximately 20 blocks away from the local Santa Fe Corps. There are currently 300 student participants divided into a morning and afternoon session.
"By taking action through the church for this program, the corps is seen as a local headquarters for addiction services," Escudero said. "This allows us to take on two fronts; one is prevention and the other is family guidance at the corps."
Escudero said that the Argentinian education system is very supportive of the program, and that it is a collaborative effort between the corps, teachers in charge of each grade, and school principals.
"Every year that we propose the program to schools, their principals and teachers accept the plan with enthusiasm," Escudero said. "Prevention is a the most successful tool in combatting complex addictions."