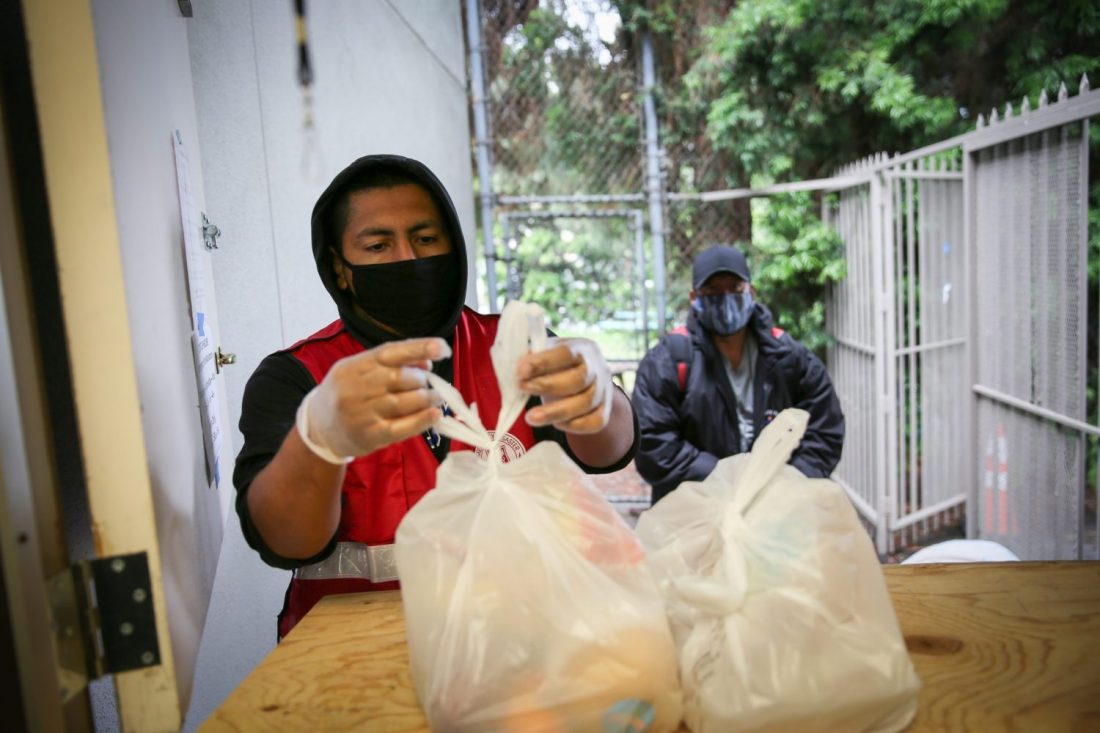 ARC Connect brings peace of mind during COVID-19
By Hillary Jackson–
While Jeremy* was safe from COVID-19 while working toward recovery from addiction at The Salvation Army Oakland Adult Rehabilitation Center (ARC), his mind was on his family, who were feeling the effects of the pandemic at home. 
Oakland ARC Administrator for Program Major Doreen Freeman contacted the corps closest to Jeremy's family, the Merced (California) Corps, and asked if the officers there could reach out to the family to help. As a result, Merced Corps Officer Captain Marjorie Miller delivered a food box and Easter baskets to Jeremy's family. 
"What they have done for me and my family is a blessing," Jeremy said. "When my family was having a hard time due to COVID-19, they helped my family with food and even helped my kids with Easter baskets. I'll never forget The Salvation Army for helping my family in a time of desperate need."
Jeremy's story is one of several ARC-corps connections prompted by COVID-19 through ARC Connect, a program the Oakland ARC has launched as a way to ease stress for beneficiaries. Recovering from addiction is a process that comes with challenges in the best of circumstances. Adding the stress of COVID-19 and concerns about loved ones and how they are faring during the pandemic can make recovery more challenging. 
"The idea of ARC Connect is directly from the Lord," Freeman said. "Our center has been on lockdown since March 16. I was trying to find a way to relieve some of the worry and stress for the men, especially in an area that they really can't do much about under the current circumstances."
ARC Connect started when Freeman printed out a list of names and asked the men to write the city that their loved ones lived in and if they were struggling with food, toilet paper or supplies due to the virus. She then contacted a few divisional commanders and explained what she was trying to do before contacting the corps closest to each family to determine what they were providing for the community.  
Freeman created an additional list from the corps and service extensions and posted it for the men to get the information and contact their families with it.  
"I wanted them to take some responsibility and pride in being able to help their families," she said.
After discovering that a family had no way to get to the local corps for assistance, Freeman told the men if they completed a release and gave specific contact information for their family, she'd pass it along to the local corps officer so they could make contact with the family. 
"Sometimes it has taken several attempts on the corps officer's part, but all the corps officers have been very helpful and eager to make contact with the families," Freeman said. " I follow up with the corps officer and report back to the men what the local Salvation Army did to help their family."
Oakland Garden Street Corps Officer Lieutenant Travis Yardley is among the first of the ARC Connect success stories—having made contact with the girlfriend of one beneficiary.
"We here at Oakland Garden St. Corps love to help out the ARC in any way we can," Yardley said. "When I was asked about helping, we got connected with the family and let them know we are here for them. We gave them the times we do food and let them know if they need something we could help them out the best we can." 
ARC Connect is an ongoing program during the COVID-19 crisis, and Freeman said it is well worth the effort. 
"It allows the men to be able to help their families and gives their families a connection to the local corps," she said.  "We had 18 original requests for assistance and six requests with releases for personal contact from the local Salvation Army unit to date."
ARC Connect is expanding to include Oakland ARC alumni, who will be able to receive the same assistance. Alumni who work as employees of the center have begun contacting other alumni. ARC Commander Major Henry Graciani announced ARC Connect to members of the Territorial Executive Council April 8 as a way to help both the men and women in the centers as well as their loved ones. Since then, Freeman has been contacted by another center who has a similar program.
*denotes name change
HOW TO HELP:
If you'd like to make a monetary donation, please click here to make a gift.
Text 'GIVE' to 52000 to make a $10 donation to The Salvation Army. This will automatically add a one-time donation to your next mobile phone bill.
For information about volunteering, please visit volunteer.usawest.org.
To learn more about how to support The Salvation Army's relief efforts, please click here.