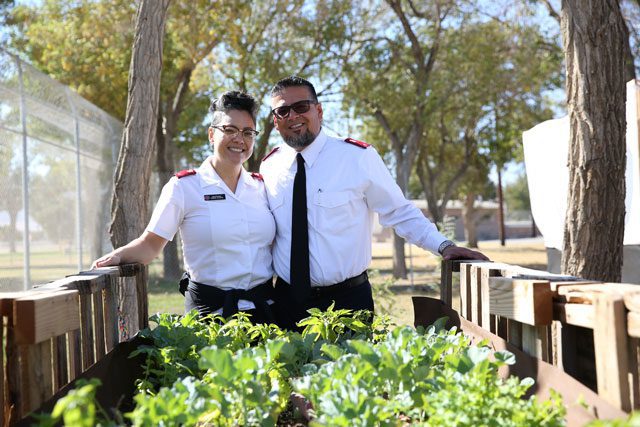 Antelope Valley shelter brings healing to homelessness through community
'Unprecedented' effect of Salvation Army-run county temporary shelter keeps doors open.
When you arrive at The Salvation Army-run homeless shelter in Antelope Valley, California, the presence of the past is undeniable. The Army operates the Los Angeles County shelter out of an abandoned mental hospital—with an address that includes the law code involved in temporarily committing individuals, 5150—and much of the preexisting structure and signage remains the same.
Only, instead of a sterile, clinical environment, there's the equally undeniable buzz of hope. Residents circulate throughout the facility cleaning, gardening and socializing. What started as a pop-up winter homeless shelter has filled a need in Antelope Valley and created a community that fosters volunteerism and growth among residents.
The shelter first opened in November 2017 as a temporary refuge from freezing temperatures and as a balm for the community in general—the area's only homeless shelter shuttered for financial reasons, just as Antelope Valley's homeless population increased by 50 percent, according to the homeless authority.
"The community was up in arms," said Lt. Hector Acosta Antelope Valley Corps Officer with his wife, Yasmin. "We said, 'Let us take it over.' [The county] said, 'We don't want it there.'"
When the current facility—the former High Desert Multi-Ambulatory Care Center (MACC)—was recommended, the Army prayed about taking over the space. In many ways, it felt right, since Acosta had tried for years to get a meeting with the local government to see how the Army could best serve the community—and was told there was nothing they could do each time.
With this new opportunity, there was. But it came with some feelings of doubt.
"We'd never run a shelter. We've never been involved with something like this. We didn't feel qualified and it just felt really big," Acosta said. "The professionals who came to give us counsel on this said, 'Don't do it. It's too big, too messy.'"  
But they did. And when the Army's team walked through the facility with L.A. County representatives, members of the team excitedly pointed out where they could put a game room and have intake, which left an impression on the county reps.
"We were talking about building relationships with the people, and they were blown away by it," Acosta said. "We were looking at it through the lens of healing. We were looking at it through the lens of community."
The county's facility lacked two of the basic functions necessary to run a shelter: a kitchen and showers. Other groups had unsuccessfully tried to run shelters out of the space before, but the cost of catered meals coupled with low turnout made it unsustainable. With The Salvation Army's Emergency Disaster Services canteens and mobile shower units, those problems became non-issues.
Two weeks later, The Salvation Army opened the shelter as the county's only 24-hour facility—and had all 100 beds filled.
Making it home
"We want this place to say 'this is a welcoming place, a safe place where people can begin healing from homelessness,'" Acosta said, passing a canvas saying "Dream, create, inspire" hanging above the intake desk.
When residents come in, they're asked about their skills or ways they'd like to engage. It's not required, but it's a way of pitching in and building community. Art from a resident-led painting class guides the way to the sleeping quarters. The paintings share some story of the residents' experience with The Salvation Army, and each was donated by the artist for use in the shelter.
"Originally, we just did it as a paint class, but people were pouring their emotions and their stories into the paintings and it just turned into art therapy," said Shelter Director James Wilson. "We've just kept it going."
The facility opens to a sizeable green lawn that used to be a large patch of dirt. When a resident said he had irrigation experience, the team let him take the reins. After watering the area, fresh grass emerged from the soil, just like he said it would.
The lawn is home to a number of resident-made projects, like picnic tables and a gazebo they found plans for on Pinterest. "We're supportive of all of those projects," Acosta said.
In the far corner of the lawn is a raised garden built from wood pallets. Residents use its herbs to cook with. Wilson said some of the residents are worried the plants might die. He told them, "Don't worry. It happens."
Giving back
Joe was on Lancaster Boulevard after he was evicted. He watched a car pass and turn around. It was a representative from the Department of Mental Health, who told him about The Salvation Army.
When he arrived, there weren't any beds available. But after someone didn't show, Joe got his spot.
"The Salvation Army really saved me," Joe said. "By volunteering, that's the way I give back."
And he does. Joe usually gets the water dispensers out in the morning for residents, and helps in the kitchen, if needed. He runs errands with Wilson and vacuums the dorms.
But, according to the Army's shelter staff, Joe's not that unusual when it comes to volunteering.
"When we get deliveries and donations, we'll get a line of like 20 people. It looks like we're sandbagging a dam," Wilson said. "We're just passing it into the kitchen. It's pretty awesome. They want to give back."
Wilson credits the community formed among the residents for the full-circle nature of volunteering. "They just want to help each other," he said.
"We've had people graduate back into residency, and they come back and volunteer," Wilson said. "There's something magical here, there really is."
'Unprecedented'
When the shelter first opened, it was slated to close in March, following the winter season. Around that time, L.A. County Supervisor Kathryn Barger did a walk through, along with Lancaster's mayor. Acosta said he and the Army's team weren't sure what was going on—they thought it was an audit.
"What they were watching for was if people from here were gaining employment, if people from here were engaging with the resources…we had 50-60 people during the winter season get into housing and move out of homelessness. Not into another season of trouble," Acosta said. "They were blown away. They were like, 'This doesn't happen. This is unprecedented.' The effect of this thing is unprecedented, but it's because of relationships."
Barger then motioned to allow shelter services in Antelope Valley to continue on a temporary basis, extending its funding from Measure H, the quarter-cent county sales tax increase that took effect in October 2017.
"The Salvation Army…has operated effective bridge programming at the facility, linking individuals to long-term housing solutions and gainful employment opportunities" reads Barger's motion, co-authored with Supervisor Mark Ridley-Thomas. "Not only is this facility providing immediate respite from extreme weather 24 hours a day, seven days a week, but it is also providing critical bridge housing resources to assist individuals in permanently exiting cycles of homelessness."
Filling the gap
The motion unanimously passed, and its temporary nature allows the shelter to avoid some of the regulation required of permanent facilities while another, permanent facility is being constructed.
California South Divisional Director of Social Services Pilar Buelna anticipates the Army's contract ending in the June to September 2019 window. While the shelter was never meant to be long term, it is representative of The Salvation Army's commitment to fighting homelessness.
"The Salvation Army does this—we go in and fill the gap when no one else will," Buelna said. "We did go in, and it was a lot of work and we were able to fill that gap for two years."