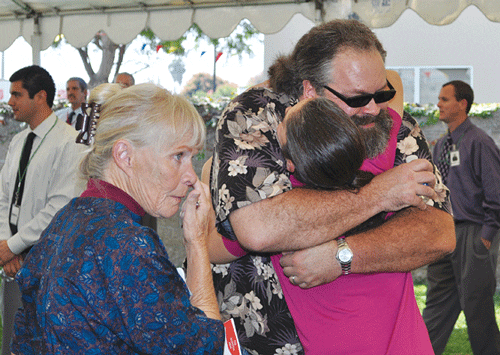 Anaheim ARC celebrates restored lives
Center welcomes program alumni for the 10th anniversary of its women's program.
 By Howard Bennett, Captain
Acknowledging the 10-year anniversary of its women's program and the continued sobriety of thousands of program alumni, the Anaheim Adult Rehabilitation Center (ARC), led by Majors Bill and Laura Heiselman, hosted a celebration on Oct. 15. The 530 people attending included current beneficiaries, 130-plus alumni, ARC employees, volunteers, Salvation Army officers, and over 100 community leaders and supporters.
For over 52 years, the Anaheim ARC has provided rehabilitation for men seeking recovery from addictions. Its record of success is due to the combination of traditional treatment elements with the Army's unique work therapy and spiritual formation components. The 145-bed men's facility was augmented 10 years ago with additional space housing 28 women—making it the largest ARC in the Western Territory.
During the ceremony, a series of female graduates walked to the stage holding up placards with simple, hand-written phrases describing their condition prior to intake, revealing words including "Lost," "Broken," "Hopeless" and "Enslaved." Then smiles and applause erupted as each woman reversed her sign to unveil her current condition:  "Found," "Restored," "Hopeful" and "Free."
The event included music, prayer, a commendation from the mayor's office presented by City Council Member Gail Eastman, an alumni testimony and a special address by Dr. Daniel Amen.
Amen is a noted psychiatrist, researcher, and innovator in the use of brain scan imaging to diagnose and correct many behavioral issues previously thought to be psychological in nature. He has worked successfully with thousands of patients who were unresponsive to conventional therapies. Pastor Rick Warren and his network of Saddleback Churches have embraced Amen's teachings about brain health as related to proper nutrition and exercise, featuring it prominently on their main web page as the "Daniel plan." Warren and members of Saddleback congregations have lost a cumulative total of 250,000 pounds since the inception of the program.
Although memorable for the quality of programming and large turnout, the ARC celebration's highlights were found in the transformed lives of alumni, as families wept in joy over restored relationships, and the hope for a better future shone in the eyes of the men and women who have placed themselves in the care of the Anaheim ARC and God's own Army.