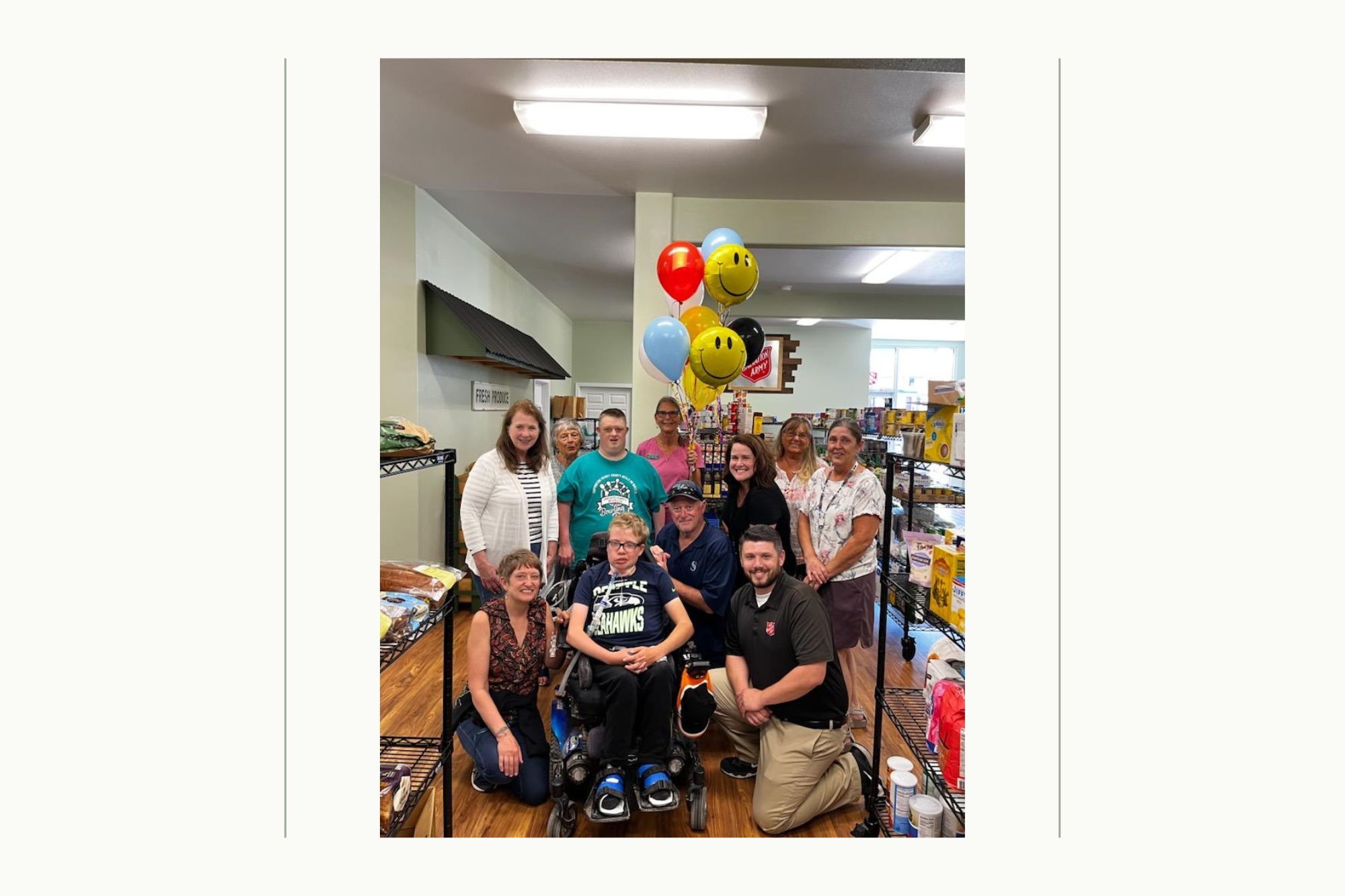 In Anacortes, The Salvation Army's food bank serves up food and belonging
At the recently revamped food pantry at The Salvation Army Anacortes (Washington) Corps, food is only the starting point—the food bank's client choice model allows individuals to choose from healthier options and select items they can use, which results in less waste. Another opportunity? The food pantry's volunteer program, through which individuals with a range of abilities give back.
"They're a huge part of our food bank process," said Anacortes Corps Officer Lt. Shane Ingram. "It provides a great opportunity for them just as it does for us."
A partnership with the Anacortes Aktion Club—an offshoot of the Kiwanis International service club—pairs individuals with disabilities with The Salvation Army for volunteering and, importantly, boosting their connection with the community.
"I've been volunteering at the food bank since I was in high school, so it's been about 10 years now," said volunteer Rachelle Wigen. "I keep coming back because I enjoy the work and being helpful to others."
Wigen, from Anacortes, said her favorite part of volunteering is helping the people who come in to get their food, along with assisting Food Bank Director Paula John.
It's all part of The Salvation Army's mission to stop food insecurity with more than 56 million meals provided each year to individuals and families across the nation through food pantries, meal programs and community gardens.
"We have a food bank warehouse where sorting and stocking take place," Ingram said. "And then in the front office, it's set up like a grocery store. Volunteers assist in sorting and weighing food—produce, in particular—and help with washing towels and cleaning."
John said the grace and hard work of dedicated volunteers is especially meaningful. Christopher, another volunteer, was born with spina bifida. He served in the food pantry for more than a year, and John said he would connect with everyone who came to the pantry.
"He would come in, throw a box on his lap, cruise around and help," John said. "He just got things done."
Christopher died in March after medical complications. Ingram said he had the honor of speaking at the volunteer's celebration of life service.
"Christopher's joyful and infectious spirit, love for God and determination to live without limits are true testaments to the power of the Holy Spirit working in and through him," Ingram said. "We are blessed and grateful for the opportunity to have shared a brief portion of time serving alongside such an extraordinary individual."
Working with volunteers with disabilities has opened up other opportunities, too. Ingram said during this past year volunteers participated in bellringing and an opportunity to find a "second home" in The Salvation Army church community.
For Wigen, that meant attending The Salvation Army's first territorial Adaptive Retreat in Rancho Palos Verdes, California, designed for young adults with disabilities and their chaperones.
The weekend aimed to provide a space for all to not only feel welcome, but celebrated. She was one of two participants from the Anacortes area who were provided with flights and lodging for themselves and a care attendant.
Wigen said the best part of the weekend was meeting new people and "getting dressed up in a ball gown for the dance where I was treated like a celebrity—I got to walk down the red carpet."
She said she'll also remember having lots of fun, especially playing games at the retreat's field day.
These efforts are all part of building more inclusiveness and empowerment for community members who may have felt they were overlooked or underserved, Ingram said.
"To have the chance to share a tailored and specialized retreat experience with our friends of varying abilities means they receive the love of the gospel in a way that meets them right where they are in life, just as Jesus intended," he said.
---
Do Good:
You've probably seen the red kettles and thrift stores, and while we're rightfully well known for both…The Salvation Army is so much more than red kettles and thrift stores. So who are we? What do we do? Where? Right this way for Salvation Army 101.
You can make an impact in the Fight for Good with whatever time and skills you have. Whatever your interest, there is a you-sized need for goodness in the world. Get the guide on How To Be An Impactful Volunteer and get in the Fight for Good today.
Hear Territorial Disabilities Ministries Director Major Nancy Helms share how to love beyond disability on the Do Gooders Podcast.